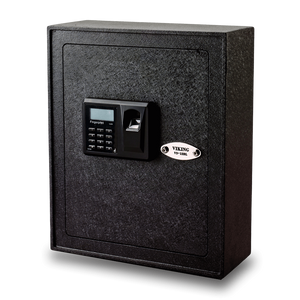 Viking VS-12BL Biometric Wall Mounted Safe
Regular price
$287.00
Sale price
$215.00
---
Viking VS-12BL Biometric Wall Mounted Safe
Please read information below.*
No need to fumble for your keys anymore. The Viking VS-12BL has a quick-sensing biometric reader, with an accuracy that is unmatched, and makes keys a thing of the past. The Viking VS-12BL has the capacity to program up to 32 fingerprints along with 1 PIN code (4-8 digits). While low quality safes can take multiple seconds to read fingerprints, the Viking VS-12BL does it in less than 1 second.
The safe is made with heavy gauge steel on all sides. This includes the door. Other biometric safes are made with "locker level" material that can easily be preyed open. Viking safes are engineered to stave off both prying and professional picking. The heavy metal on all sides makes unauthorized entry futile. The fingerprint programming takes seconds to complete and is so easy a child can do it.
The Viking VS-12BL safe is also the best looking in the market. It is powder coated with a beautiful black finish that matches the biometric reader. Two very high security override keys are included with the safe. (Not needed to open safe) Your average locksmith is not going to be able to replicate these keys so no need to worry about an unauthorized person making copies. The safe has a motorized opening so once the fingerprint is registered the safe opens allowing for quick access in case of an emergency. Mounting bolts are included. 
*Not recommended for people who meet the following conditions: people over 55-60 years (depends on the individual), people who have scared finger tips, have wet or excessively moist or excessively dry hands, hands are water soaked, have excessive grease, lotion or dust on fingers. However, because we use the best type of fingerprint reader available (optical sensor with a very high DPI), most people will be extremely happy with the performance of this safe. Please also note that most safes use the cheaper and considerably less accurate semi-conductor fingerprint reader.
Features & Specifications:
Body material:

 

Steel, Black scratch resistant military coating;
Interior:

 

All carpeted, Integrated LED light with 2 AA Batteries (included), key hooks, 1 removable shelf;
Locking system:

 

Biometric Fingerprint Reader and Digital LCD Keypad, Upgraded 500 DPI Optical sensor, PIN Code consists of 4-8 programmable digits, Battery status and Operations displayed, Motorized deadbolt locking mechanism, Four prong override cross keys (2 included);
Safety features:

 

Pry-resistant, Laser cut, Seamlessly welded, 20 mm Solid steel Locking bars, Sound On/Off, Warning beep if door left unlocked for more than 1 min., Time out period after 5 incorrect PINs or 10 incorrect fingerprints attempts;
Memory:

 

Stores up to 32 fingerprints and 1 PIN code; Non-volatile memory – information is retained if batteries are removed.
Emergency Key Override Included.
Fireproof, Waterproof:

 

No;
Mounting:

 

4 pre-drilled holes with anchor bolts (included) for convenient mounting;
Batteries:

 

Requires 4 AA batteries (included);
Door/Body Thickness:

 

5 mm / 2 mm;
External Dimensions:

 

H 14.5" (368 mm) x W 11.75"(298 mm) x D 5" (127 mm);
Internal Dimensions:

 

H 14" (362 mm) x W 11.5" (292 mm) x D 4.12" (121 mm);
Weight:

 

23 lbs. (10 kg);
Warranty:

 

One-Year limited Warranty;
Production:

 

Designed in USA, made in China.
The package contains:
1 x Safe with LED light
2 x Backup Keys
4 x Anchor Bolts
1x User Manual
4 x AA batteries
2 x AA batteries for LED light
1 x Allen Wrench