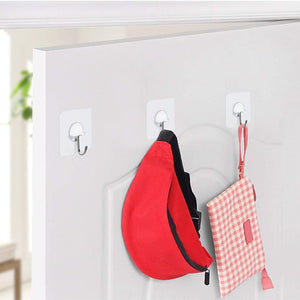 Adhesive Hooks Key Hooks Coat Hooks Heavy Duty Wall Hooks Stainless Steel Waterproof Wall Hangers for Robe, Coat, Towel, Keys, Bags, Home, Kitchen, Bathroom - 16-Pack
Regular price
Sale price
$6.99
---
Brand: Sfemn
Color: Silver
Features:
Heavy duty adhesive Hooks Up to 22lbs bearing weight. With the larger size of 2.8inch*2.8inch of strong transparent adhesive, and quality stainless steel small hook + PVC material. The adhesive really makes an ultra-strong viscosity, holds and keeps your items securely in position. Even in the bathroom, it is waterproof, no need to worry about that the hook will fall off.
No drilling, no damage to wall, easy and quick installation for this wall hanger. Just peel off the cover to use. Powerful adhesive offering strong adhesiveness. ONLY stick the adhesive on smooth hard surfaces. Please DON'T stick the adhesive on painted walls or wallpapers as it will take off your paint or wallpapers.
Unique transparent traceless adhesive design makes it invisible that is perfect for keeping home decoration. Ideal for using it in kitchen, bathrooms and anywhere you like. It is a must for your home, foyer, bedroom.
Used as a key hook, robe hook and towel hook as home storage hook, it can save your more space with this small hook.
CARE ABOUT DETAILS. No matter it is the hook itself, or the way of packing, we care about all details. We provide the best products for you.
Publisher: Sfemn
Details:
STYLISH & MODERN DESIGN
-Transparent adhesive hook- Adopts advanced drawing polishing technology.
-Waterproof Design - Not easy to fall off or rust, with smooth edges and surface.
-Stylish Design - Fits perfectly into your home décor, practical and fashionable.


MULTIPLE USES
-Suitable for most environments:
Bedroom - For clothes...
Kitchen - For all kinds of kitchenware...
Foyer - For keys, bags, hats, umbrellas...
Bathroom - For towel, bathrobe, toiletries...
Living room - For ornaments, calendar, clock...

-Applicable to most surfaces:
Smooth tile, glass, mosaic, wood, plastic, stainless steel...
Metal surface, natural stone, antique brick...


Easy to Install & Remove
1.Before installed, please clean the surface from dust, water, oil and keep it dry.
2. Peel off the sticker (Do not touch the adhesive surface with hands).
3. Press the base of the hook completely and tightly.
4. Tear off the protective film on the surface of the hook.
5. Please press the adhesive on the wall for 30 seconds, to make it sturdy.
6. After installation, let it sit for 24 hours for better stickiness.
7. If you want to remove it, just heat the self-adhesive with a hair dryer.


Caution
1.Please DON'T stick it on painted wall, wallpaper or texture tiles, it may fell off and destroy your wall.
2.Stick on flat and smooth surfaces only!
3.Please keep the surface clean and dry before installing.
4.Before using, please rest it for 24 hours.
5.The bearing capacity varies with the wall surface material.


Specification
Material: Stainless steel + PVC
Color: Transparent
Package include: 16pcs



UPC: 733430829421
EAN: 733430829421
Package Dimensions: 4.5 x 4.4 x 4.0 inches