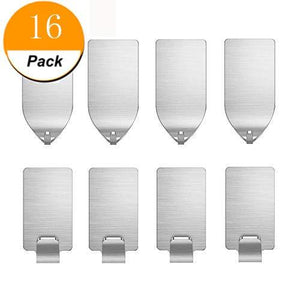 16 PCS Adhesive Hooks, Heavy Duty Wall Hooks Stainless Steel Waterproof Hanger for Bathroom Kitchen Wardrobe Bedroom Robe,Hanging Coat, Towel, Keys, Bags
Regular price
Sale price
$81.00
---
16 PCS Adhesive Hooks, Heavy Duty Wall Hooks Stainless Steel Waterproof Hanger for Bathroom Kitchen Wardrobe Bedroom Robe,Hanging Coat, Towel, Keys, Bags
Benefits of Adhesive Hooks Include:Very Strong AdhesiveThe sticky adhesive fits for any dry and clean surface, such as tile, glass, wood, plastic, stainless steel, metal, mosaic, etc. No tools or drilling required, no damages to your wall, maintains the original aesthetic of your house and room. Stylish and modern looking makes it integrated into your house just like a decoration.Carry Large WeightsThe adhesive hooks have a strong weight bearing. As stated above the larger hooks can carry 8 lbs while the smaller one can carry 5 lbs, this is strong enough to hold most of your accessories safely without worrying.Besides that it can also be used to hang different types of accessories easily.Easy to Install1. Clean and dry the installing surface to avoid oil, dust and water.2. Please do not touch the paste surface with your hand when you remove the protection cover.3. Tightly press the base of the hook and make sure the hook sticks to the wall completely.4. Test the hook by your hand, in order to get stronger stickiness, please rest it for 24 hours.
Specification:Packaged:16 pack(8pc small wall hooks and 8pc big ones).Color:Silver.Material:Stainless Steel.Waterproof,rust-proof.Size:2 kinds of sizes,1.5*0.9 inch and 1.8*0.98 inch.
About Us:We love our customers, customer satisfaction is our priority. We promise you a good after-sale service, contact us if you have any question, we will address your issue in 24 hours.
Product Features
Packaged Include:8pc small wall hooks (1.5*0.9 inch) and 8pc big ones (1.8*0.98 inch) .Made of high quality 304 stainless steel material,which makes it rust-proof and waterproof,100% brand new and high quality
These Adhesive Key Hooks for wall are flat and sticky.Can be glued on any smooth, dry and clean surface, widely used for for bathroom kitchen wardrobe bedroom robe,hanging coat, towel, keys, bags
Strong adhesive key hangers:Strong adhesive allows an easy access to install.No nails and screws required,so won't leave surface damage while removing it
Great Helper:Keep things organized,Save more room space and say goodbye to messy life.These strong waterproof hanger can hold 5lbs and 8lbs item,ensures it not easy to falling down
We love our customers, customer satisfaction is our priority. We promise you a good after-sale service, contact us if you have any question, we will address your issue in 24 hours