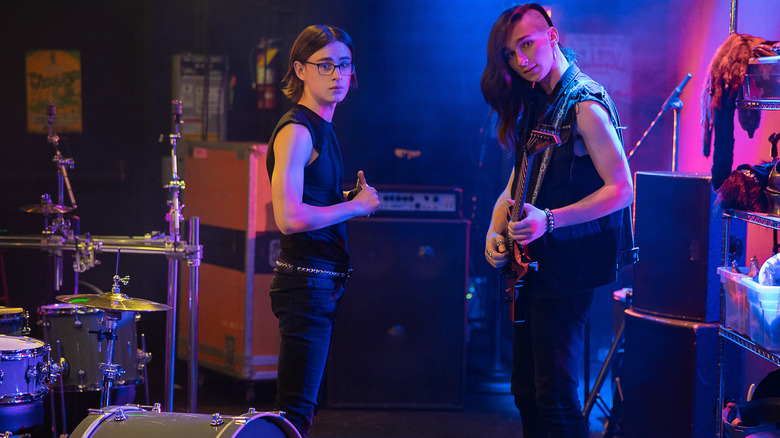 (Welcome to Under the Radar, a column where we spotlight specific movies, shows, trends, performances, or scenes that caught our eye and deserved more attention ... but otherwise flew under the radar. In this edition: Richard Linklater takes us on a nostalgia trip to space in "Apollo 10 1/2," "Metal Lords" provides a welcome dose of wholesome edginess, Michael Bay reminds us why bigger is sometimes better in "Ambulance," and Robert Eggers makes an adult movie for adults with "The Northman.")
Because I'm a total dork, I've thought a lot about one specific pop culture concern for quite some time now -- even more so lately, after first starting this column and forcing myself to really dig deep into what kinds of media truly meet the criteria of "under the radar." Access to quality movies and shows, all fighting for our attention on a week-to-week basis, feels like it's at an all-time high. This is, of course, undeniably a huge benefit to those who love great storytelling. But here's the thing: the shelf life for actually keeping those movies and shows in the spotlight is as fleeting as ever, mostly because there's simply so. Much. Stuff.
Unless you're the next installment in the Marvel Cinematic Universe, chances are that the window of relevancy will only extend to the opening weekend. The timeframe of water cooler conversations is similarly fleeting. Then consider other easily-brandable commodities, like straight-to-streaming Ryan Reynolds-starring movies. The fact that both "Red Notice" and "The Adam Project" have dominated the top spots of Netflix's own self-reported metrics and managed to thrive alongside the more familiar blockbuster IPs feels incredibly telling. But to what degree those movies have actually been memorable, of course, is part of the problem here.
This is exactly why an original hit movie like "Everything Everywhere All At Once" and its jaw-dropping success feels so significant. At a time when movies with strong premises like Riley Stearns' "Dual" gets booted out of most theaters after just one weekend of release or Robert Eggers' "The Northman" fails to even come close to justifying its budget (even with Anya Taylor-Joy as a known commodity!), the Daniels' latest effort has helped restore some faith in the viability of non-IP underdogs.
So let's take the time to celebrate the April offerings that deserved an extended stay in our collective consciousness -- the ones that truly flew under the radar.
Apollo 10 1/2 Takes A Refreshingly Adult View Of Childhood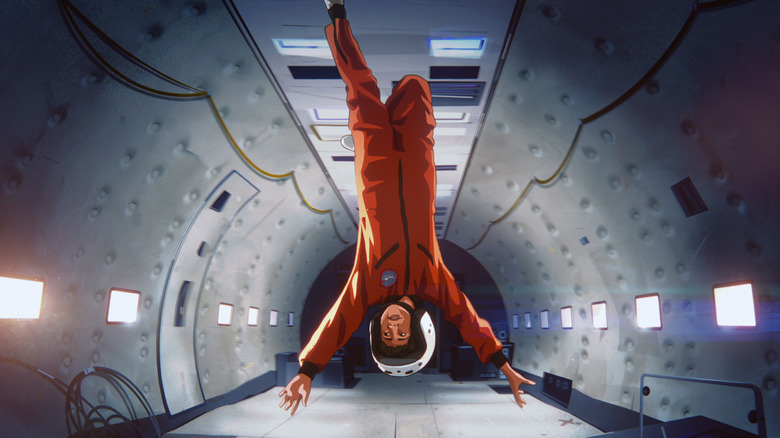 Show of hands: who actually realized that one of the most storied filmmakers of the last several decades released a gorgeously animated movie on the biggest streaming service in the world last month? Judging by the complete lack of buzz on social media for Richard Linklater's "Apollo 10 1/2: A Space Age Childhood" and its failure to crack Netflix's weekly top 10 lists (in no small part due to the streamer's usual disinterest in promoting its own acquisitions), I'd say this qualifies as a worthy entry to kick things off here.
Linklater has never really shied away from one of his favorite modes of storytelling -- the push and pull between nostalgia and reality. Rendering this ongoing conversation through a hybrid of computer-generated and hand-drawn, rotoscope-style animation instantly infuses the director's latest effort with the sort of childlike wonder that would've been impossible to recreate in live-action. /Film's Sandy Schaefer already extolled the virtues of operating within this medium (not a genre!), so allow me to focus much more on how slightly altering the perspective of this story helps make "Apollo 10 1/2" worth savoring ... even for those of us who understandably balk at rose-tinted recollections of "the good ol' days."
Houston, Texas-based fourth-grader Stanley (Milo Coy) is lucky enough to grow up during one of the most thrilling times in history, throwing himself headlong into sci-fi marathons on TV, daylong trips to the beach and futuristic theme parks, and disturbingly dangerous (in retrospect) antics with friends as NASA stands on the cusp of sending men to the moon in the summer of 1969. Unlike most kids, however, he's been secretly tasked with the most out-of-this-world mission imaginable: hand-picked to precede Apollo 11 and test fly the lunar lander that was mistakenly built just a little too small for the average adult.
It's the wistful, dialed-back voiceover work of Jack Black's older Stanley, however, that makes this wish-fulfillment premise into something much more than that. Through his narration, the lens subtly shifts from that of a child's overactive imagination to a hazy, melancholy reminiscence of simpler times ... even if such innocence was as flimsy as the capsule that landed Neil Armstrong (and Stanley?) on the moon. Civil unrest, Vietnam, and nuclear self-destruction all hang heavy over "Apollo 10 1/2," adding a bittersweet touch to this nostalgia trip to space.
Metal Lords Is An Ode To Outsiders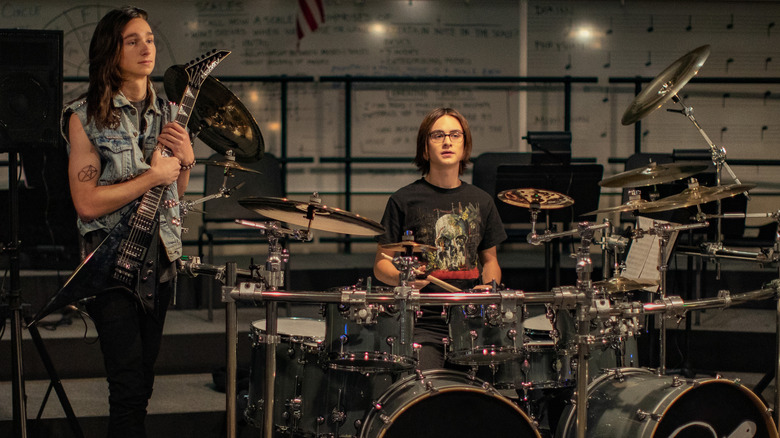 Speaking of Richard Linklater: what would you get if you crossed "School of Rock" with "Sing Street"? The end result wouldn't exactly be "Metal Lords," but the influences and comparisons are just too obvious (and flattering!) to ignore. From director Peter Sollett ("Nick and Norah's Infinite Playlist") and writer D.B. Weiss (yes, the same D.B. Weiss of "Game of Thrones" fame), this next Netflix offering delivers a heartwarming spin on the familiar story of a trio of high school bandmates desperate to forge some sort of connection with one another -- even if they can't quite admit that to themselves.
Led by Jaeden Martell ("Midnight Special," "It," "Knives Out") as heavy metal agnostic-turned-drummer Kevin, Adrian Greensmith (impressively confident in his first major role) as the overbearing and metalhead guitarist Hunter, and Isis Hainsworth ("Emma.," "Misbehaviour") as a mild-mannered cellist who finds her own unique way out of her shell and into the band, "Metal Lords" doesn't exactly reinvent any wheels here. But the chemistry and blisteringly fun dynamic on display between the trio of actors, all bouncing off each other in wonderfully distinct ways as they attempt to use the upcoming Battle of the Bands as a springboard to metal immortality, immediately makes them the main appeal in an otherwise lowkey and refreshingly low-stakes film. In fact, those are the exact kinds of qualities that makes this movie feel so rare nowadays and ripe to be "rediscovered" as an underseen gem down the line.
As much as the film serves as a love letter to Black Sabbath, Judas Priest, Slayer AC/DC, and more (with a few unbelievable cameos thrown in for good measure), "Metal Lords" never loses focus on its main trio of characters, each of whom navigates the social pressures of their teenage years as best as they can. Kevin's internal monologue featured throughout the movie mostly features him naïvely (and hilariously) questioning what, exactly, counts as "metal." His later revelation that, "Metal is commitment and speaking truth to power and sticking it to the man and speed; metal is taking the wheel" effectively cuts to the core of what these kids get out of their fledgling band and their relatively minor acts of rebellion on the way towards realizing their identities.
Coming of age is rarely a linear process. "Metal Lords" understands this -- and proposes a messier way forward.
Ambulance Defies The Idea That 'Less Is More'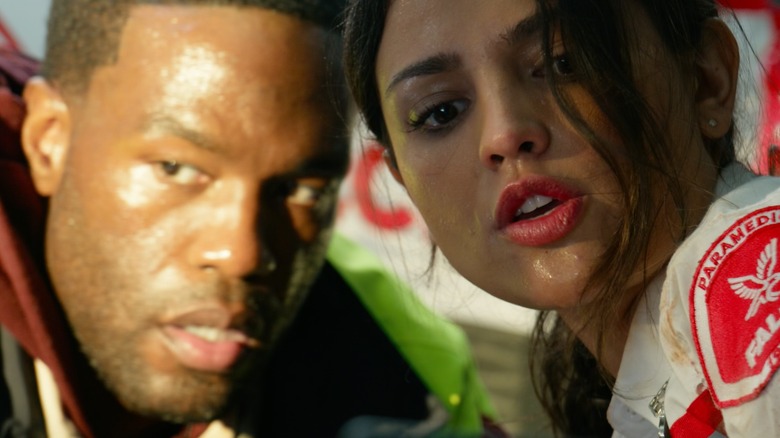 These days, Michael Bay's name is practically synonymous with negative terms like "excess," "sensory overload," and "poor taste." Not all of that is entirely without just cause, mind you. After a mind-numbing amount of progressively inane "Transformers" movies, the "Bad Boys" and "Pain & Gain" director needed a definitive change of pace to prove to the many doubters that he still has it where it counts. No giant robots, no end-of-the-world schemes, no bizarre tangents into alternate history.
For all its online hype (which hasn't exactly translated to box office glory), "Ambulance" isn't entirely the return to original filmmaking that Film Twitter tends to champion; it's a remake of a Danish film of the same name, as /Film's Chris Evangelista noted in his review. Nor is it a course-correcting pivot towards lean-and-mean thrillers, as the film runs for well over two hours and probably could've excised a solid 45 minutes without missing a beat. Instead, Bay's latest is a helpful reminder that, like a careening ambulance hijacked by bank robbers throughout the streets of Los Angeles, barely-contained chaos in the hands of an unhinged genius can work -- against all odds.
Anchored by Jake Gyllenhaal in one of his patented fever-dream performances, a rock-solid Yahya Abdul-Mateen III (who adds so many layers to his war veteran-turned-criminal character), and Eiza González channeling her best "I'm too jaded for this sh*t" straight-man routine to the nonsense swirling all around her, "Ambulance" functions as a prime example of how Bayhem still has a place in our current theatrical landscape. The pure ambition of the action sequences hogged all the marketing attention, cribbing less from "Speed" and more from a coked-out version of "Mad Max: Fury Road." And to his credit, Bay manages to remain just as interested in an abdominal surgery conducted over FaceTime(!) as he is in establishing the estranged brotherly dynamic between Danny (Gyllenhaal) and Will (Abdul-Mateen III), or Cam (González) finding her humanity after years of emotional detachment as an ambulance paramedic.
And those absurd drone shots. No, they don't always make for the most coherent, well-edited set pieces. But in terms of form and function flowing together in perfect harmony, I can't think of a better example than drones buzzing feet over the heads of Bay's cast throughout this nonstop thrill ride. Bay is back, for better and worse.
The Northman And The Importance Of Trusting Your Audience
Look, I'll admit that I was always going to be the targeted audience for this movie. After thoroughly finding myself on director Robert Eggers' wavelength with "The Lighthouse," his follow-up appeared set to tick off several boxes for me personally: a mythic tale steeped in legends of old, a penchant for abstract and arguably even supernatural flourishes, and a simple enough emotional hook ("I will avenge you, Father. I will save you, Mother. I will kill you, Fjölnir!") grounding it all in a tangible reality? Yeah, let's just say there's a reason why similarly-minded movies like David Lowery's "The Green Knight" and Joel Coen's "Macbeth" stand tall as some of my absolute favorite movies in this pandemic era of moviegoing.
The fact that "The Northman" doesn't quite reach those heights for me is hardly an issue, however. Even with his own obvious misgivings over this particular effort, Eggers has firmly established himself as a filmmaker who simply trusts his filmmaking -- and, as a result, his audience -- to make sense of some of the more oblique aspects of his stories.
The influences of "The Northman" are apparent to anyone with even a casual familiarity of Shakespeare, centered on Alexander Skarsgård's Viking warrior Amleth stuck in the childhood trauma of his traitorous uncle (Claes Bang) tearing his family apart ... until a chance moment (with a key assist by Björk's enigmatic Seeress) reignites his quest for vengeance. But more than "merely" retelling this story in a fresh and entertaining way, Eggers goes a step further and refuses to judge Amleth one way or another for his actions. Anya Taylor-Joy's Olga essentially functions as the angel on the Viking's shoulder and provides the film's most heartbreaking moment when the profoundly damaged man is unable to choose love over vengeance. Yet rather than resoundingly condemn him with the benefit of our oh-so-modern sensibilities, Eggers extends incredible amounts of sympathy towards Amleth's decision to die alongside Fjölnir in that raging volcano.
By trusting viewers to make up their own minds about such a complicated development, "The Northman" allows the full tragedy of the story to sink in at its most crucial moment. The ending grace note of Amleth ushered into Valhalla, comforted in the knowledge that his all-too-fleeting family is safe, is one I'll be thinking about for some time.
Read this next: /Film's Top 10 Movies Of 2021
The post Under the Radar: Metal Lords, Apollo 10 1/2, And More Led The Way In April appeared first on /Film.