Few things are as adorable as wrapping your baby up in a cozy blanket. If you're new to parenting, you might not know what swaddles are and why they're so crucial for your baby.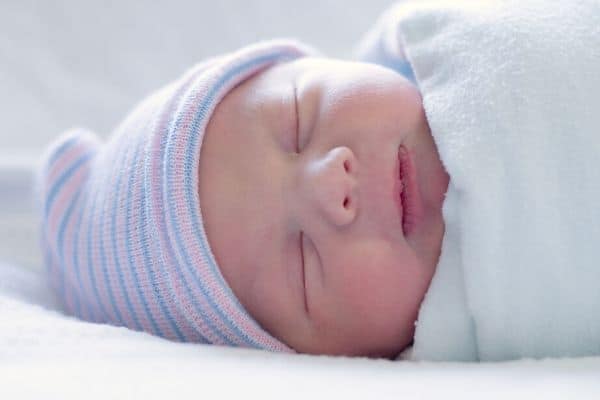 In this guide, we'll talk about receiving blankets more, go into how they can soothe your baby, and reveal our choices for the best-receiving blankets and swaddles.
What Are Receiving Blankets/ Swaddles?
The first thing you should know is that receiving blankets and swaddles are very similar, but they do have some distinct differences. The main difference is the sizing, and many parents prefer swaddles because they last longer.
| | |
| --- | --- |
| Receiving Blankets | 30 x 30 Inches |
| Swaddles | 47 x 47 Inches |
As you can see, receiving blankets are a lot smaller, which means your baby will grow out of them quickly. Swaddles also have more elasticity, so they can make your baby feel secure, but won't constrict their movement.
What Do Swaddles Do?
In its purest form, swaddling is wrapping your baby up in a thin blanket, so it feels secure, safe, and warm. The practice is an ancient tradition, and in recent years its become more prevalent in western culture because it can soothe your baby.
What Are The Benefits of Swaddling?
Swaddling has many benefits for both you and baby. Let's look at some of them:
Decreases Startle Reflex – All babies have a startle reflex, and this natural occurrence can disturb them from sleeping. Swaddling your baby can make them feel more secure, and lessens the effects of their startle reflex.
Recreates the Womb – For nine months, your baby was developing securely in your womb, but the world can be scary. Naturally, your little one might get over-stimulated, but many believe swaddling recreates the safety of being in the womb.
Promotes Sleep – Sleepless nights are a part of parenting, but swaddling can help your baby to sleep longer, which means you can get some much-needed rest.
The Types of Swaddle and Receiving Blankets
There are so many swaddles and receiving blankets to choose from, but the most popular are swaddle suits, sacks, and swaddle wraps.
The baby swaddle wrap is square-shaped and is usually made from cotton or muslin. While they're the most popular, wraps can take some time to get used to. Most parents compare using these wraps to making a burrito, but it can take time to get used to it.
Swaddle suits are great options for new parents because they take all of the complicated techniques of wrapping out of the equation. Each suit comes with either buttons, velcro, or zips to keep your baby secure. You might hear people referring to swaddle suits as sacks or pods, but they all work similarly.
Swaddle suits are also perfect for traveling with a newborn. They are easy to put on an infant so you can swaddle your baby anywhere.
Things to Consider Before Making a Purchase
You know you want to buy a swaddle, but there are lots of things to think about before you make a purchase.
How Experienced Are You?
If you're a first-time parent, then buying a traditional swaddle or receiving blanket might be a challenge you're not ready for. Swaddling takes time and practice, so many parents prefer suits, pods, or sacks because they remove all of the guesswork.
What Size Do You Need?
We mentioned earlier that receiving blankets are a lot smaller than swaddles, which means your baby will outgrow them quickly. If you want to make the most of your money, buy a blanket or swaddle that measures 45 x 45 inches.
Which Fabric Should You Choose?
Remember, your baby's comfort should always come first, so choosing a breathable fabric is essential. Cotton is the best material, but you need to think about seasonal changes. A swaddle you used in the winter won't be appropriate for summer.
How Long Do You Want it to Last?
Traditional receiving blankets and swaddles often last a lot longer than the suits, because there are no zips, buttons or velcro, so if you want to pass it down to other generations, you should choose a traditional model.
Top Receiving Blankets and Swaddles
Now you know what you should look for, it's time to reveal our top receiving blankets and swaddles for your baby.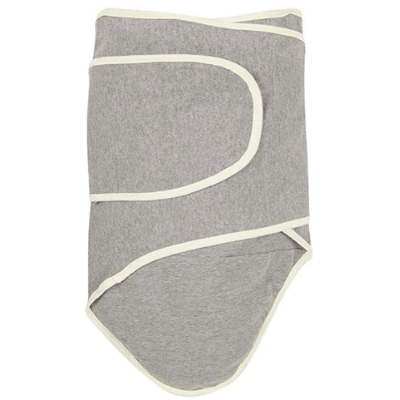 | | |
| --- | --- |
| Dimensions | 72 x 2 x 24 Inches |
| Material | Cotton |
If you're looking for a secure swaddle wrap, then Miracle Infant might have the answer. Their wrap stops fidgety babies from escaping traditional swaddles, and it works. Available in a range of colors and patterns, you can wrap your baby and not have to worry about security issues.
The machine-washable material is lightweight, but Miracle Infant's wrap is one of the stronger swaddles out there. One thing you should be aware of is the differences in fabrics. The patterned swaddles look great but don't feel as soft as the basic models. Overall, this swaddle wrap is safe, simple to use, and helps your baby get a peaceful night's sleep.
| | |
| --- | --- |
| Pros | Cons |
| Easy to use | Patterned fabric doesn't feel soft |
| Machine washable |   |
| Good for fidgety babies |   |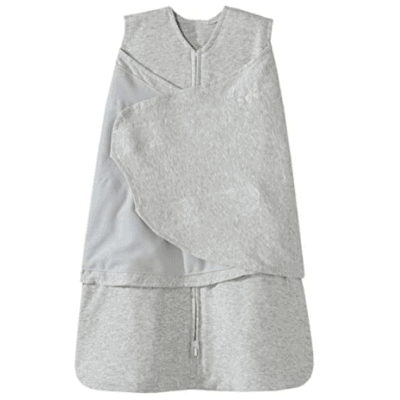 | | |
| --- | --- |
| Dimensions | 9 x 0.5 x 11 Inches |
| Material | Cotton |
Sleepsack swaddles are gaining popularity, and Halo is the company that made it happen! Their 100% cotton sleep sack is a fantastic option for new parents that want to practice swaddling without worrying about the technical aspects. There are sizes for newborns or larger babies, and the swaddle can decrease the risks of hip dysplasia.
One of the best parts of this sleep sack is the inverted zipper feature. Changing your baby's diaper often means you have to remove them from the swaddle, but the zipper means you can care for your baby with minimal disruptions. There aren't many negatives we can say about this swaddle, apart from you might find the material a bit heavy.
| | |
| --- | --- |
| Pros | Cons |
| 100% Cotton | The material can feel heavy |
| Inverted Zipper |   |
| Easy to use |   |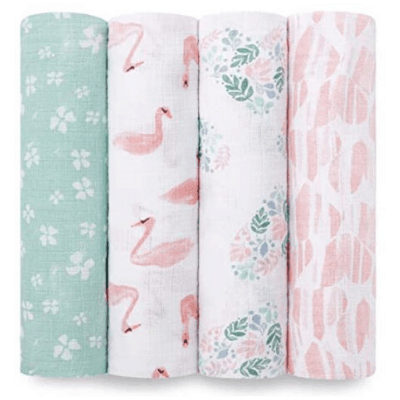 | | |
| --- | --- |
| Dimensions | 47 x 47 x 0.2 Inches |
| Material | Cotton Muslin |
If you're looking for a traditional swaddle, then it's worth considering Aden and Anais's classic swaddle blankets. They come in a range of designs, but we particularly love their animal print collection. The large sizes mean you can be confident the swaddles will last, and there are four in each pack.
We love the breathable fabric, which keeps the baby secure, but it's thin and non-constrictive. The main issue people have with these swaddles, is they're not cheap. But you get so much for your money, and the durability means the blankets will last for years. Perhaps not the best option if you're on a budget, but we love the flexibility and durability these traditional swaddles offer.
| | |
| --- | --- |
| Pros | Cons |
| Cotton Muslin material | Difficult for first-time parents to use |
| Traditional Style | Expensive |
| Long-lasting |   |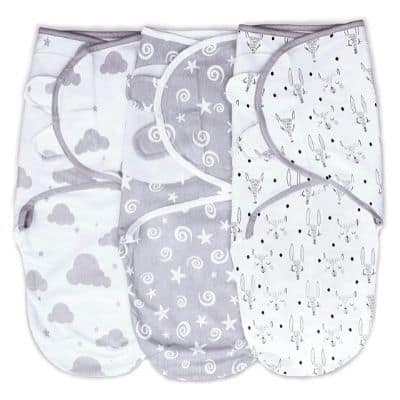 | | |
| --- | --- |
| Dimensions | 7.1 x 6.8 x 1.7 Inches |
| Material | Organic Cotton |
If you're looking for an environmentally friendly swaddle, then Cambria's wrap might be exactly what you're looking for. The wrap is made of 100% organic cotton, giving it a soft feel for your baby's skin. Wide pockets at the bottom make it easy to change diapers and the hook and loop fastening system is simple to use but effective. 
We love these swaddles because as your baby grows, you can use them as receiving blankets. The only real issue with the swaddles is their durability. They wear quite quickly, but you get three swaddles in a pack so it's not a major issue. 
Pros
Cons
Leg pockets to change diapers 
Can wear quite quickly
100% Organic Cotton
Three in a pack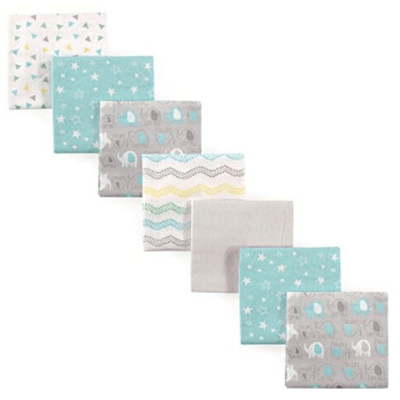 | | |
| --- | --- |
| Dimensions | 28 x 28 x 1 Inches |
| Material | Cotton |
If you're looking for traditional receiving blankets, then Luvable Friends offer seven blankets for a reasonable price. Made from 100% cotton the blankets are soft on your little one's skin and can are reusable for a range of purposes. Perhaps the best thing about traditional receiving blankets is that they will last for a long time, and you can wrap your baby in your preferred way.
The main issue we have with these receiving blankets is how small they are. If your baby is on the larger side, you won't be able to wrap them correctly. Other than that, these are an excellent option for parents that take a no-frills approach to swaddling.
| | |
| --- | --- |
| Pros | Cons |
| Traditional Style | Can be too small for larger babies |
| Multi-Pack |   |
| Long-lasting |   |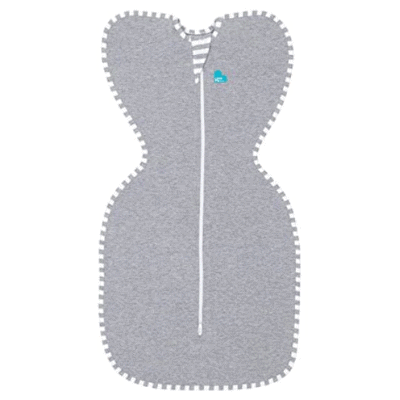 | | |
| --- | --- |
| Dimensions | 22 x 12 x 0.2 Inches |
| Material | Cotton & Elastane |
Swaddle UP goes further than any other swaddle suit because the manufacturers take your baby's preferences into account. Most babies prefer to sleep with their arms up, but traditional receiving blankets and swaddle wraps don't accommodate this. Their patented wings allow your baby to move freely while staying securely in their wrap.
What we love most about this swaddle is how easy it is to use. All you need to do is place your baby inside and zip it up. The only issue we have with the swaddle is some babies find it easy to roll over due to the arms. If your baby is overly active, you might find they wake themselves up.
| | |
| --- | --- |
| Pros | Cons |
| Patented Wings | Not ideal for very active babies |
| Zipper |   |
Swaddling FAQs
It's common to have some questions about swaddling, but we're here to answer them.
Will my baby hate swaddling?
No! Swaddling mimics the security of the womb, and having spent nine months there; your newborn will appreciate the safe feeling. Some babies find it difficult when their arms are constricted, but some swaddles accommodate for this.
My baby keeps breaking free. Should I leave him?
It's really up to you, but if your baby wakes up when he breaks free, he's probably not ready to sleep alone. You can perfect your wrapping methods or buy a more secure swaddle.
Does swaddling help with my baby's startle reflex?
Babies are born with a powerful startle reflex, and they often wake themselves up. Luckily, swaddles mimic being held, so they make your baby feel more secure.
The Bottom Line
Now you know about swaddling, it's easy to see why so many moms rave about it. Not only does it keep your baby secure, it means both of you can enjoy a peaceful night's sleep. Giving a couple of quality swaddles or receiving blankets along with self-care gifts to new moms may be exactly what she needs to embark on her journey in motherhood.
Before you make a purchase, remember these key points:
What type of swaddle or receiving blanket do you need?
Is the material suitable?
Have you swaddled before?
How much are you willing to spend?
Thinking about those key points means you'll find the best receiving blanket or swaddle for your needs. Remember, swaddling is a way to protect your baby and encourage healthy development. Practicing this ancient tradition means you can enjoy time with your baby with fewer disruptions.
The post The Best Receiving Blankets and Swaddles appeared first on Mombrite.