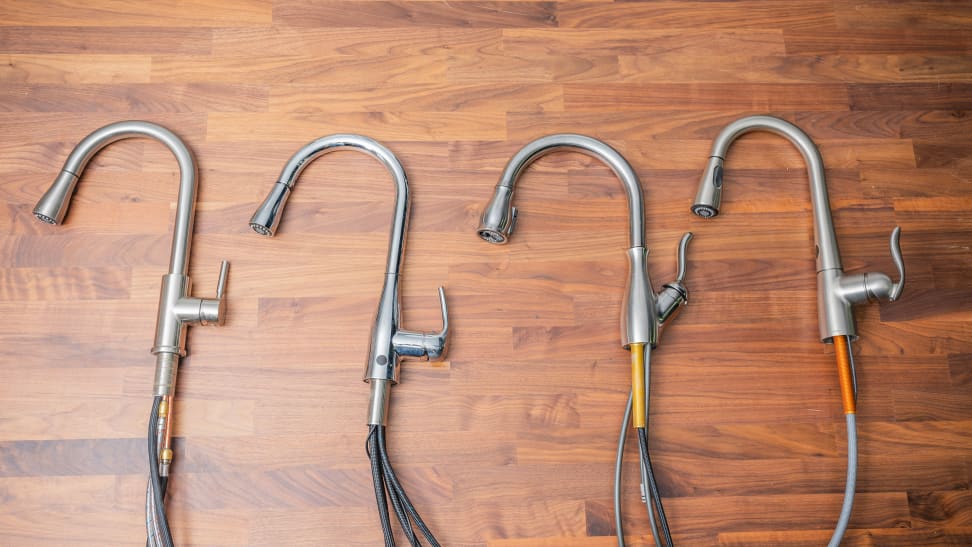 — Recommendations are independently chosen by Reviewed's editors. Purchases you make through our links may earn us a commission.
A great kitchen needs a great kitchen faucet. You may not think much about your faucet, but you use it every single day. From quickly washing your hands to filling up a kettle or pot of water, your faucet's ease of use can become a frequent, tiny irritation, or a quiet source of daily joy.
As more and more people move to remote work and spend more time at home, it's suddenly a lot easier to start picking apart what you love (or hate) about your appliances and fixtures.
After months spent testing a dozen different faucets, we found that the BioBidet by Bemis Flow (available at Amazon) pull-down faucet with motion sensor was our favorite. This faucet, (from the makers of one of our favorite bidets) uses a unique hands-free on/off switch and a powerful sprayer to create a seamless kitchen experience.
If you're looking for a value buy, we like the Wewe Single Handle A1001L (available at Amazon). While this basic faucet doesn't have any fancy features like motion sensing or touch spraying, it's well made and gets the job handled at a reasonable price.
Here are the faucets we tested, ranked in order:
BioBidet by Bemis Flow
Moen Arbor 7594ESRS
Delta Leland 9178-AR-DST
Wewe Single Handle A1001L
Kohler Simplice K-596-CP
Moen Banbury CA87000SRS
Kräus Bolden KPF-1610SS
MSTJRY Touch Kitchen Faucet
Owofan 9009R
Peppermint UT16Y
Delta Essa 9113T-AR-DST
Kohler Sous K-R10651-SD-CP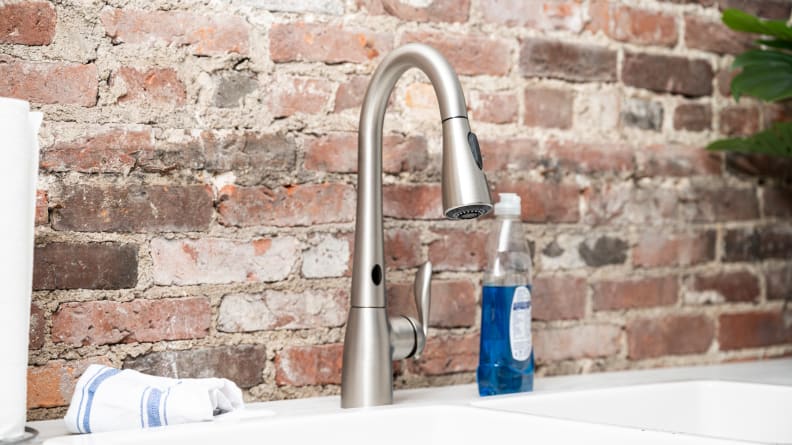 How We Tested Kitchen Faucets
The Tester
My name is Michael Garrett Steele. I make my living writing, and I've spent a decent amount of reviewing products. While I'm most at home testing audio equipment or tech gadgets, I made a foray into bidet testing last year for Reviewed, and re-awakened a dormant passion for amateur plumbing. I jumped at the chance to put an array of faucets through the ringer.
The Tests
After scouring the Internet for the best-reviewed, most-praised fixtures, I installed each faucet the way the manual instructed, to test how easy the instructions were to use. If the manual failed, I turned to my own knowledge (or video tutorials, whichever was most handy.)
After installation, I used the faucet for about two weeks of routine use. This included hand-washing, cooking, cleaning out old jars for recycling, and more. Another member of the household also regularly used the faucet, confirming or challenging my conclusions and providing a grounding alternate point of view.
Because many people of color have described trouble with motion-sensing plumbing fixtures, I also brought in a friend to make sure that the motion-sensing faucets in the lineup would work for people who aren't white. My friend Marvin graciously stood in front of my sink waving his arms around with me, as we made sure that the faucets' benefits and frustrations were the same for both of us. (Encouragingly enough, they are!)
After a couple of weeks of use, I rated each faucet on a number of factors, from the responsiveness of the pressure and temperature, to how powerful the sprayer is, to how easy they are to wipe down. These questions are weighted for importance and tallied up to determine which faucets land at the top.
What You Should Know About Buying a Kitchen Faucet
How To Choose a Kitchen Faucet?
When it comes time to choose a kitchen faucet, there are more than a few things to consider. One of the big ones is cosmetics.
Many consumers want their faucet to go with their other appliances and fixtures. Some even go so far as to ask "should a kitchen faucet match your cabinet hardware." Others prefer a contrast and like to mix and match metals and finishes, say pairing matte black with chrome.
These preferences may narrow your choices right off the bat. (Many of the faucet models we tested come in different colors, often with slightly different model numbers.)
Also, make sure that the faucet you like provides adequate pressure, and make sure that pressure can be controlled. A few of the kitchen faucets we tested offered pitiful water pressure. Others were high-pressure, but had so little range that the settings were basically "off" and "firehose."
You want a faucet that's responsive enough to be useful to you in a variety of settings.
Do You Want Smart Features and/or Sensors With Your Faucet?
Ask yourself whether you want smart features with your faucet.
We were initially skeptical of bringing in a fixture that was too ornate for its own good. But, for faucets with well-designed motion-sensing abilities, like the offerings from Flow or Moen, the hands-free aspect became part of our routine faster than we realized it would.
Hands-free sensors can make a tremendous difference.
Conversely, poorly-implemented features like some of the touch-activated options we tested can make a faucet far more frustrating to use than the average basic model.
How To Install a Kitchen Faucet, And Do I Need To?
Ease of installation is another factor to consider. All of the faucets we tested can be installed by someone with a little bit of patience and a willingness to look up videos online.
But among the dozen that we tested, some were definitely easier than others.
The good news is that if you want a faucet that we found difficult to install during our testing, you can always hire a plumber. If you want to know how much it costs to install a kitchen faucet, then call around. Prices vary depending on where you live and who you choose.
How To Clean a Kitchen Faucet Head
For our tests, we simply cleaned our faucets by wiping them down with an all-purpose kitchen cleaner, to make sure that there were no odd design decisions that made cleaning difficult. But, cleaning your faucet is an important part of taking care of your investment long-term.
Over time, calcium and minerals from hard water can build up on your faucet head, affecting the water flow and making it look pretty gross, besides. The good news is that there's an easy fix.
Fill a plastic bag halfway full with white vinegar. (Some places will tell you to dilute the vinegar with equal parts water. Either way, you're not going to hurt anything.)
Attach the vinegar bag to your faucet head. You can use a rubber band for this, or a plastic zip-tie.
Let the bag sit on the faucet overnight. As the hours go by, the acetic acid in the vinegar will eat away at the mineral buildup on your faucet head. When you take the bag off the next day, your water should be flowing just fine.
If necessary, clean away any excess debris with a toothbrush or a small cleaning brush. Your faucet should be good as new!
If you don't have any vinegar, you can also use half of a lemon in the bag instead. Press the lemon onto the faucet head and let the citric acid do its work for a few hours before removing it. Another great vinegar substitute is a lime and rust remover like CLR, diluted in water.
---
Other Kitchen Faucets We Tested
More Articles You May Enjoy