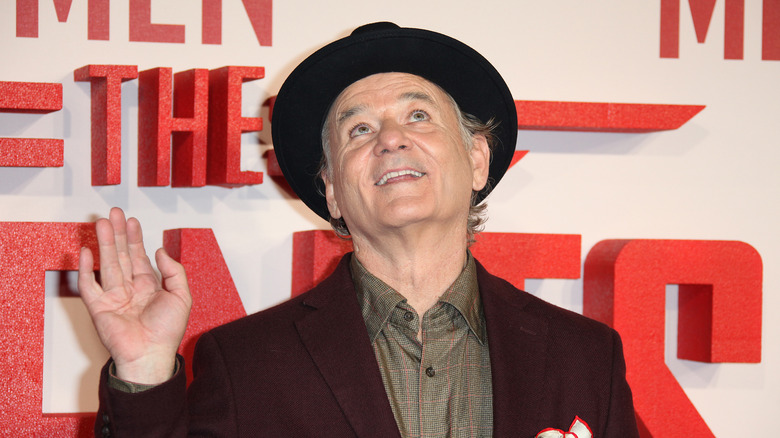 Nothing is more fun than laughing with an audience in a packed movie theater. Cinema is best enjoyed as a collective experience. Even if you never see them again, you bond with your seatmates when you laugh together. While there have been many great, recent comedy films, many of them were released directly to streaming services or only received limited theatrical distribution. COVID-19 is only partially to blame. As some of the leading comedy figures in the industry have noted, many comedy writers were headed to streaming services before the pandemic.
The state of modern comedy cinema may be in flux, but films that bring us joy can always provide a wonderful feeling of escapism during dark times. Despite the Great Depression, the film industry was booming in the 1930s. Facing the uncertainty of an unstable economy, viewers enjoyed being able to relax by watching films that looked on the bright side of life. As we're seeing today, great comedies have the power to unite. Audiences look to influential comedy stars for more than just laughs.
The film industry has been cultivating comedy icons since its earliest days. In the 1920s, silent film stars created recurring characters that appeared in many projects. Since its debut in 1975, "Saturday Night Live" has launched the careers of many comedy titans.
Here are our picks for the 15 most influential comedy stars in movie history.
Charlie Chaplin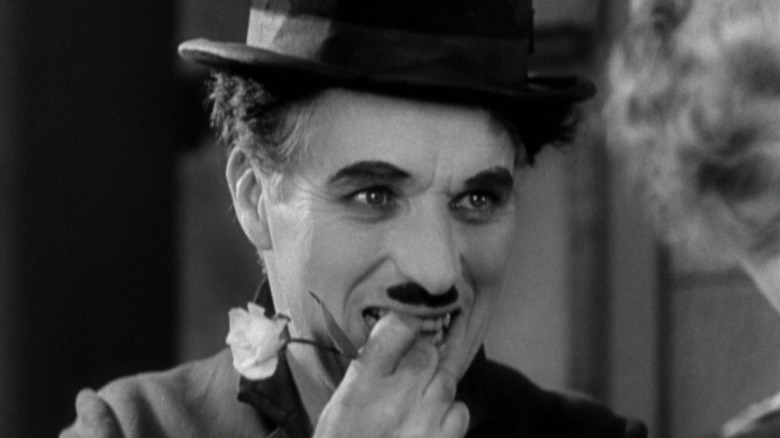 To truly invest in a comedy, audiences need great characters to whom they can attach themselves emotionally. There are few characters in film history more iconic than "The Tramp." Charlie Chaplin's screen persona is a good-natured, sensitive hero who has a knack for getting himself into trouble. Even though he's a bumbling fool, The Tramp usually winds up saving the day. The Tramp was a unique character when he first debuted. He stood out from other characters in the silent film era. While he presented himself as a chivalrous gentleman, The Tramp lived in poverty. Audiences enjoyed watching a character whose experiences were similar to their own.
Chaplin first appeared as The Tramp in the 1914 short film "Kid Auto Races At Venice." In his simple first adventure, The Tramp wreaks havoc during a go-kart race. Chaplin brought The Tramp back for many other shorts, and his success inspired him to extend the character's adventures into longer stories. Chaplin wrote, directed, and starred in the classic silent films "The Gold Rush," "The Circus," "City Lights," and "Modern Times." These heartwarming comedies featured groundbreaking practical stunt work. Chaplin also weaved smaller set pieces into compelling dramatic narratives.
Chaplin also had a serious side and used his comedic alter ego to explore relevant political issues. Chaplin's masterpiece was the 1940 satirical classic "The Great Dictator." He stars as a barber who is mistaken for a fascist dictator. The film examines the dangers of discrimination.
Fanny Brice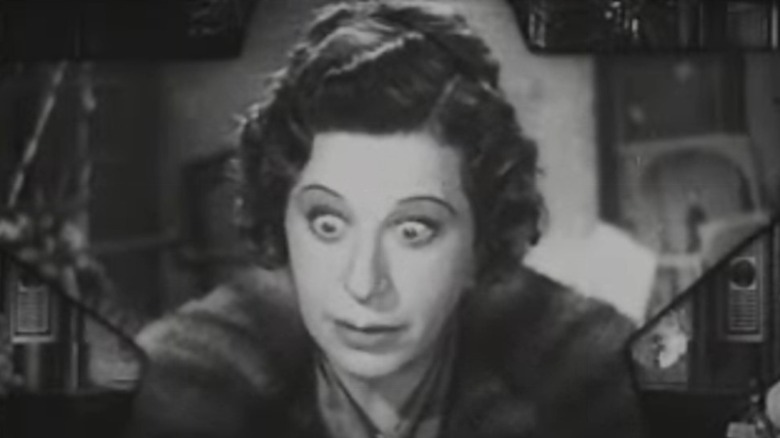 Fanny Brice was already an icon when feature films were first being developed. Brice had been a theater star since she was a teenager and headlined Broadway's "Ziegfeld Follies" during the early 1910s. Brice delivered dozens of stage performances and even had her own radio show. She appeared in a few early motion pictures, including the classic comedies "Be Yourself!," "The Great Ziegfeld," and "Everybody Sing." Regardless of the medium, Brice's hilarious impressions and amusing caricatures kept fans laughing.
Hollywood was transfixed by Brice's rise to fame and films have continued to honor her legacy following her death in 1951. The Broadway show "Funny Girl" was based on Brice's life. Barbra Streisand reprised her role as Brice in the 1968 film adaptation and won the Academy Award for best actress. More recently, the 2018 biographical dramedy "Can You Ever Forgive Me?" tells the story of one of Brice's biggest fans. Melissa McCarthy stars as Lee Israel, a forger who is obsessed with Brice's life.
Buster Keaton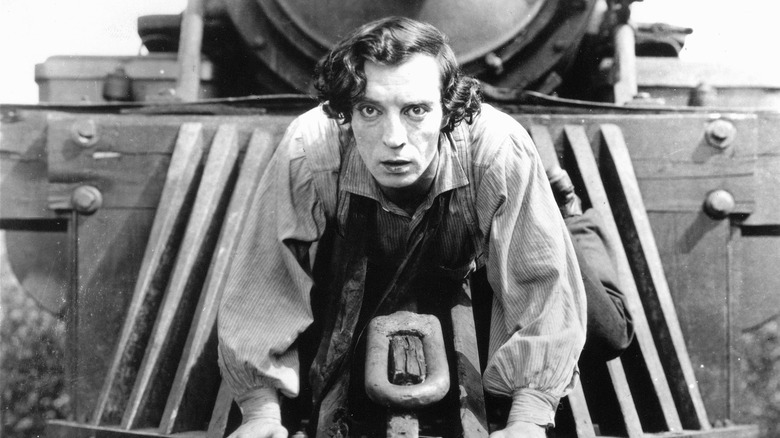 Also known as "The Great Stone Face," Buster Keaton was one of the bravest comedy stars of the silent era. Slapstick films dominated the industry, but Keaton was willing to put his life on the line with his elaborate stunts. Keaton was raised by a family that encouraged risk-taking. As a child, he looked to artists like Harry Houdini as an inspiration.
Like many silent film stars, Keaton began appearing in short films before transitioning into theatrical features. In the early 1920s, he started his own production company, Buster Keaton Features. Keaton directed and starred in uproarious comedy shorts, including "The Scarecrow" and "The Playhouse." Many of these films are now in the public domain and available to watch now for free. It's amazing to think about filmmaking that is still as effective today as it was a century ago.
Keaton made his feature directorial debut in 1923 with the historical satire, "Three Ages." The hour-long adventure takes place in three different timelines, spanning the prehistoric era, the rise of the Roman Empire, and the present day. Keaton designed the story to lampoon D.W. Griffith's 1916 historical epic "Intolerance." It was a risky endeavor. If the film was unsuccessful, it would be divided into short films, and Keaton would never become a feature film star. However, audiences responded favorably to his mix of outrageous slapstick and social satire. He went on to create the classics "Sherlock Jr." and "The General."
Mae West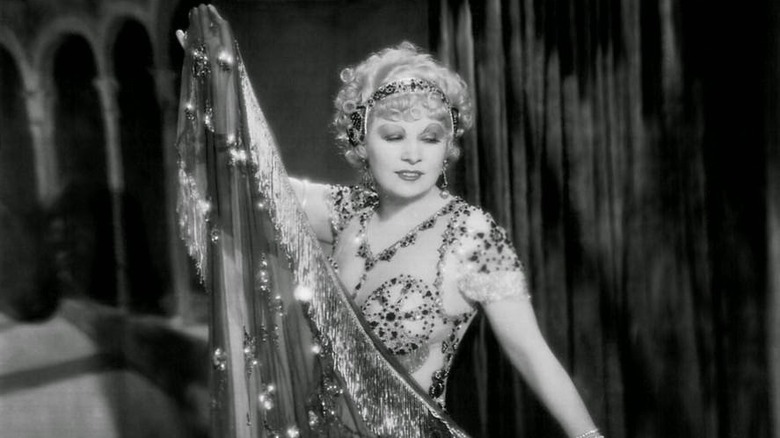 Mae West broke boundaries in the early days of cinema with her controversial, and at times, lewd personality. Shortly after the pre-Code era of the 1920s and early '30s, the film industry started adopting stricter standards on the amount of adult content that was allowed on-screen. West was unafraid to incorporate sexual jokes in her material. As a result, she was frequently targeted by censors. West was brave amidst the onslaught of criticism leveled against her. Her defiant personality opened up opportunities for women to take control of their image and select roles that they were comfortable with.
After the introduction of sound, Hollywood began including more complex jokes than the simple physical humor of silent films. West was an accomplished Broadway star and playwright, and she was able to translate her playful diction to the screen. She wrote and starred in classic comedies such as "I'm No Angel" and "Every Day's A Holiday." She even adapted her play "She Done Him Wrong" into a feature film.
Mel Brooks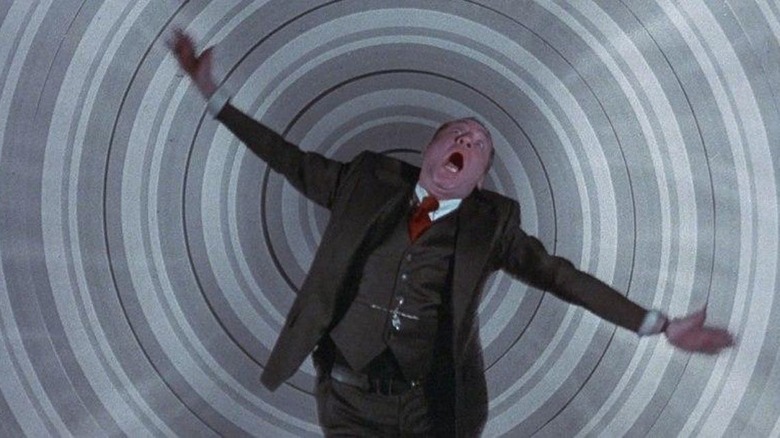 Now in his 90s, Mel Brooks is still delighting his longtime fans with new projects. In the past few years, Brooks released his autobiography, "All About Me!" lent his voice to several animated projects, and became an active presence on social media. Brooks is one of only 16 "EGOTs" in history. He has won an Emmy, Grammy, Oscar, and Tony Award. Brooks directed some of the greatest comedy films of all time, but he's just as brilliant in front of the camera as he is behind it.
After proving himself as a showrunner with the classic spy parody series "Get Smart," Brooks made his cinematic directorial debut in 1967 with "The Producers." A parody of the theater industry, "The Producers" centers around mischievous Broadway producers Leo Bloom (Gene Wilder) and Max Bialystock (Zero Mostel), who devise a scheme to profit off of the worst Broadway show ever. Although Brooks only has an uncredited voice role in "The Producers," he gives scene-stealing supporting performances in other films that he wrote and directed. Some of his best characters include the corrupt Governor Le Petomane in "Blazing Saddles," both the inept President Skroob and the Yoda caricature, Yogurt, in "Spaceballs," and many roles in the anthology satire "History of the World, Part 1." His 1977 film "High Anxiety" allowed him to honor his hero, Alfred Hitchcock. Brooks also delivered a more sensitive performance as the hapless loser Goddard Bolt in 1990's "Life Stinks."
Lucille Ball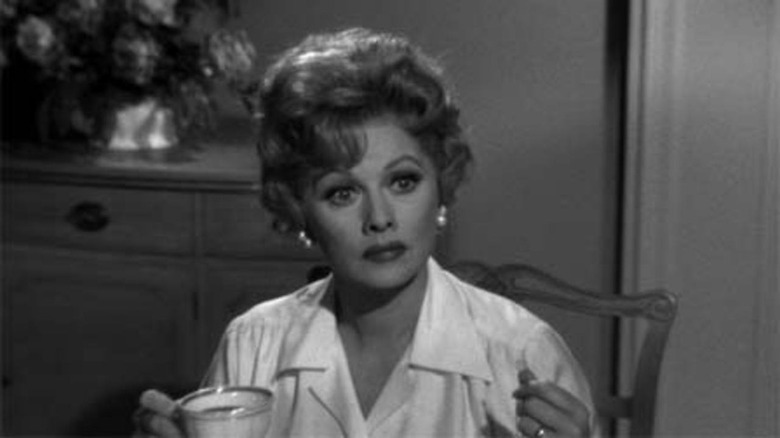 Lucille Ball changed comedy forever. Early in her career, Ball primarily worked on Broadway and only appeared in smaller film roles under her contract with RKO Pictures. However, she rose to prominence in the 1950s with the record-breaking success of her sitcom "I Love Lucy," which she created with her husband Desi Arnaz. "I Love Lucy" became one of the most-watched television shows of all time. It allowed Ball to take on more leading film roles.
The 1960 film "The Facts of Life" proved that Ball could bring the same physical comedy that had made "I Love Lucy" so beloved to the big screen. She holds her own against the comedy legend Bob Hope, and the pair have great chemistry. "Yours, Mine, and Ours," released in 1968, showed that Ball had more to offer than just gags. Ball and Henry Fonda star as a couple that falls in love and deals with the realities of marriage and raising a blended family.
Bill Murray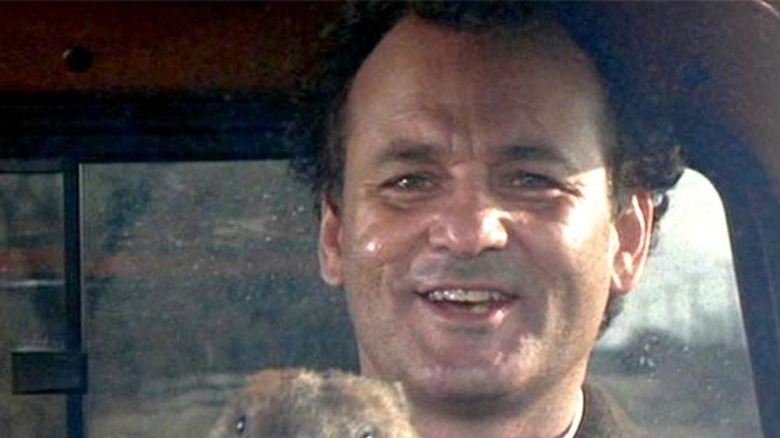 Bill Murray was one of the earliest breakout stars of "Saturday Night Live." Murray's deadpan humor and inventive characters made him a national icon, and in the next decade, he appeared in some of the most influential comedies of the generation. There are countless urban legends and myths about Murray. He is notoriously elusive and has become renowned for his hilarious random appearances. Murray is still an exciting cinematic presence today. He's one of the rare comedy stars who has been able to reinvent himself over multiple generations.
Although he has an individual voice, Murray got his start thanks to his collaborations with directors Ivan Reitman and Harold Ramis. His breakout role was as Tripper Harrison in Reitman's 1979 film "Meatballs," but it was Murray's performance in the 1984 action-comedy film "Ghostbusters" that solidified his star power. While he was just as hilarious as he'd always been, "Ghostbusters" proved Murray could be a compelling romantic lead and action hero, too. Cynical professor Dr. Peter Venkman became instantly beloved. "Ghostbusters" fans were desperate to see Murray return to the franchise after the franchise's second installment. He finally came back to the series for a cameo in "Ghostbusters: Afterlife."
Murray had a lifelong but at times strained friendship with Ramis. They did some of their best work together, including the sports classic "Caddyshack" and the heartwarming favorite "Groundhog Day." Both roles showed Murray's range. He fits in well with the ensemble in "Caddyshack" and delivers a more dramatic performance in "Groundhog Day.
Marilyn Monroe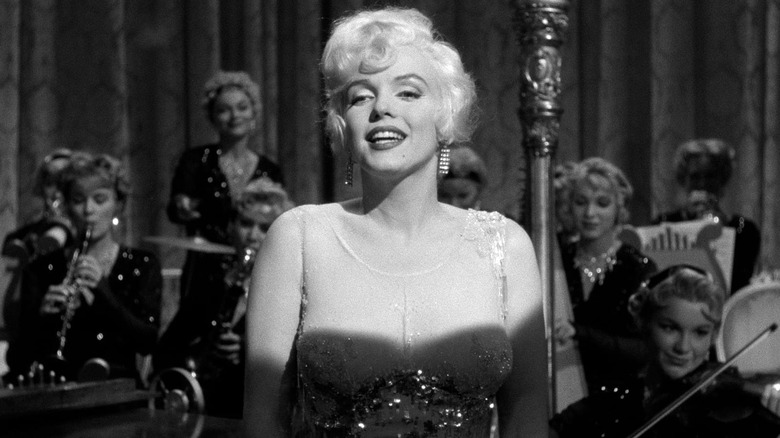 Marilyn Monroe embodied the charisma of the golden age of Hollywood. She left behind a fascinating and controversial cultural legacy. During her film career, Monroe was objectified and treated as a sex object by Hollywood and the media. The sexism in the industry was tragic, and it sadly overshadowed the fact that Monroe was an amazing comedy star. Although she is revered as an icon, Monroe deserves more credit for how truly talented she was.
Monroe first rose to prominence in the musical comedy "Gentlemen Prefer Blondes" and the romantic slapstick "How to Marry a Millionaire." While neither film has aged well because of their offensive depiction of women, Monroe proved she could perform difficult physical comedy gags. Her best role, however, came in 1959 with Billy Wilder's classic "Some Like It Hot." Monroe nails Wilder's sharp dialogue. She has great chemistry with her co-stars Jack Lemmon and Tony Curtis. She continued to do stellar work up until her tragic death in 1962.
Rudy Ray Moore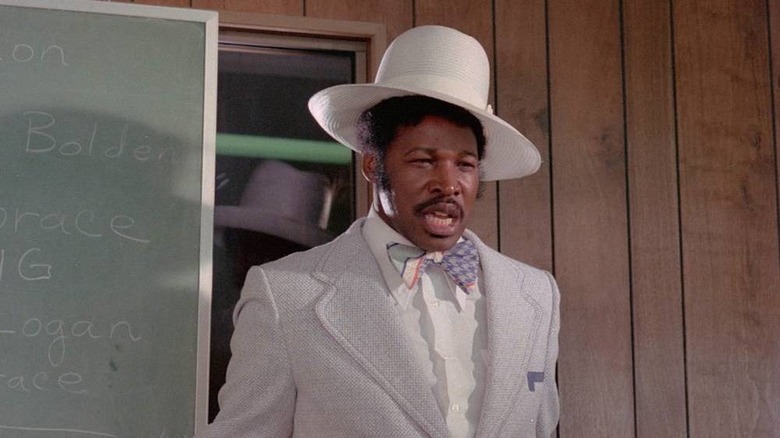 Eddie Murphy earned some of the best reviews of his career for his performance in the 2019 biographical film "Dolemite Is My Name." The film was a loving tribute to one of Murphy's screen heroes, Rudy Ray Moore. Moore was a versatile comedy star who could do almost anything that he set his mind to. Producing, acting, writing, and performing original songs, Moore poured significant effort into each of his projects. His work inspired generations of artists. Snoop Dogg said that he wouldn't have a career without Moore's contributions to poetry and rap. Moore empowered Black artists with his projects and created a supportive community.
After earning a loyal fanbase with his stand-up material, Moore decided he wanted to be a movie star, too. When studios refused to cast him in blaxploitation films, Moore made his own. Moore could have blown his entire fortune self-financing the 1975 crime caper "Dolemite," but it became a surprise hit. Moore's titular hero is a pimp with a heart of gold. Dolemite is released from prison after serving 20 years for a crime he didn't commit. He looks to get revenge on the cops who framed him for the crime. Despite its low-budget production values, the film is charming. Even if it is incoherently edited and designed, "Dolemite" is wholly unique. 
Lily Tomlin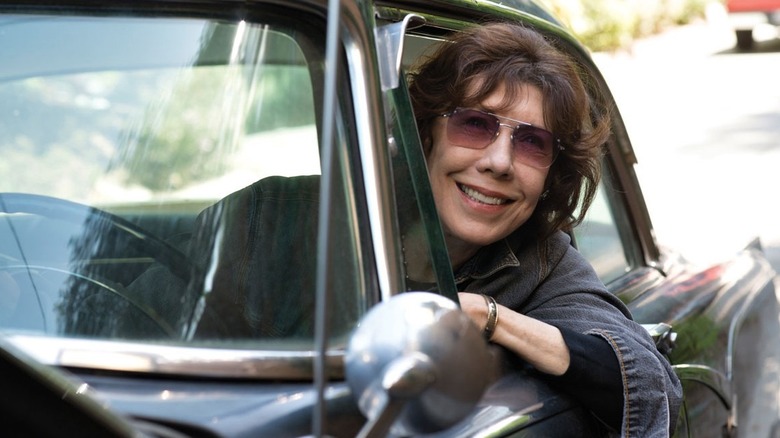 Lily Tomlin has been a great character actress for five decades, and she's matured gracefully with her versatile roles. Tomlin delivered an amazing breakout performance in Robert Altman's 1975 classic, "Nashville," and received an Academy Award nomination for best supporting actress. Although "Nashville" has one of the greatest ensemble casts of all time, Tomlin's heartfelt performance as gospel singer Linnea Reese was singled out. The moving scenes that Linnea shares with her deaf son are among the film's most touching.
Tomlin continued this trend and delivered more scene-stealing performances in acclaimed films. She worked with Altman again on 2006's "A Prairie Home Companion," another ensemble dramedy that focuses on the realities of show business. She continues to pop up in memorable roles today. Tomlin stars alongside Julia Garner in the idiosyncratic 2015 indie comedy "Grandma. She added some of the best jokes in 2018's "Spider-Man: Into the Spider-Verse" with her reinvention of Aunt May.
Eddie Murphy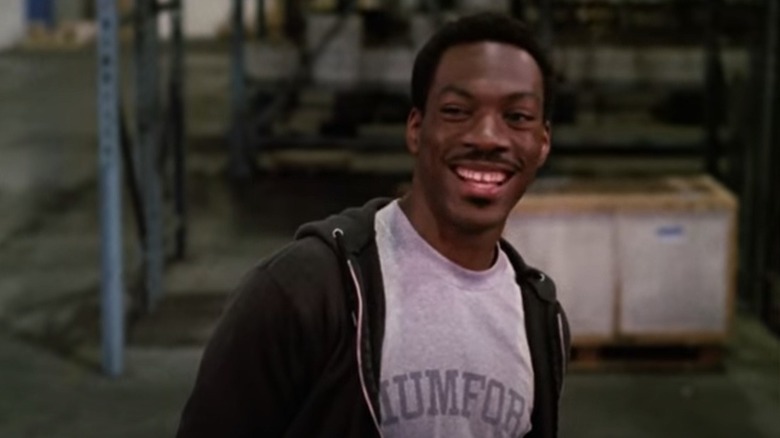 There aren't many cinematic screen debuts as impressive as Eddie Murphy's performance as Reggie Hammond in the 1982 action-comedy "48 Hours." Murphy had already become a renowned "Saturday Night Live" star, but "48 Hours" showed that he could dominate a film with his larger-than-life presence. Murphy stars as a convicted criminal who teams up with a gruff detective named Jack Cates (Nick Nolte) to solve a murder. Murphy was only 21 years old when he shot the film. It set the precedent for his incredible run of success in the next decade.
Murphy shares the screen with Dan Aykroyd in the 1983 comedy "Trading Places." The satirical film focuses on an out-of-touch investor (Aykroyd), whose Wall Street job is taken by a streetwise hustler (Murphy). The duo's distinct comedy styles intertwine perfectly. Murphy's vulgar nature counterbalances Aykroyd's hapless personality. However, Murphy proved in 1984 that he could also be a leading action star with "Beverly Hills Cop." While his character Axel Foley is hilarious, Murphy is still believable solving crimes and shooting bad guys. He returned for two sequels and is reportedly preparing to shoot another installment soon.
Murphy is unafraid to wear extensive makeup. In the 1988 comedy "Coming to America," he portrays four different characters. Murphy continues to put out great work today. He recently earned acclaim for the heartwarming biopic "Dolemite Is My Name" and the new sequel "Coming 2 America."
Goldie Hawn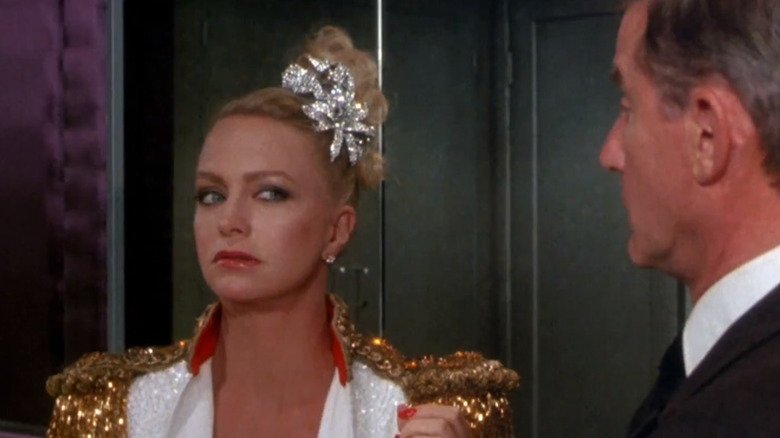 Goldie Hawn launched her career on such 1960s shows as "Good Morning World" and "Rowan & Martin's Laugh-In," but it was clear that her talent couldn't be contained by the small screen. Soon, she caught Hollywood's eye. Shortly after her first cinematic performance in the Disney musical "The One and Only, Genuine, Original Family Band," Hawn won an Academy Award for her role in the ensemble comedy "Cactus Flower." She became the rare performer who found success with over three decades of consistent box office hits.
Hawn does some of her best work by keeping things in the family. Although her future husband, Kurt Russell, had a small part in "The One and Only, Genuine, Original Family Band," the two began dating during the production of "Swing Shift." Their romantic chemistry is just as endearing on-screen as it is in real life. The pair went on to star in the comedy classic "Overboard." More recently, they reunited on-screen for the heartwarming 2018 Netflix holiday comedy "The Christmas Chronicles" and its 2020 sequel.
Robin Williams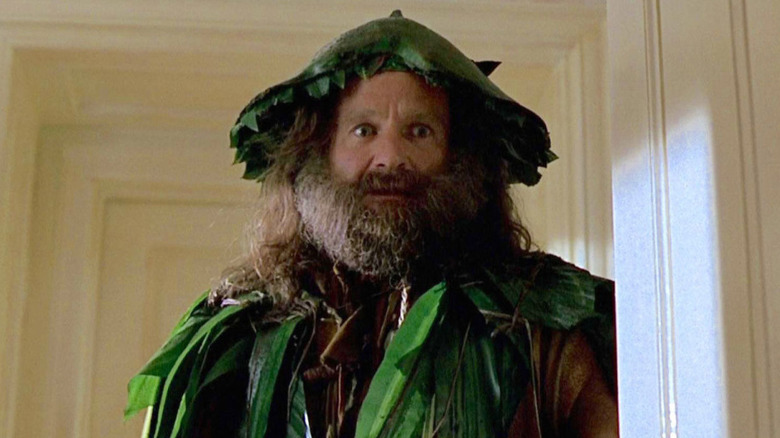 Is there anything more comforting than the hearty laughter of Robin Williams? One of the most enduring creative forces in both stand-up comedy and the film industry, Williams was a heartwarming creative presence that delighted generations. Williams' stand-up material was often profane and shocking, but he was beloved by audiences of all ages. He starred in films such as "Hook" and "Jumanji" that the whole family could enjoy, not just children. However, Williams wasn't afraid to get raunchy, either. He portrayed cynical anti-heroes in black comedies like "World's Greatest Dad" and "The Angriest Man in Brooklyn."
While he was a recognizable star, Williams was also a bit of a chameleon. He could seamlessly transition between all types of projects and even earned awards nominations for his sensitive, dramatic performances in films like "The Fisher King" and "Dead Poets Society." Williams won the Academy Award for best supporting actor for his performance as inspirational professor Sean Maguire in Gus Van Sant's "Good Will Hunting." While it is a serious film, Williams incorporates moments of levity that make the story seem more realistic.
Williams tended to dominate the screen — even when his face wasn't being shown. He voiced the Genie in Disney's animated classic "Aladdin" and managed to upstage all of the main heroes and villains in the story. "Aladdin" directors Ron Clements and John Musker told Variety that Williams added hours of improvised dialogue in the recording booth.
Catherine O'Hara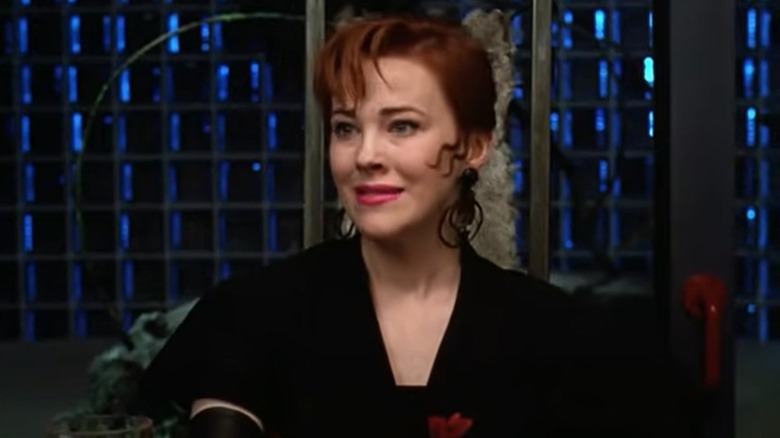 The popularity of "Schitt's Creek" has introduced Catherine O'Hara to a new generation, but she's been a prominent comedic voice since the 1970s. After co-starring in the kid-oriented sitcom "Coming Up Rosie" with John Candy and Dan Aykroyd, O'Hara worked with two of the greatest comedic filmmakers ever.
During her collaborations with Christopher Guest, O'Hara frequently appears alongside her future "Schitt's Creek" co-star, Eugene Levy. The pair starred together in Guest's mockumentaries "Waiting for Guffman," "Best in Show," "A Mighty Wind," and "For Your Consideration." Guest's films succeed where other mockumentaries fail because of their attention to detail. O'Hara grounds her characters in reality, making them even funnier.
O'Hara's knack for idiosyncrasy made her a perfect fit for the imaginative worlds of Tim Burton. O'Hara is a scene-stealer as Delia Deetz, the clueless mother of Winona Ryder's Lydia in "Beetlejuice." Even if her face doesn't appear on screen, O'Hara's voice is instantly recognizable in "A Nightmare Before Christmas" and "Frankenweenie."
Jim Carrey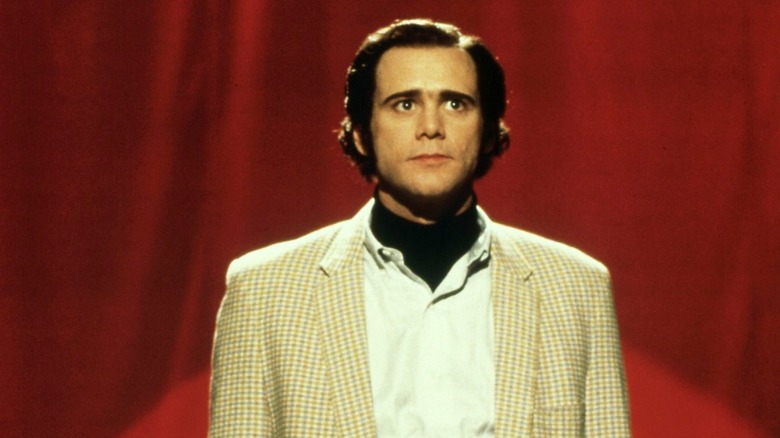 Jim Carrey is a brave comedy star who has reinvented himself throughout his career. Carrey was a subversive stage comic. His eccentric characters can easily be grating, but Carrey gives them all unique characteristics. It was clear that Carrey's imagination couldn't be limited to the stage alone. He became one of the biggest box office titans of the 1990s.
Carrey gave a few minor supporting performances in the 1980s, but he became a sensation in 1994 with a trio of his best roles. He appeared as the titular heroes in "Ace Ventura: Pet Detective" and "The Mask" and as one of the stars of "Dumb and Dumber." Each of these characters embodies a different trait in his comedic style. "Ace Ventura" appealed to younger audiences, "The Mask" proved he could embody a comic book character, and "Dumb and Dumber" allowed Carrey to do wacky slapstick. Each of these films would have been a disaster if it wasn't for Carrey's commitment.
Although he's renowned for his larger-than-life personality, Carrey can give performances with real depth. Carrey transformed into comedian Andy Kaufman in Milos Forman's biographical film, "Man on the Moon." His meticulous acting process was captured in the documentary "Jim & Andy: The Great Beyond." Carrey also fit seamlessly within high-concept science fiction films that featured only traces of laugh-out-loud comedy. He's both amusing and heartbreaking in the dystopian satire "The Truman Show" and the tragic romance "Eternal Sunshine of the Spotless Mind."
Whoopi Goldberg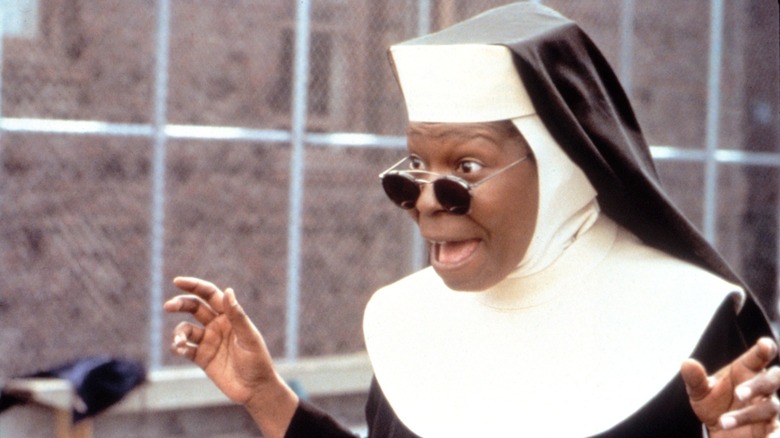 Whoopi Goldberg has found success in many artistic fields and like Mel Brooks, she is an EGOT. Goldberg has hosted several awards ceremonies, delivered heartbreaking dramatic performances, starred in major Broadway shows, influenced stand-up comedy, and even appeared in the fan-favorite role of Guinan on "Star Trek: The Next Generation." While her comedic films are only a small part of her legacy, Goldberg has brought her signature humor to the big screen. Filmmaker Mike Nichols discovered Goldberg after seeing her one-woman show, and she became a prominent comedy star for many decades.
Shortly after her dramatic breakout role in "The Color Purple," Goldberg took her first major comedy part in the spy film "Jumpin' Jack Flash." This hilarious parody of the espionage genre centers on a computer programmer who discovers a mysterious conspiracy hidden in the iconic Rolling Stones song. After Bette Midler turned down the leading role in "Sister Act," Goldberg took the outrageous part and helped create a franchise. "Sister Act" became one of the highest-grossing comedies of the 1990s. A third installment in the series is set to be released on Disney+.
Gene Wilder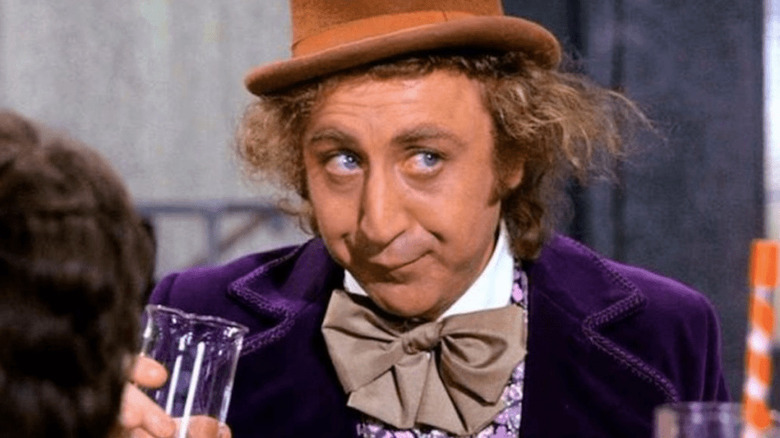 Mel Brooks helped launch the careers of many great comedy stars, and Gene Wilder's success rivaled his own. The two were lifelong friends and empowered each other's success. Wilder's breakout role was in Brooks' 1967 Broadway satire, "The Producers" in which he and Zero Mostel star as a pair of dishonest musical investors who decide to earn a profit by creating the worst musical ever. Wilder received an Academy Award nomination for best supporting actor. He showed that he could make a morally gray character endearing. He adopted a similar personality when he reunited with Brooks to play hard-drinking gunslinger "The Waco Kid" in the Western satire "Blazing Saddles" and the titular scientist in "Young Frankenstein."
Brooks wasn't the only great comedy star that Wilder collaborated with. He starred in four films alongside the legendary Richard Pryor. The pair first met on the set of "Silver Streak" and encouraged each other to improvise. Together, they were believable as lifelong friends who always seemed to get themselves into dangerous misadventures. Films like "Stir Crazy" proved that Wilder and Pryor could get audiences to invest in their friendship no matter how unbelievable the story got.
Although Wilder's raunchy work with Brooks and Pryor made him a hit with adults, he was also beloved by children. "Willy Wonka & The Chocolate Factory" remains one of the greatest family films ever. Wilder embodies the idiosyncratic character from Roald Dahl's novel and delivers each line as if it could be either sincere or ironic.
Tina Fey
Although she's best known for "Saturday Night Live" and "30 Rock," Tina Fey has been just as funny in her film roles. Fey broke out as a movie star with the 2004 high school comedy "Mean Girls. "Mean Girls" reinvented the coming-of-age story from an intelligent female perspective. Fey wrote the film's brilliant screenplay and played a key supporting role as the hapless calculus teacher Ms. Sharon Norbury.
There's an element of authenticity in Fey's performances. She's starred in hilarious films but never embarrasses herself by playing unrealistic characters. In romantic comedies like "Admission" and "Date Night," Fey does a great job portraying the realities of modern relationships. She's also proven that she can add a light touch to more dramatic material. In the 2014 ensemble dramedy "This Is Where I Leave You," her character returns to her hometown to attend her father's funeral. Fey shows how difficult confronting childhood trauma can be but still adds many amusing one-liners to the film.
Chris Rock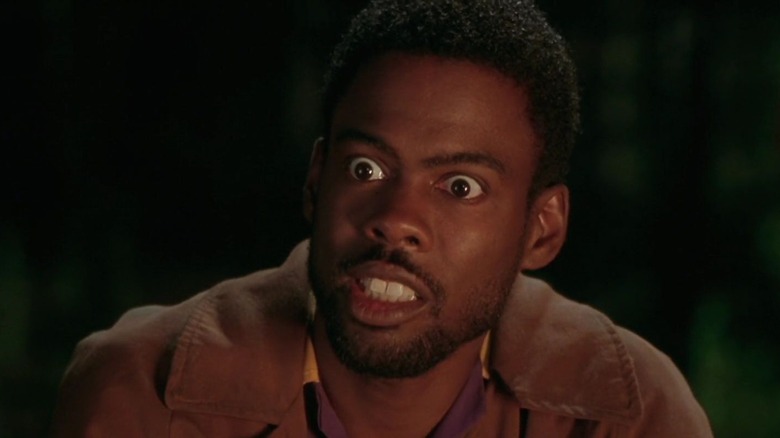 Chris Rock is unafraid to tackle controversial subjects with his stand-up material. He frequently jokes about topics like race relations, the realities of marriage, recent political events, and substance abuse. He translated his defiant personality to the screen and became a popular television star after his brief run on "Saturday Night Live" in the 1990s. These early achievements allowed Rock to launch an equally successful career as a movie star.
Rock has translated his unique style to many different types of comedies. He became a fun new addition to a beloved franchise when he appeared as Detective Lee Butters in "Lethal Weapon 4." In 1999, Rock joined the View Askewniverse as Chaka Luther King in Kevin Smith's religious comedy, "Dogma."
Rock has also contributed to the most important night on the Hollywood calendar. He hosted the Academy Awards twice, and at both ceremonies, he weighed in on recent controversies. At the 2005 awards, Rock criticized the Oscars for its lack of Black representation. During the 2016 ceremony, Rock weighed in on the #OscarsSoWhite controversy after the Academy failed to nominate actors of color for the second year in a row. However, his appearance as a presenter at the 2022 Oscars, during which he was slapped by actor Will Smith, is one of the most infamous moments in the history of the Academy Awards.
Melissa McCarthy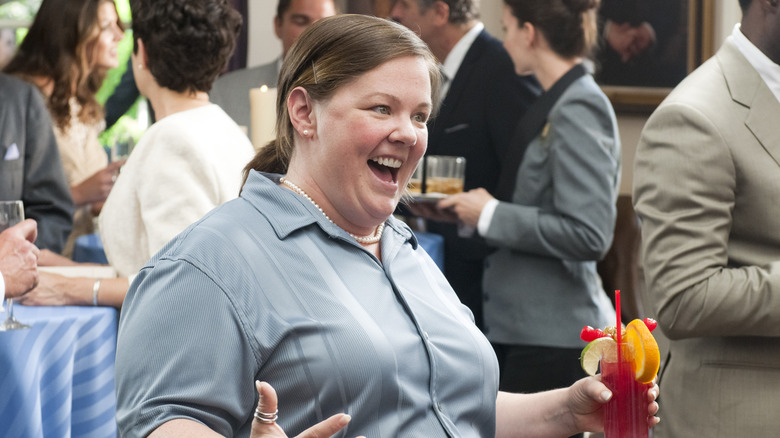 There aren't a lot of comedy actors who have risen as rapidly as Melissa McCarthy. The 2011 comedy "Bridesmaids" is one of the funniest films of the 21st century and features one of the best casts. In an ensemble that includes such great comedy stars as Kristen Wiig, Rose Byrne, Maya Rudolph, and Rebel Wilson, McCarthy manages to be the standout. Her scene-stealing performance as Megan Price earned her an Academy Award nomination for best supporting actress. It was one of the rare instances in which the Oscars recognized a wild physical performance from a studio comedy.
After this success, McCarthy wrote and produced slapstick comedies such as "Tammy," "The Boss," and "Life of the Party." Renowned for her physical gags, McCarthy is also versatile. In the 2014 dramedy "St. Vincent," she plays a sympathetic single mother. McCarthy has also proven that she can be a compelling action star. Her characters Susan Cooper in "Spy" and Detective Shannon Mullins in "The Heat" may be accident-prone, but they're not completely incompetent.
Read this next: The 15 Best '80s Comedies Ranked
The post The 20 Most Influential Comedy Stars in Movie History appeared first on /Film.