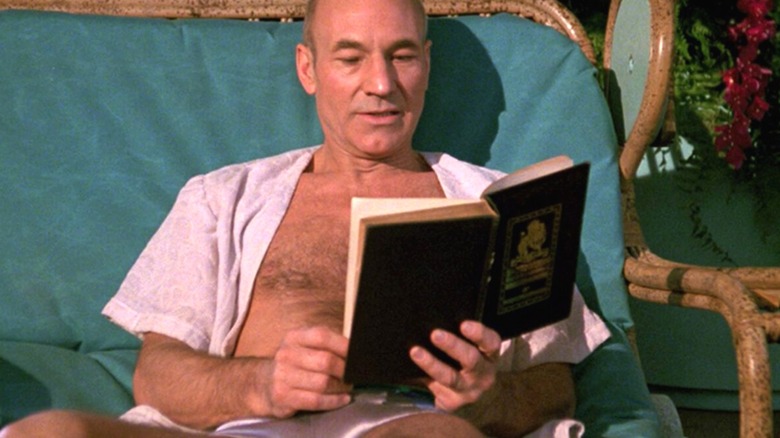 Like all our favorite franchises, "Star Trek" is a multimedia phenomenon. Today's kids grow up in a world full of TV series, movies, comics, games, and, of course, tie-in novels. "Star Trek" novels are notable because they're non-canon by default, and that's allowed their writers to go ham while exploring strange new worlds. Some of these earliest tie-in writers went on to become science fiction titans, and sometimes those titans like to return for more Trekkie fun.
"Trek" books are also a unique part of the fandom experience. "Star Trek: The New Voyages" was a licensed, two-book anthology, printed in the late '70s and curated from fanfiction. Wilder still, in 1985, writer Della Van Hise saw her "Star Trek" novel "Killing Time" published and recalled for an edited reprint as longtime fans realized their beloved slash fiction pairing of Kirk and Spock was no longer hiding in the shadows. It's a goofy testament to how fans helped "Star Trek" thrive in the first place, and today, these tie-in novels are still great comfort food. These are 15 of the best that I've found, read, and loved over the years.
A Stitch In Time By Andrew Robinson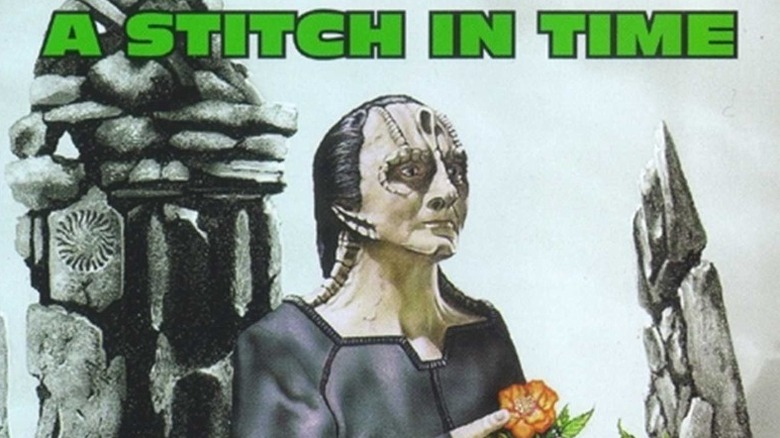 Elim Garak isn't special to "Star Trek" fans alone. He's also part of actor Andrew Robinson in a unique way. The charming-yet-wily Cardassian tailor (and spy) called Deep Space Nine his home, but Garak's too big a personality to be contained by its steel corridors (or with a word from Dr. Bashir, his unlikely best friend.) Robinson grew him that way from the start, creating an in-character diary to guide him through Garak's behavior. Garak's diary, however, took on a life of its own as Robinson made readings from it part of his convention appearances. Eventually, Robinson was coaxed into turning it into a novel.
"A Stitch in Time" is epistolary, presented as a series of letters sent by Garak to Dr. Bashir in the wake of the Dominion War. Contained within are fragments of Garak's childhood, memories of a long-ago love, and preparations for the future. The greatest compliment I can offer is that every word drips with Robinson's genteel drawl. No one else could have written this novel, and it's the perfect love letter from an actor to the character he brought to life.
Imzadi By Peter David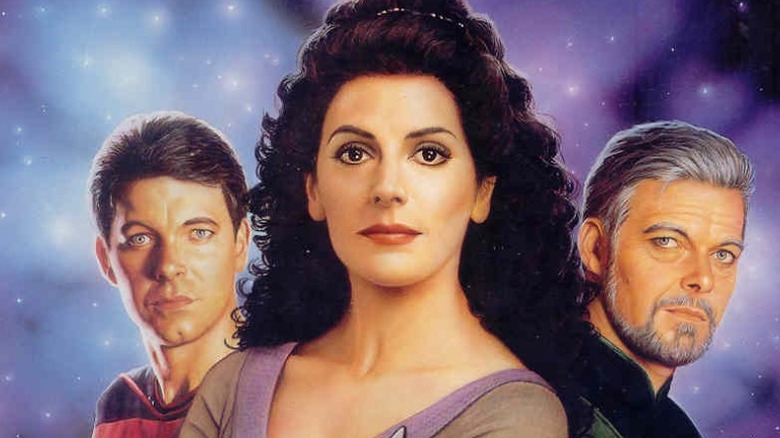 "Imzadi" was rereleased in 2003, packaged with its sequel and listed as "Imzadi Forever." By all accounts, the follow-up is a fine tale, but I haven't read it. My recommendation is for the original 1992 release, which I eagerly bought in hardcover. Like another upcoming Peter David selection, "Imzadi" has a complicated timeline, but the emotional thread and David's clean prose make the plot easy to follow.
The word "imzadi" is first used in "Encounter at Farpoint," telepathically sent to Riker by Troi. However, it's author Peter David who expands on the power of the Betazed term for "beloved." The word refers not to a teen's first love but to something richer and deeper. The novel explores Riker's and Troi's early relationship through the lens of a distant, alternate future in which Troi is dead, and Riker is a bitter old cuss. Obviously, nobody wants a future like this one, but the Guardian of Forever, that magical archway from classic "Star Trek," has our backs. The return of this sentient space rock is always a selling point, but the story also has all the political twists and turns a Trekkie could want.
How Much For Just The Planet? By John M. Ford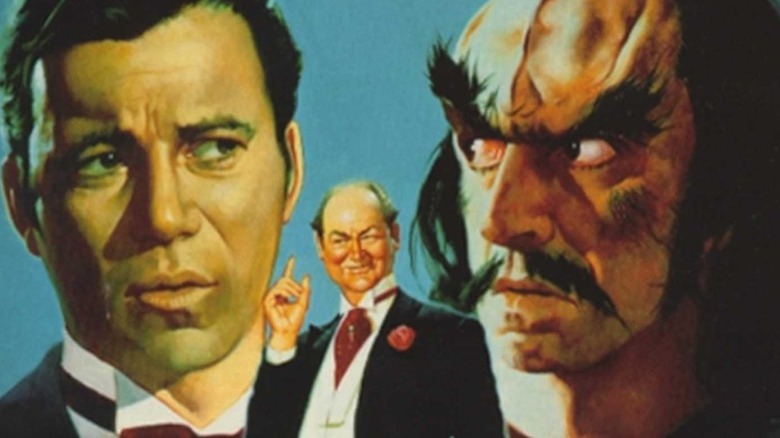 John M. Ford was one of the best, most underrated writers of the modern era. Until recently, almost all of his work had fallen out of print with his death in 2006. Most of his catalog is still pretty hard to find and requires trawling used bookstores with an eye for treasure. Unfortunately, that includes 1987's "How Much for Just the Planet?" It's Ford's second "Star Trek" novel, and it's a "Dr. Strangelove"-style artifact of perfect absurdity.
"How Much for Just the Planet?" is a surreal sci-fi mélange: Take the crew of the Enterprise, pit them against opportunistic Klingons, and add a previously undiscovered planet full of untouched dilithium. Then, mix in a troupe of truly incomprehensible, goofball aliens, slap everybody in a hotel (with a golf course — it's a plot point), and make them play in a "Squid Game"-style competition that focuses on heists and ballroom dancing instead of murder. The goal is friendship and having some good laughs along the way.
Spock Must Die! By James Blish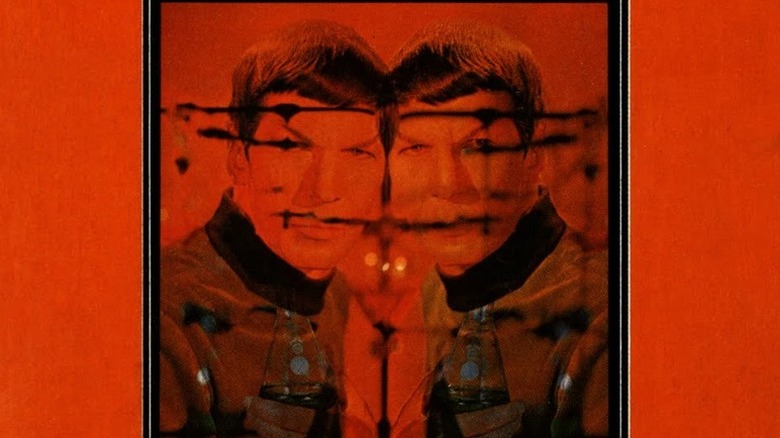 The first original "Star Trek" novel is still a good read and a great place to get some context for the ways "Trek" fiction has evolved. "Spock Must Die!" feels fresher than its 1970 print date in many places, but bear in mind, it plays with some "exotic sexuality" tropes regarding Spock. Yeah, he was definitely the unlikely sex symbol of original "Star Trek," but Blish's prose occasionally takes that to a funky place.
Otherwise, this book does introduce some neat concepts way before later "Star Trek" wore them out. The evil clone plot line is a groaner staple now, but Blish's novel twists it up with some unsettling fridge logic questions about how the transporter room could work with some mad science drive. From there, the science is pretty pulpy, but the high-stakes thrills leading up to the title drop — a Spock does have to die — make for a nice, cozy ride through an earlier science fiction era.
Q-Squared By Peter David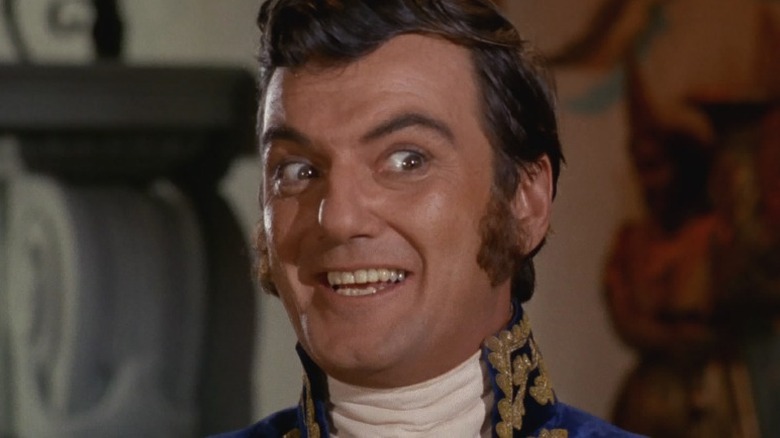 Like most "Star Trek'' tie-ins, "Q-Squared" isn't canon, but it's close enough to an assumed truth that fans have kind of adopted it anyway. It's a three-lane timeline pileup, and this time, it is a little confusing. It makes sense for there to be some confusion over what the hell is going on because this book brings in John de Lancie's omnipotent trickster, Q. And it's not a Q story unless everyone (including Picard) asks, "What the hell is going on?" at least once.
In this case, what the hell is going on is a tantrum thrown by a young Q whom "Trek" fans know as Trelane, the Squire of Gothos. A longtime "Star Trek" favorite, Trelane was a quirky, omnipotent brat that futzed around with Kirk and his buddies until his family pulled him in line at the end of the episode. David's novel draws on the fan-inspired retcon that this classic character is actually a Q (a speculation John de Lancie also shares) and ties it all together in a messy bow. It doesn't always make sense, especially the semi-metaphorical sword fight finale. Still, it's a great trip through the fringes of the Continuum.
Spock's World By Diane Duane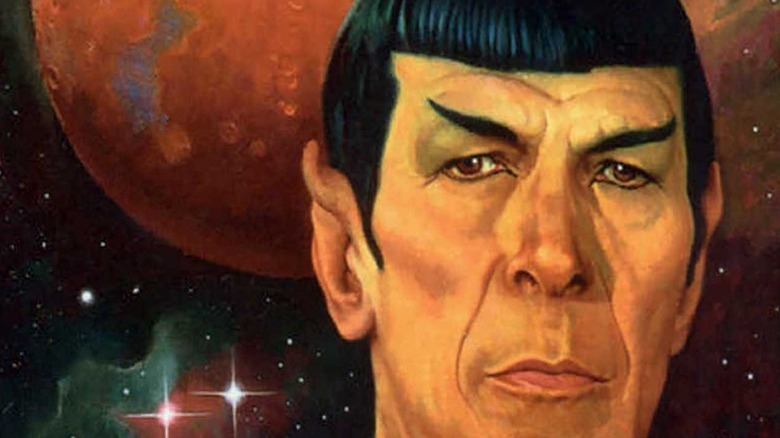 Author Diane Duane is a modern treasure. Her "Young Wizards" fantasy series remains one of the best ways to hook a kid on the dreams hidden inside books. Still writing and still a part of fandom today, she also wrote 1988's "Spock's World," one of the first and best books to dig into the social intricacies and history of Vulcan.
The framing narrative deals with a fledgling separatist movement working to pull Vulcan out of the Federation, and it provides a chance for Spock and his family to take the spotlight. It's a great political yarn, and it pulls on some threads from classic "Trek" episodes, most notably "Amok Time." However, the real meat here is the intricate world building with lingering glimpses of major moments in Vulcan history. It's a great reminder that what makes "Star Trek" so special are the worlds it explores. Although "Spock's World" is not canon, Duane's graceful creation continues to influence other "Star Trek" creators.
The Last Best Hope By Una McCormack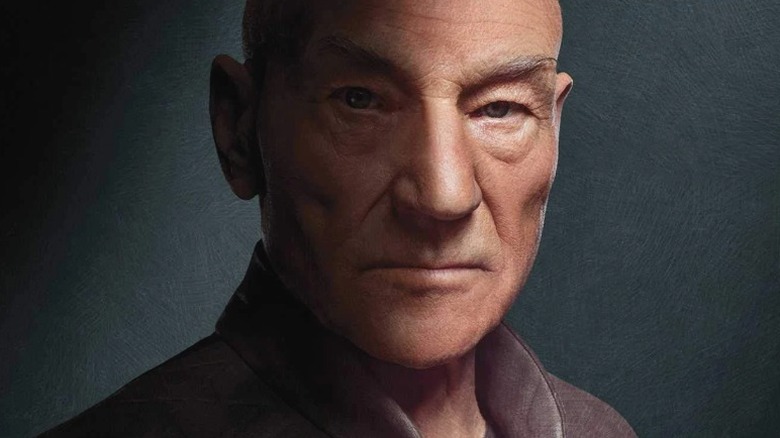 With the debut of every new "Star Trek" TV series, you can rest assured that a swath of new tie-in novels are in the works. Obviously, the tie-in tradition continued with "Picard." The first novel based on Jean-Luc's solo outing was published within a month of the show's premiere. "The Last Best Hope" is a prequel to "Picard," and it does a solid job of fleshing out a number of connections that the first season didn't get a chance to work on.
Though a lot of the novel is devoted to Raffi, the troubled intelligence officer we grow to love on the show, it's the glimpses of Romulan culture that stand out. The religious order introduced in the show, the Qowat Milat, are in sharp focus here and help round out the childhood of Elnor, our orphaned Romulan Legolas. "The Last Best Hope" has another trait that may make it attractive to fans of the show: Until "Picard" contradicts it, this book is currently as close to actual canon as a "Star Trek" novel can be.
Star Trek: The Eugenics War By Greg Cox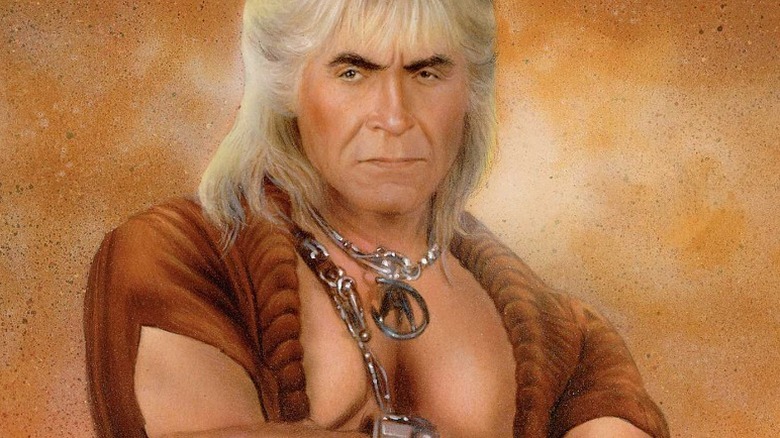 It's easier to refer to this bulk recommendation as "The Khan Trilogy." The first two novels are formally titled "The Eugenics War: The Rise and Fall of Khan Noonien Singh" (volumes one and two, respectively), and the third is "To Reign in Hell: The Exile of Khan Noonien Singh." The trilogy is two parts covert war thriller and one part survivalist nightmare. All together, it pieces together the complete life of one of the mightiest (and bare-chestiest) foes in "Star Trek" history.
"The Eugenics War" is a look inside the doomed effort to prevent that legendary conflict from ever happening. As mentioned in the classic episode "Space Seed," eugenicist science created a social schism the likes of which Marvel's Magneto barely dreamed of. The effort to stop Khan from dominating Earth fails, but infighting eventually drives the tyrant into exile. The events of "Space Seed" happen after the first two books, and the final novel sees Khan struggle to survive on Ceti Alpha V, the sandy death-world we discover in "The Wrath of Khan," surrounded by loyalists and scarce resources. Great stuff.
The Final Reflection By John M. Ford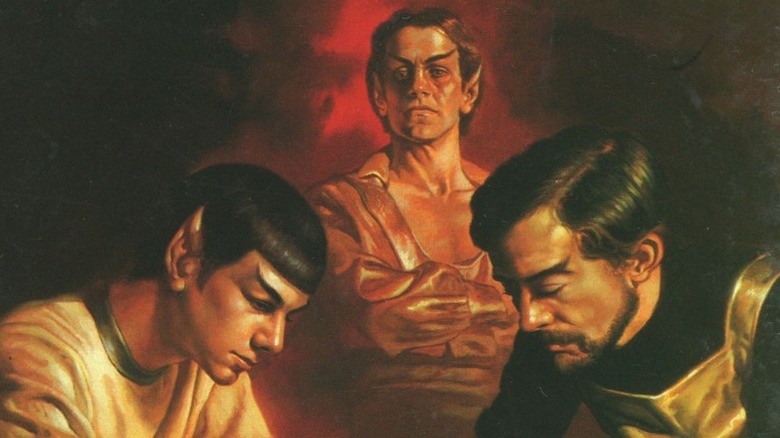 My prior John M. Ford recommendation may have the spotlight, but don't pass up "The Final Reflection" if you can find it. While not as richly built as Diane Duane's "Spock's World," Ford's book treats Klingons with such detail and complexity that it went on to affect later portrayals of the proud warrior race. It's a book that's occasionally lauded as a "Star Trek" novel that stands on its own as a great work of science fiction, which is a backhanded compliment that ignores the love and passion of "Trek" writers. Nevertheless, that is an accurate assessment here.
The focus of the book is on Klingon Captain Krenn, whose decades-long effort to prevent his own people from destroying the Federation remains a secret until he pens his own chronicle of events. During his career, Krenn flickers in and out of the lives of the characters we know, with special emphasis placed on his encounter with Spock as a child. There's some hefty focus on Klingon stratagems in the early part of the novel, which can be daunting for the reader, but the journey is worth it.
Fallen Heroes By Dafydd Ab Hugh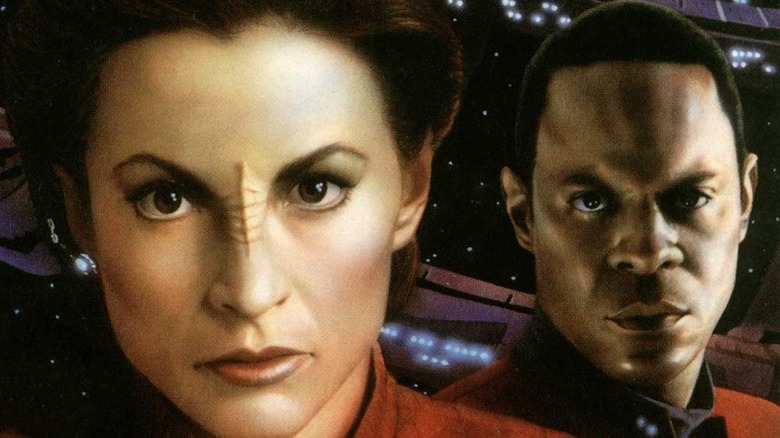 "Fallen Heroes" is a sentimental choice. It's one of my gruesome comfort food books. Pairing the horrific invasion of DS9 with a time-shifted mystery, the novel puts Quark and Odo together as ad hoc detectives trying to stop the massacre of their friends from happening. It's not a perfect tale, and, coming back to it later, it misses some character tone due to how early in the show's airing it was published. Still, it's a good yarn from a time when we were starved for stories that put our best frenemies together.
Author Dafydd ab Hugh has a gift for crunchy, visceral action sequences, and that got him a pretty decent gig writing "Doom" tie-ins in the '90s. It's best to go in with the reminder that, according to the classic "Star Trek'' fiction trope, our heroes will be alright by the end, but there's some gnarly road before this book gets there. "Fallen Heroes," like many older tie-in novels, is easily found used.
Q-In-Law By Peter David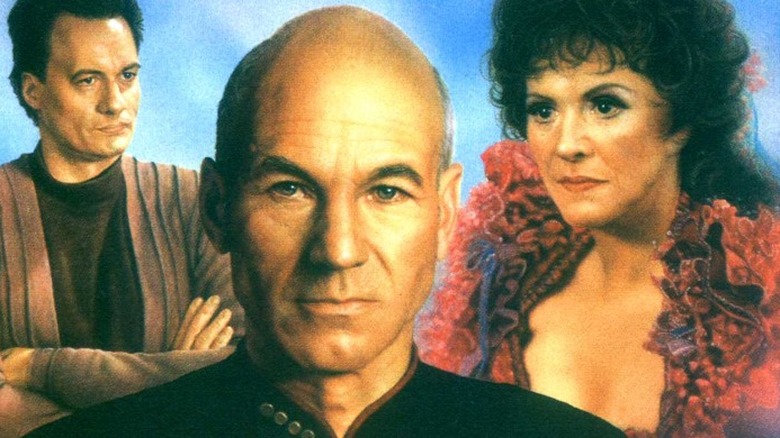 Peter David gets on this list three times because, along with his clean prose and keen understanding of the franchise, he also understands what a fan would kill to see. "Star Trek: The Next Generation" has an embarrassment of riches when it comes to great recurring characters, and two fan favorites take the spotlight in "Q-In Law." The omnipotent Q is a guaranteed good time, but adding Deanna Troi's dramatic mother Lwaxana to the mix makes for a salty popcorn festival.
The premise is simple: Noticing that the Enterprise is ready to host a wedding, Q shows up with mischief on his mind. Lwaxana arrives for the diplomatic event, and Q picks up on the Betazed noble's talent for chaos. However, for once in his life, Q gets more than he bargained for when he flirts with Lwaxana. Somewhere in the mayhem, Worf notes the crew might as well sell tickets to watch it all fall apart. I recommend tracking down the audiobook. It's narrated by John de Lancie and Majel Barrett-Roddenberry (Q and Lwaxana themselves), and they happily go all in on the verbal sparring.
Prime Directive By Judith And Garfield Reeves-Stevens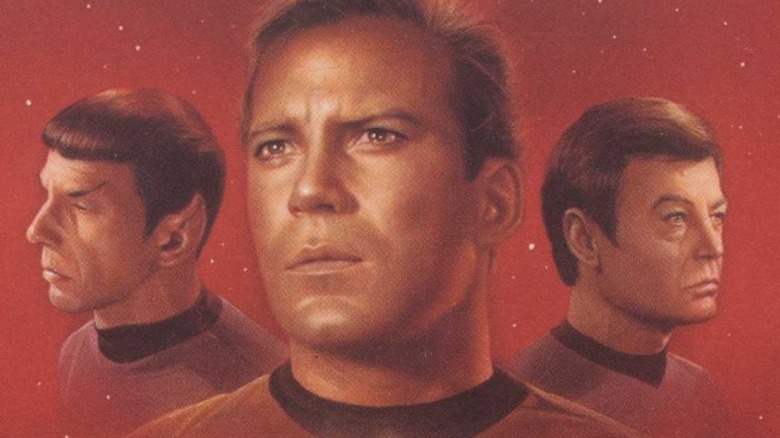 The Prime Directive is one of the few immutable tenets of the "Star Trek'' universe. However, Starfleet General Order 1 is not without its flaws. To wit, no Starfleet command or crew is to interfere with the development of an alien society. It's a Cold War product that was designed by minds worried about escalation and accidental destruction. Judith and Garfield Reeves-Stevens' "Prime Directive," published in 1990, digs into what happens when that order is disobeyed.
In both the original series and the movies, Kirk and his crew rarely receive lasting consequences for their actions. This novel sets about dismantling that trope. Kirk, in charge of observing Talin IV, a world on the cusp of first contact, seems to accidentally violate the Prime Directive. Worse, his mistake devastates the developing Talin society. From Kirk to Uhura, the command crew of the Enterprise see their careers ended for their failure. The bulk of the novel is the long process of the crew (who have either resigned, been demoted to ensign, or court-martialed) seeking out what actually went wrong on Talin IV. The answers are complex, and the ethical questions are thought-provoking.
Sarek By A.C. Crispin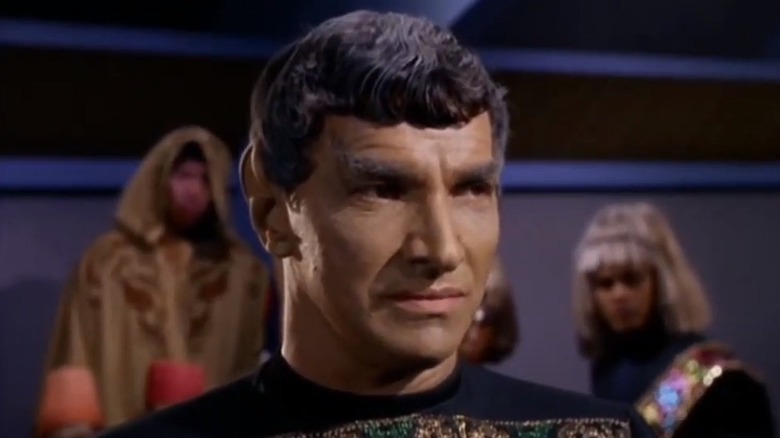 Author A.C. Crispin was a key figure in not only helping readers understand that tie-in novels shouldn't be dismissed as "amateur" content but also in protecting other writers from being scammed. Her talents as a writer provided light but intricate stories. "Sarek" (not to be confused with the phenomenal "Next Generation" episode of the same name) is a rich look at one of "Star Trek's" most complicated figures.
"Sarek" is a political thriller tempered by Sarek's sometimes cold Vulcan discipline. A veiled threat from an unknown alien race aims to unbalance the core of the Federation. Balanced against these high stakes is the famed Vulcan ambassador's wife's illness. Amanda Grayson's humanity helped both Sarek and Spock bridge their two worlds. However, her impending loss threatens to undo the peace father and son forged years ago. In the book, Amanda's journal provides empathetic glimpses inside Sarek's life. "Sarek" is a novel as crucial as "Spock's World" for fans of the iconic Vulcans.
Uhura's Song By Janet Kagan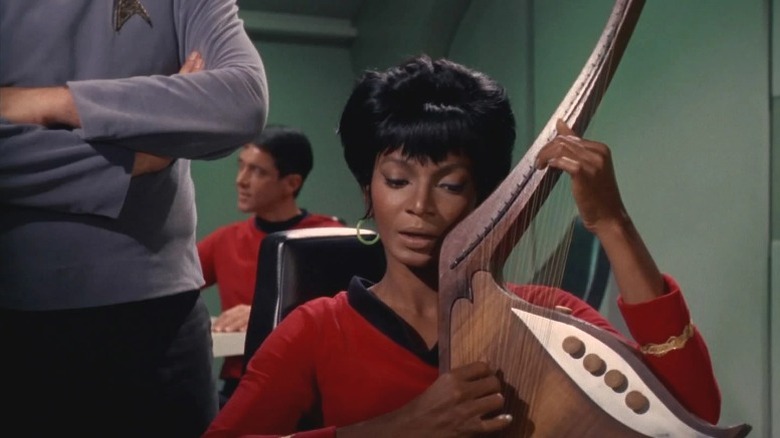 Uhura's popularity was a big deal for television back when "Star Trek" first came on the air. Unfortunately, moments in which she took the lead were all too rare. By 1985, Uhura was still a supporting character on screen, but now, she had a couple of novels that gave her some more in-depth attention. "Uhura's Song" is the best and, frankly, the weirdest slice of fanfic-style glory to make it to the printed page.
Long ago, Uhura made friends with a woman named Sunfall of Ennien, a diplomat from the planet Eaiaou, whose love of dance and song outlived her when a deadly pandemic decimated her world. However, there's a clue in the songs Sunfall taught Uhura that might help end the pandemic before it wipes out the whole planet. This is where I have to warn you that this strange and lovely novel is basically "Warrior Cats'' in space. Yes, the people of Eaiaou are cat people — with emphasis on the cat side of that equation. Shut up! It's awesome!
Metamorphosis By Jean Lorrah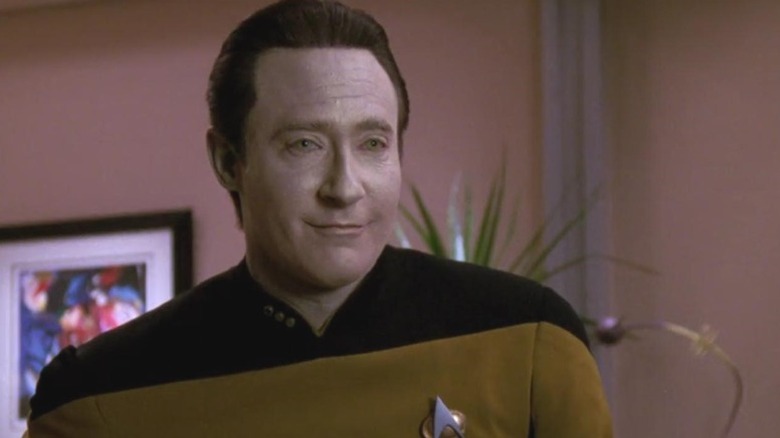 This last pick is going to be a divisive one. Jean Lorrah's "Metamorphosis" is a chunky book that lags in a few places, but it does two things well enough to get a sentimental recommendation: First, though non-canon, the book picks up after "Measure of a Man," the "Next Generation" episode that gave Data legal protection as a sentient lifeform and explores the ethical aftermath in a way that's catnip to me. Second, the novel makes the acerbic Dr. Pulaski somewhat likable and empathetic. Now, that's an achievement!
Although there's a handful of plot threads going on in this large, lumpy novel, the biggest one is Data's temporary tenure as what he's wanted to become all along — a fleshy human (with all that entails). As anyone who rolls out of bed to the symphony of their bones cracking could tell the android, it's not all it's cracked up to be. Still, he persists in a weird kind of hero's journey, and although everything is set back to baseline by the end, the trip is one of a kind.
Read this next: Star Trek: The Next Generation's 10 Best Episodes
The post The 15 Best Star Trek Books Ever Written appeared first on /Film.