A connected home security camera keeps you in touch with your home, yard, family, or pets whenever you're away. Also known as smart cameras, these streaming-connected cameras hook up to your home's Wi-Fi network. This allows you to conveniently monitor your property from a mobile device virtually anywhere.
Table of contents
What is a home security camera?
With a home security camera, your home is always just a few smartphone taps away. Home security cameras are available from Google Nest, Blink, Ring, eufy, Arlo, and Swann. They connect to apps and provide live video feeds, saved video clips, and motion alerts.
Many home security cameras stream in HD resolution, but there's also a large range of 2K and even 4K home security cameras. Depending on the model you choose, you may find a smart camera with a 4K sensor, digital zoom, and HDR imaging for the clearest picture possible. You'll also be able to access 130-degree (or more) viewing angles so you can take in a wide angle of your home or outdoor space.
Smart cameras are available for indoor and outdoor use. Outdoor security cameras are designed to withstand the elements but they can also be used indoors. It really depends on what you need to watch, and where. They come in a variety of styles including wireless models (powered with a replaceable or rechargeable battery) and semi-wireless (powered via a standard wall outlet)—both of which communicate over your home Wi-Fi. There are also fully wired solutions where cameras connect via cables to power and to a DVR for storage. Note these usually also enable viewing of captured video over Wi-Fi. The physical design of these cameras also varies from bullet-shaped, to dome-shaped. Smart Doorbells also have built-in cameras to track packages and people coming in and out of your front door.
What to consider when choosing a home security camera
There are a few questions you'll need to ask yourself when choosing a Wi-Fi camera or cameras for your home.
Where will you place your home security camera?
The kind of home security camera you'll choose for your house, or yard, will depend on where you plan on installing it. If you'd like an indoor home security camera, then you will likely prefer a semi-wireless model so it will be connected to power all the time.
When choosing a smart camera for outside of your home, you'll need to consider whether it needs to be wireless. A wired outdoor camera depends on having an outdoor power source available. For example, if you have a powered doorbell, consider a wired smart doorbell to track activity at your front door. The availability and strength of your outdoor WiFi signal may also affect where you place the camera. On large properties, a combination of wired, semi-wireless, and wireless solutions may be required to get total coverage.
Wireless cameras are ideal for outdoor areas without power
If you choose a wireless, battery-operated security camera for the outside of your home, you won't need to worry about a power outlet. You can place these cameras anywhere you have WiFi. Wireless cameras only need to be recharged after several months. Some wireless brands also offer solar panels to help keep the rechargeable batteries going for very long periods for added convenience.
Doorbell cams are ideal for the front door entrance 
A very convenient outdoor camera option that provides security at home entry points is the doorbell cam. Most of these function as regular doorbells with a camera. The camera is often hard-wired to your existing doorbell wiring (though wireless varieties can be added to any entrance even if it never had a doorbell before). The camera can be set up so any motion will start a recording and send a notification to your mobile device (phone or tablet). You'll know who is at the door before they ring. Or when they ring the doorbell, you can look on your phone or tablet to see who it is. Most include 2-way audio so you can talk to the person there and say, "No thanks, I'm not interested in encyclopedias" or "Door's unlocked, come in!"
Cloud storage versus in-home video storage
One key consideration you will make when purchasing a new security camera or a camera system is the location of captured footage. Just like files you create on your computer, or photos you take on your phone, the videos captured by a smart camera have to be stored somewhere. Cloud storage is convenient but may require paying regular monthly storage fees. In-home storage allows you more control of the footage but it's often only available when using a wired camera solution.
Video footage saved to the cloud for added convenience
Most security camera manufacturers offer cloud storage, where saved images and video clips are stored online (usually in a secure server managed by the brand). You can access video footage using an app on your mobile device for a monthly or annual fee. Brands will offer this type of storage instead of, or in addition to, an SD memory card within the camera itself. Having access to a cloud storage plan means it's easy for you to store a large number of video clips. This is great when you're traveling and away from your home for a long duration. With cloud storage, watch recorded clips anytime on your smartphone.
Depending on the type of smart camera you choose, you may be offered free cloud storage for a period of days before your video clips and images expire and disappear. Some brands will offer a trial period for you to try and learn if the benefits of cloud storage match your needs.
Wired Home Security Cameras are an alternative to cloud storage
Individual wireless and semi-wireless cameras can be combined for complete coverage of your property with video accessible over the internet. An alternative is to purchase a complete system with four, eight, or more home security cameras and a DVR to connect them too. These systems come with all you need (cameras, video storage DVR, wiring) all in the box. You don't have to rely on cloud storage for your video clips, as these systems store your clips on an included hard drive.
Some wired security systems include 4 or 8 weatherproof bullet cameras to let you view live and recorded 1080p video from an app on your phone. You can record from 4, 8, or 16 channels onto the included hard drive.
Because they're wired, you don't need to worry about installing batteries or losing footage from a battery-drained camera. However, you will need to run wires from the camera to the DVR. This may take a bit of planning to ensure you have the right length of video and power cable to reach from the DVR to each camera.
Ideally, you'll want the DVR to be located in an area with a strong Wi-Fi signal. Most DVRs can transmit video signals over the Internet. That provides remote access to camera footage and all stored video clips on your mobile device.
Installing a home security camera
It's never been easier to install a wireless or semi-wireless security camera. For a basic installation, you'll need nothing more than a power outlet and your smartphone. You simply plug them in, download an app, and scan a QR code to connect to your camera. The entire process takes approximately five minutes.
Replacing your doorbell with a doorbell security camera may require the use of a drill for creating small pilot holes, and may require turning off the power breaker while you connect the home doorbell wiring to the camera. The installation process is still simple and can easily be done by someone who is new to smart home devices. Wired systems may require special preparations to enable long wires to get from the DVR to the cameras.
Key features of home security cameras
No matter which security camera you choose, you'll find that they all share a few key features. Familiarize yourself with the built-in features to get the most out of your system. For example, many systems will have a setting to change how the cameras behave depending on if you are home or away. This affects how many notifications you get on your phone. No one wants a hundred notifications coming in just because they're working in the backyard garden.
Live stream to your mobile device anytime you want
Once your home security camera is connected to your Wi-Fi network, you'll be able to view a live video stream. Log in via the connected app on your mobile device or via a web interface on your computer. This provides a reassuring look of your home, yard, family, or pets. Once you're logged in, save video clips or take snapshots of your view.
Saved video clips
Depending on the type of connected security camera you've purchased, you'll be able to view different lengths of saved video clips. While some security cameras connect to a cloud network, others have the option of adding a USB flash drive or SD memory card to your camera.
Motion or audio alerts sent to your phone
Smart camera's live video stream provides peace of mind. At any time, you can view a live look at your home. However, most home security camera owners really appreciate the motion alert feature. If the camera detects motion, it sends an alert to your smartphone or tablet. In addition, many home security cameras have built-in microphones to detect audio alerts like breaking glass, These alerts are valuable when you're not home. If the camera detects motion or audio, it alerts you right away and starts recording footage.
Customized motion settings
If you live on a busy road where cars or people frequently walk by, customize motion settings to avoid false alerts. Home security cameras offer monitoring zones set within the app. This ensures cameras trigger motion in a certain space, and not in the entire area.
Facial recognition alerts
Certain home security cameras are equipped with facial recognition software. If you choose a camera with this feature, sends a detailed alert based on who it detects in your home. These cameras can tell the difference between a person and an object. They will zoom in and follow that person as he or she moves through your home.
Night vision
There's a lot that can go on in your home or yard when the sun goes down. Having infrared night vision built into your home security camera ensures a crystal clear stream of your home or yard when there's no light outside.
Two-way audio
As mentioned, many smart cameras have built-in microphones and speakers. This allows you to talk to whoever is in your home or yard. Two-way audio lets you see, hear and interact with people or pets in or near your home.
Weather resistance
Weather-resistant outdoor home security cameras give you video coverage in the coldest weather. Some models have a weatherproof rating of IP66, while others work in a temperature range from 45 degrees to -20 °C.
What are some popular security camera brands? 
Now that you have an idea of what to consider when purchasing a home security camera and some of the features you can find, it's time to look at specific brands. The good news is that there are so many great choices in the world of smart cameras. You might have trouble choosing just one. There is a lot of similarity in the features offered by different brands. For example, many of these will work with a range of smart services and voice assistant services including Apple Homekit, Google Assistant, and Amazon Alexa.
Arlo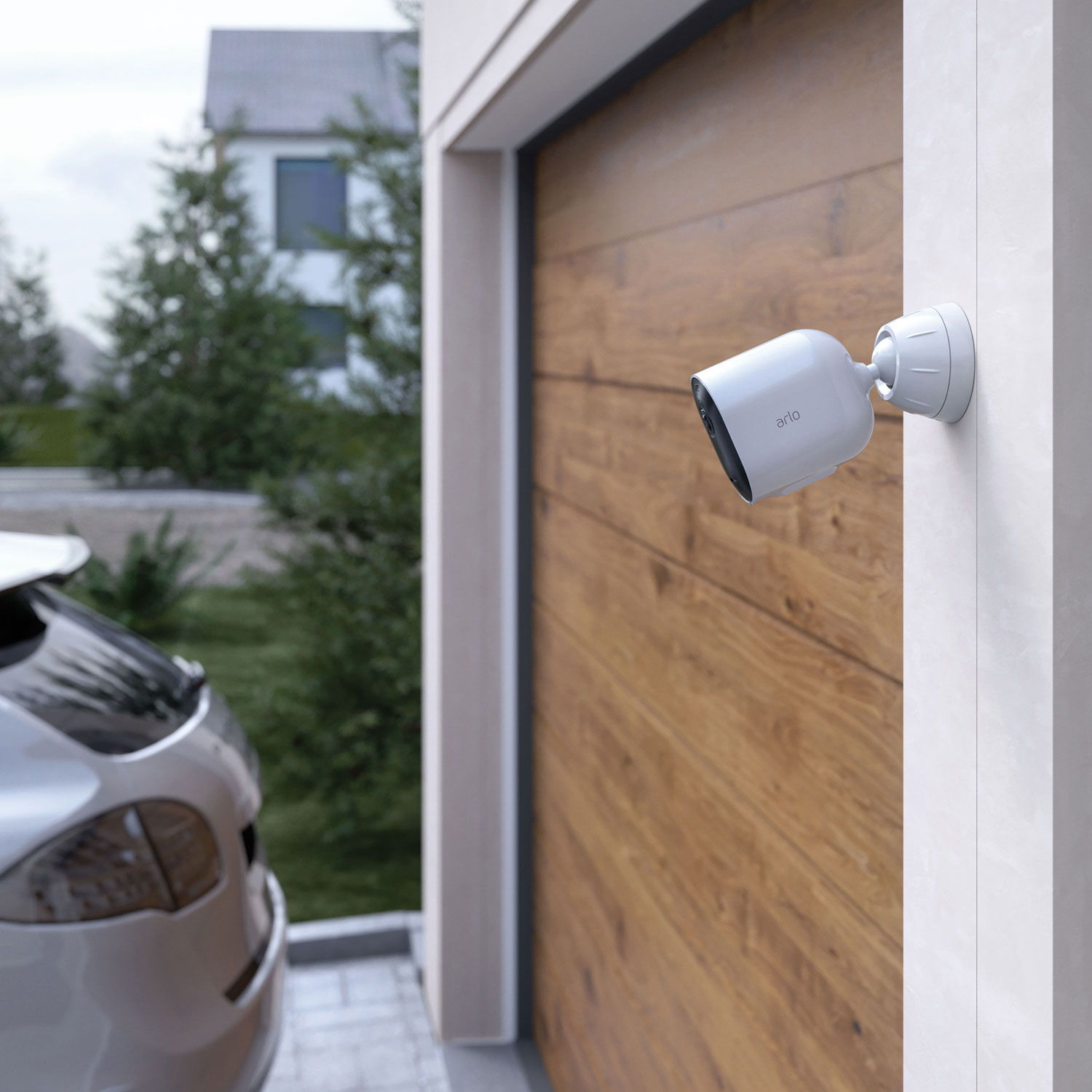 Arlo is available in a range of outdoor and indoor models. Cameras are sold individually or as a bundle. The Arlo app is intuitive and easy to navigate. View videos live off a smartphone, or view recorded videos stored in the cloud. 
Arlo has a range of wireless camera solutions
Arlo offers three camera solutions: Arlo Essential, Arlo Pro, and Arlo Ultra: 
Arlo Essential is the entry-level camera solution perfect for smaller spaces. It offers wireless camera protection at a budget-friendly price. Arlo Essential Wireless Security cameras record in 1080p with a 130-degree viewing angle. 

Arlo Pro improves the video quality with 2K HDR and a wider 160-degree field of view. Arlo Pro cameras also connect to WiFi without the need for a Smart Hub. They are, however,  compatible with the Arlo Smart Hub for extended range and battery life.  

Arlo Ultra is the top-of-the-line solution with 4K video resolution and a wide 180-degree field of view. If you need the best video quality available in security cameras, Arlo Ultra is for you. 
Each of the three Arlo camera solutions can be purchased as a bundle or individually. Homeowners can start with a camera bundle, and add additional cameras later. Arlo also has wired and wireless doorbell cameras and floodlight cameras that record in 2K. There is a wide range of accessories to augment Arlo systems, like solar panels and camera skins. 
Arlo Secure Cloud storage
A trial period for Arlo Secure is included with all Arlo Essential, Pro, and Ultra camera solutions. Arlo Secure offers 30 days of cloud storage and a host of additional features. Smart Activity Zones ensure users only receive alerts that matter. Object Detection lets users filter notifications by person, package, or animal. Finally, Quick Response allows remote alarm activation and contacting emergency responders (i.e. Fire, Police, Medical) from a phone's locked screen. 
Arlo Secure comes with three plans: Secure, Secure Plus, and Secure & Secure Pro. Users can also customize their Arlo Secure plan with Continous Video Recording (CVR). This add-on service records activity to the cloud 24/7 for a full month. 
Nest Cam
Google Nest Cams are available in a few different styles and will automatically work with your existing Google Nest products.
Indoor or outdoor Cameras: Google Nest Cams are available in semi-wireless and wireless models. There is also a Google Nest floodlight cam and Google Nest Hello doorbell cameras. Google Nest Cams offers up to 1080p streaming video, night vision, and facial recognition software. They also work with Google Home so your voice assistant can announce motion or sound detection.
Cloud storage: Nest offers a 5-day, 7-day, or 30-day paid cloud service that's charged once per year.
Ring

Ring offers a wide variety of smart cameras for indoor and outdoor use including doorbell cams.
Outdoor Cameras: Ring offers wired and semi-wireless camera solutions that will satisfy almost any homeowner. They also have several styles of video doorbells to suit different tastes. Ring Floodlight can be mounted to the side of your garage or outbuildings and are motion activated to help you find your way in the darkness. It shines a light on anyone who's in your yard. One unique feature is the integration with the Ring home-monitored security system for a total home security solution.
Cloud storage: Ring offers a cloud service to store sound and motion clips. It's $60 CDN per year per camera or $150 CDN per year per home for all your Ring devices.
Blink  Wire-Free Home Security System
Capture footage inside or outside your home in full HD with the Blink camera system. The Blink is weatherproof and available in wired or wireless models.
Indoor/outdoor: Blink cameras are thin, light, and easy to install. They are available individually or in sets of two, three, or five cameras. Their wire-free cameras are powered with long-lasting replaceable lithium batteries. Blink even has a wire-free doorbell model.
Cloud Storage: Enjoy the convenience of mobile surveillance with Blink's low-cost subscription options. Access your video footage and get notifications on your mobile devices from anywhere.
Swann wired home security systems
There are many wired camera system manufacturers too, and Swann is one of the most popular. Their system range from simple two-camera setups to eight or more. Most systems include a powerful DVR to store your footage and the wiring appropriate for most installations. Alternatively, Swann also has semi-wireless cameras that connect to their own local power outlet. They stream video footage over Wi-Fi to a local Network Video Recorder (NVR). This is similar to a DVR except the cameras process video footage to enable streaming.
Take the next step
No matter which type of home security camera you choose, you'll have peace of mind knowing that you'll always have a window to the inside, outside, or front door of your home. Take a look at the full range of home security cameras, available right now at Best Buy.
The post Smart home security camera buying guide appeared first on Best Buy Blog.