image: Ralph Lauren
A Los Angeles-based companys retro inspired custom apparel and accessories have landed it on the wrong side of the law. In a lawsuit filed this week in a federal court in California, Ralph Lauren claims that VNDS Los Angeles is on the hook for trademark infringement and counterfeiting as a result of itsdesign, manufacture, distribution, advertisement, marketing, offering for sale, and sale of clothing [that] infringes upon [Ralph Laurens] rights in its famous name, Polo trademark, and well-known logo.
According to its complaint, Ralph Lauren claims that it is a multi-billion dollar operation, and its trademark-bearing products are among the most popular of their kind in the world. With that in mind, by making willful, intentional and unauthorized use of Ralph Laurens trademarks and by introducing the allegedly infringing products from swim trunks and t-shirts to hats and duffle bags into the stream of commerce in an effort to exploit Ralph Laurens reputation, VNDS Los Angeles has engaged in trademark infringement and counterfeiting, counsel for the 53-year old New York-headquartered brand claims.
Ralph Lauren has not granted a license or any other form of permission to [VNDS] with respect to any of its trademarks, or other intellectual property, and so, by selling the goods at issue, Ralph Lauren argues that VNDS an acronym for very nearly dead stock, which refers to stock that never sold and is in new condition is likely to cause and is causing confusion, mistake, and deception as to the origin and quality of the counterfeit Ralph Lauren products among the general public, thereby, running afoul of the law.
At first glance, this might seem like an open-and-shut counterfeiting case. However, it is a bit more interesting than that due to the fact that at least some of the products that VNDS is offering up were created using materials from authentic Ralph Lauren materials. Take, for instance, a canary yellow "Lo Sport"hat, which comes with a front panel emblazoned with the Polo Sport Ralph Lauren marks. As it turns out, that hat and others like it was upcycled [by VNDS] from [the material of] vintage authenticPolo Sport swim shorts.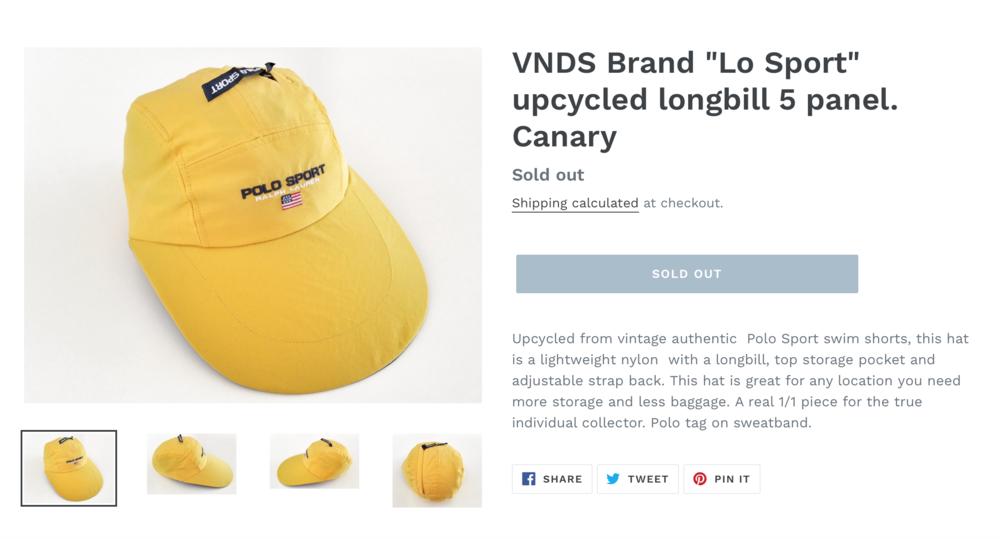 image via VNDS
Traditionally, it is within the bounds of the law namely as a result of the first sale doctrine for third-parties to resell others authentic trademark-bearing products. That trademark tenet, which shields the purchaser of a genuine trademark-bearing item from infringement or dilution liability should he/she opt to resell that item, likely applies to VNDS sale of certain products, such as the Authentic Polo Ralph Lauren RLPC Yacht Club sweater and Authentic Ralph Lauren Polo Varick Slim straight Camo jeans that it is selling on its site.
It likely does not, however, apply to the hats due to an exception to the first sale doctrine that maintains that resold goods that are materially different from the genuine article do not fall within the bounds of the first sale doctrine.
Given that Ralph Lauren initially sold the material that VNDS used to create the hats in the form of swim shorts, it is likely safe to assume that the differences are material, and thus, fall outside of the scope of first sale protections and constitute infringement, largely because they stand to generate consumer confusion about the source or quality of the product.
This is a particularly interesting and relevant issue, as the use of fashion and luxury brands products to create new and different products has been at something of an all-time high as of late. More than 30 years after Harlem tailor Dapper Dan first made his name by taking counterfeit textiles bearing luxury brands trademarks, a slew of new entities, such as Imran Moosvi and Etai Drori, who are responsible for high-profile fakes, as the Wall Street Journal put it, including logod tracksuits worn by music stars Bad Bunny and Billie Eilish during recent concert appearances at the Coachella music festival.
Moosvi told Fader in 2017 that a lot of the fabric [he] gets is bootleg, which is precisely why Louis Vuitton doesnt rule out legal action against [him], Louis Vuitton CEO Michael Burke spoke to in an interview with the WSJ last spring.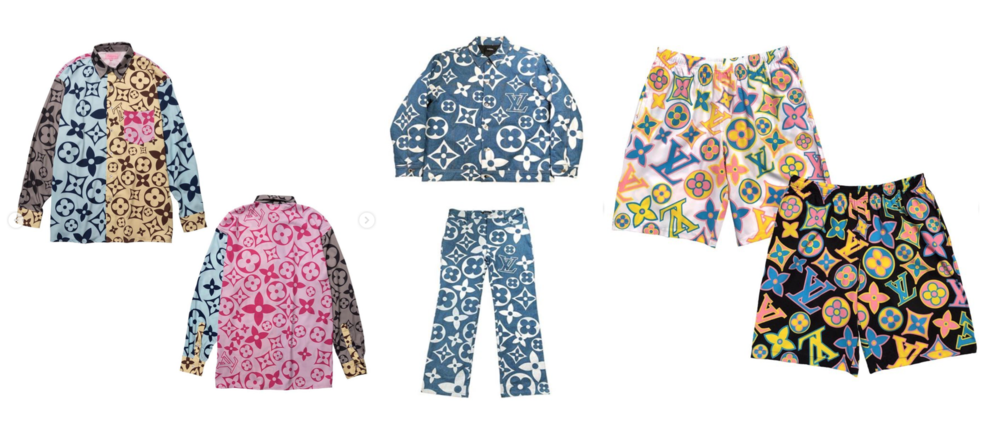 images via imran_potato
However, while the brand has not initiated litigation against Moosvi to date, that does not mean it does not have legal legs to stand on should it want to. It seems that the decision not to litigate stems from an understand by the powers that be at LV that lawsuits are not a good solution, as Burke put it. (This may be due, at least in part, to the potential for bad PR that come could from litigation (something that Louis Vuitton has suffered from in the past), particularly given Moosvis relatively high profile and the legitimately famous nature of some of his clients whether it be Eilish or Travis Scott.)
Meanwhile, Drori is known to purchase sizable quantities of authentic designer textile, even though he is banned from making Louis Vuitton purchases; he revealed in September 2019 that the he had been blacklisted by brand. Despite his use of real design textiles, which he then refashions to make other products, such as garments and handbags, he very well might be living on the wrong side of the law due to the first sale doctrines material differences exception. Yet, neither Louis Vuitton nor Gucci, his two key brands of choice, has initiated formal legal action against him.
Ralph Lauren, on the other hand, is not taking the same stance. It has set forth claims oftrademark infringement and counterfeiting, unfair competition, and false designations of origin against VNDS and is seeking injunctive relief and an unspecific amount of damages to disgorge the brand of any and all gains, profits and advantages [it] derived from its wrongful acts.
*The case is PRL USA Holdings v. VNDS LOS ANGELES, et al., 2:20-cv-00374 (C.D.Cal).