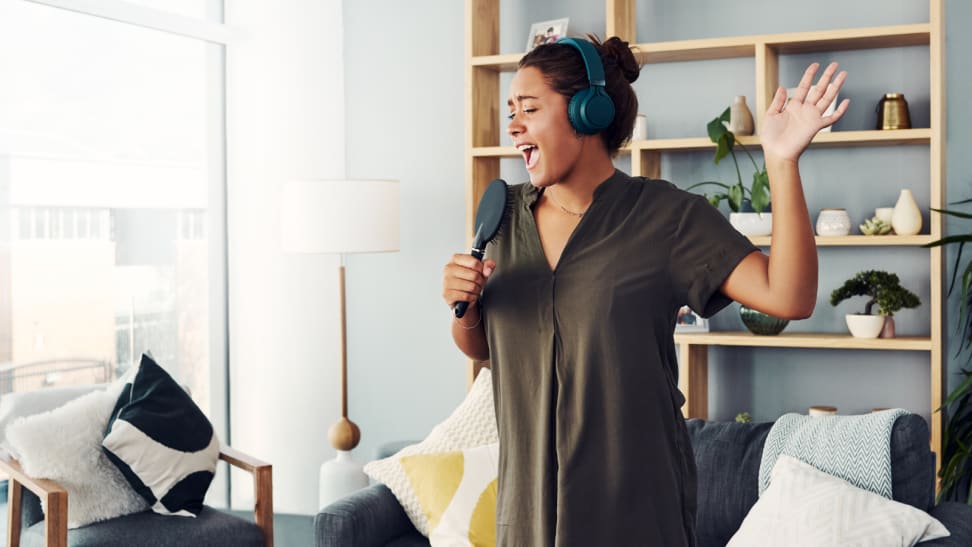 — Recommendations are independently chosen by Reviewed's editors. Purchases you make through our links may earn us a commission.
Before the days of COVID-19, back when we could venture outside the house for some fun, you could probably find me at one of a few karaoke haunts I love in New York City. Between going to college in Nashville, where karaoke is a way of life for country crooners, to Broadway-wannabes and starry-eyed tourists in NYC, there's nothing I love more than watching people grab a microphone and belt their little hearts out.
But just because we're stuck at home right now it doesn't mean karaoke has to end. In fact, now might actually be the best time to host a karaoke party—virtually. Music is a great way to connect with friends and release some pent up emotion, and thanks to video calls on the internet, you can grab a group of people near or far, and share a song. Whether you want to host a digital karaoke party with coworkers you miss, have a virtual bachelor party, or even just sing alone at home to get it all out, we've rounded up everything you need to have a karaoke party at home.
Select a video conference service
So, if you're planning on being the host of an online karaoke party, you have to make sure you know how to get everyone into the party. First, you'll want to make sure you use a video conferencing service that allows you to have enough space for all of your guests, and also lets you share your screen so people can see the music and sing along.
The two most popular options are Zoom and Google Hangouts. The most basic Zoom package is free for users for up to 40 minutes and 100 guests, then moves up to $14.99 for a package with more time. If you're working remote, your company may already have a corporate Zoom account you can use to host a call. With Zoom you can upload backgrounds to make it seem like you're somewhere fun, like an actual karaoke room. Up to 25 people can join a Google Hangouts video call, and that option is totally free.
Find your karaoke music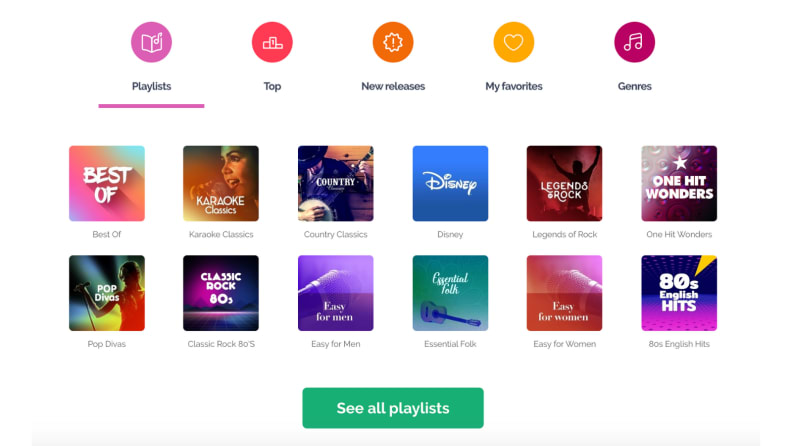 Next you need to decide where you want to stream your karaoke music from. Now, the obvious approach of where to stream your songs from is easy: YouTube. With YouTube you can easily access thousands of karaoke songs to belt to with the only downside of having to watch ads between videos.
To really feel like you're in a proper karaoke room you just have to download the Karafun app, which is available online and for Mac, PC, iOS, Android, and even Android TV and Fire TV Stick. Karafun is a professional karaoke company that has over 35,000 professional recorded songs for you to sing along to with lyrics that are, well, the actual lyrics. Even better, with Karafun you can adjust the key of the song so you can finally sing that Lady Gaga ballad you've been doing to show off with.
Karafun is also totally affordable, especially compared to the hourly rate you'd usually pay for a private room. For $5.99 you can get a two-day pass that will keep you rockin' all weekend or, if you're a serious karaoke addict, you can snag an unlimited monthly subscription for just $9.99.
One other amazing feature of Karafun is the "Singer Management" tool that allows you to have songs queued up by performers' names so you're ready to go without stopping the music. Just use the chat feature on Zoom or Google Hangouts as a digital signup sheet. And, if you decided to not host a karaoke party and just want to sing in private, with Karafun you can also take all of your favorite songs offline.
Get Karafun online starting at $5.99
Grab a microphone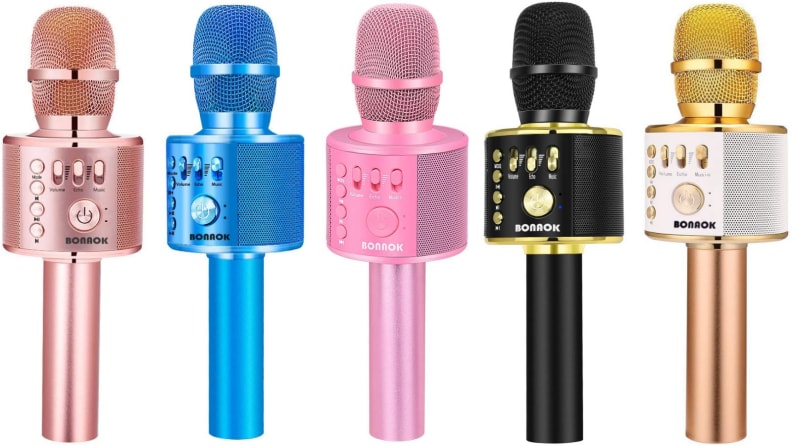 To spice up your home karaoke party, it's important to have a good microphone. With the technical limits of hosting a digital karaoke party, unless you're an audio engineer you probably don't need a real microphone. At least in the sense that it runs through a sound system. Luckily, there are tons of fun and affordable microphones online that will make you feel like the star you are.
Kacey Musgraves—a Grammy-award winning singer and karaoke aficionado—has gone live multiple times on Instagram with this Bonaok wireless, Bluetooth microphone that has a handy built-in speaker. It has a high-quality noise-reduction speaker and lets you adjust the volume and echo for an all-star performance. It's also available in eight different colors to let your personality shine as much as your voice.
Get the Bonaok microphone from Amazon for $34.99
Get some speakers
Again, unless you're an audio tech, you don't need studio-worthy speakers to host a digital karaoke party, but having good sound is still important. Connect your laptop to a Bluetooth speaker to turn up the volume, literally, this weekend. At Reviewed, we've already rounded up some of the best Bluetooth speakers on the market, and, with over 4,000 5-star reviews, this $39.99 Anker Soundcore 2 portable Bluetooth speaker might be your best option.
Get the Anker Soundcore 2 Portable Bluetooth Speaker from Amazon for $39.99
Make it really fancy with a projector and screen
To really up the ante of an at-home or virtual karaoke party, hook your laptop up to a projector to make things bigger and better. Unless you're trying to build an actual home theater, you don't need to spend big bucks on a projector. One solid option is this Auking portable home theater projector that's only $70.
For that price you get a 2000:1 contrast ratio and 1080p resolution for an amazing picture that will last up to 55,000 hours—and trust me, 55,000 hours of karaoke is a lot. So if you invest in this project, you can double down and make a drive-in movie theater in your backyard or a home-gaming center in your bedroom. Toss up a sheet to make a projector screen or buy a portable one—like this lightweight, 80-inch portable screen—to complete the setup.
Or go old-fashioned with a classic karaoke machine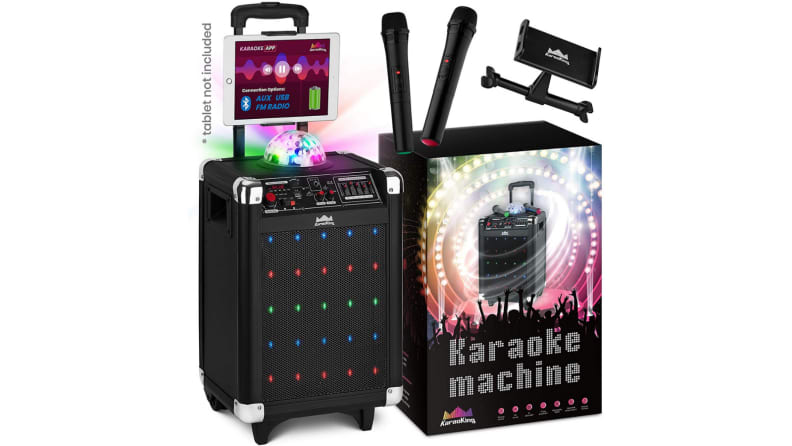 Or, if you want to skip the fancy new technology and just want to jam out in your basement with a one-stop-shop, you could always just opt for a classic at-home karaoke machine. There are tons of online options with speaker and microphone combos that you can slide an iPad into and jam away with YouTube or Karafun. This KaroKing system is totally portable, comes with two wireless microphones, and is Bluetooth enabled so you can connect the sound from your iPad or laptop. Even better, it comes with a color-changing disco ball built om the top for a premium karaoke experience. Once we're all released from quarantine, use the convenient handles and take it to your friend's house for a real-life, in-person karaoke extravaganza.
Get the KaroKing Portable Karaoke System from Amazon for $195.99
The product experts at Reviewed have all your shopping needs covered. Follow Reviewed on Facebook, Twitter, and Instagram for the latest deals, product reviews, and more.
Prices were accurate at the time this article was published but may change over time.