 To sweeten a recent offer on a small house with a few acres here in Texas, near Austin, I pledged to keep Jenny and Jeremy—two aging donkeys the seller no longer had use for.
Caught up in the adrenaline of the deal, I didn't take into account just how expensive it could be to care for two large animals—a cost I later learned can easily top several thousand dollars, per donkey, per year, especially as their health deteriorates.
That same real estate frenzy led me astray in other ways, too. I turned a blind eye to the poor condition of the septic system, the seemingly ancient well, and even the fact that the land survey required to purchase the property had yet to be completed. Worse, no one seemed to know who owned the mineral rights underground. (That's a thing in Texas and can be a real headache if it turns out a company can drill for oil on your property.)
Worst-case scenario, I could be on the hook for about $55,000 in additional costs with all those problems, including the care of the donkeys—a figure that could go far higher "if other issues emerged after purchasing the 50-year-old house and property," my agent, Jeffrey Slanker at Keller Williams Realty, told me.
But I was undeterred, raising the question: Who, exactly, was the jackass here?
While the deal didn't pan out—the seller wound up removing the listing altogether—there's much to be gained from my experience.
Since the pandemic began, 50 million people like me have either shopped for a house or attempted to purchase one, according to a September 2021 Consumer Reports nationally representative survey (PDF) of 2,341 adult Americans. Of those who were looking for a home, only 30 percent successfully closed on one.
To say the U.S. housing market is in overdrive is an understatement. From March 2020 through March 2021, the number of existing homes for sale shrank by about 30 percent, according to the State of the Nation's Housing 2021 report by the Joint Center for Housing Studies of Harvard University. And based on data from the U.S. Census, median house prices in the U.S. increased 29 percent from January 2019 through September 2021. In some markets, including Austin, Miami, Phoenix, and Tampa, Fla., prices increased even more.
For sellers or owners looking to take value out of their homes by refinancing, it's a dream come true. But it can be a nightmare if, like me, you're trying to buy.
According to CR's survey, to seal the deal 28 percent of home buyers made offers over asking price, and 44 percent bid on multiple homes. Seven percent included "escalation" clauses saying their offer automatically rises when higher bids are received, while more—26 percent—agreed to purchase homes "as is," which means without requiring sellers to make fixes.
Despite the hurdles, home ownership remains a key way to build wealth, especially for the middle class and people of color, who may have fewer other investments, says Mitria Spotser, director of housing policy at the Consumer Federation of America, a consumer advocacy organization. She estimates that home ownership accounts for about two-thirds of the average family's total assets.
Here, we'll share tips on how to navigate this new real estate landscape if you're trying to buy. We'll also explain how you can use the increased value in your present home to make improvements.
Home Prices Have Skyrocketed
In most parts of the country, the median cost of real estate has reached record highs.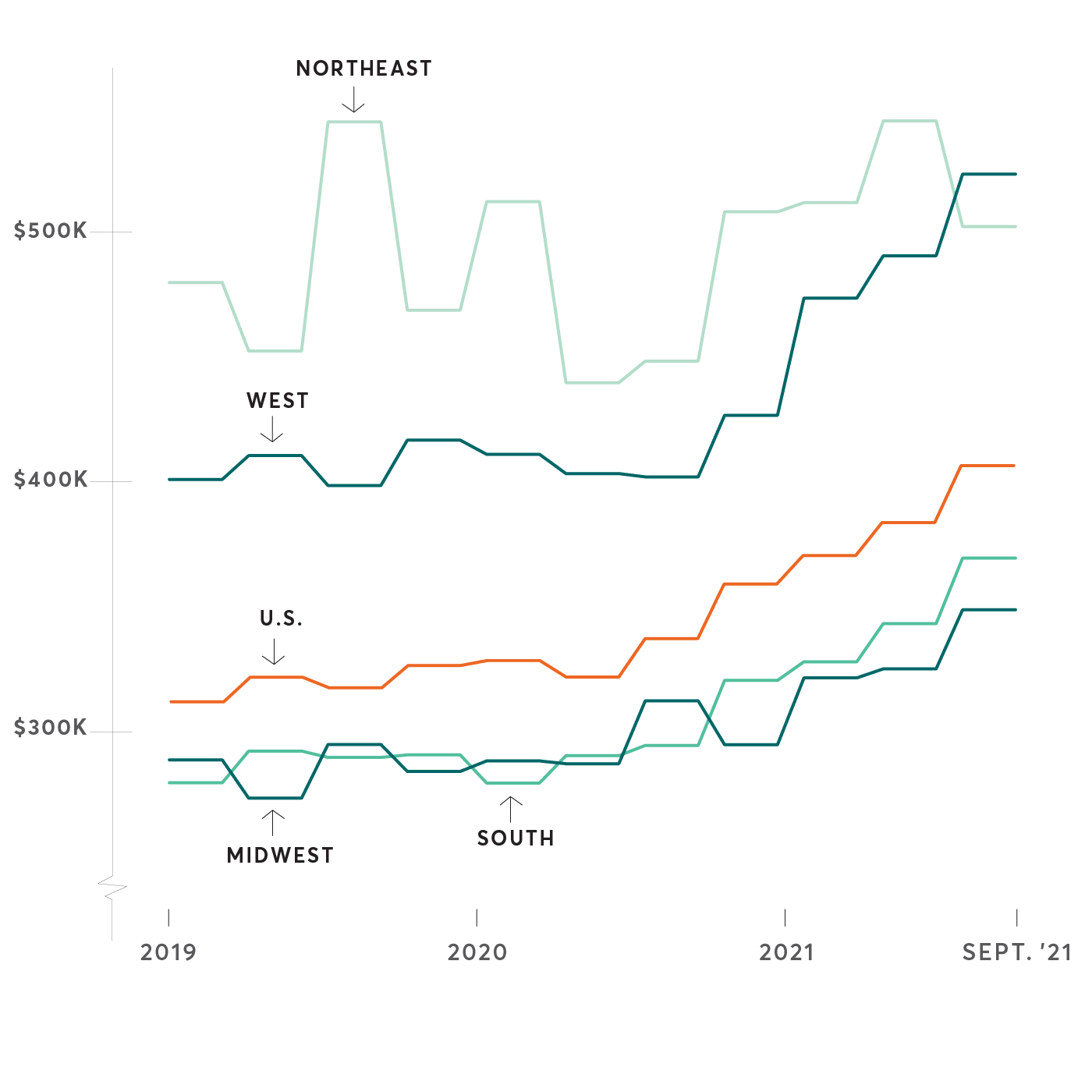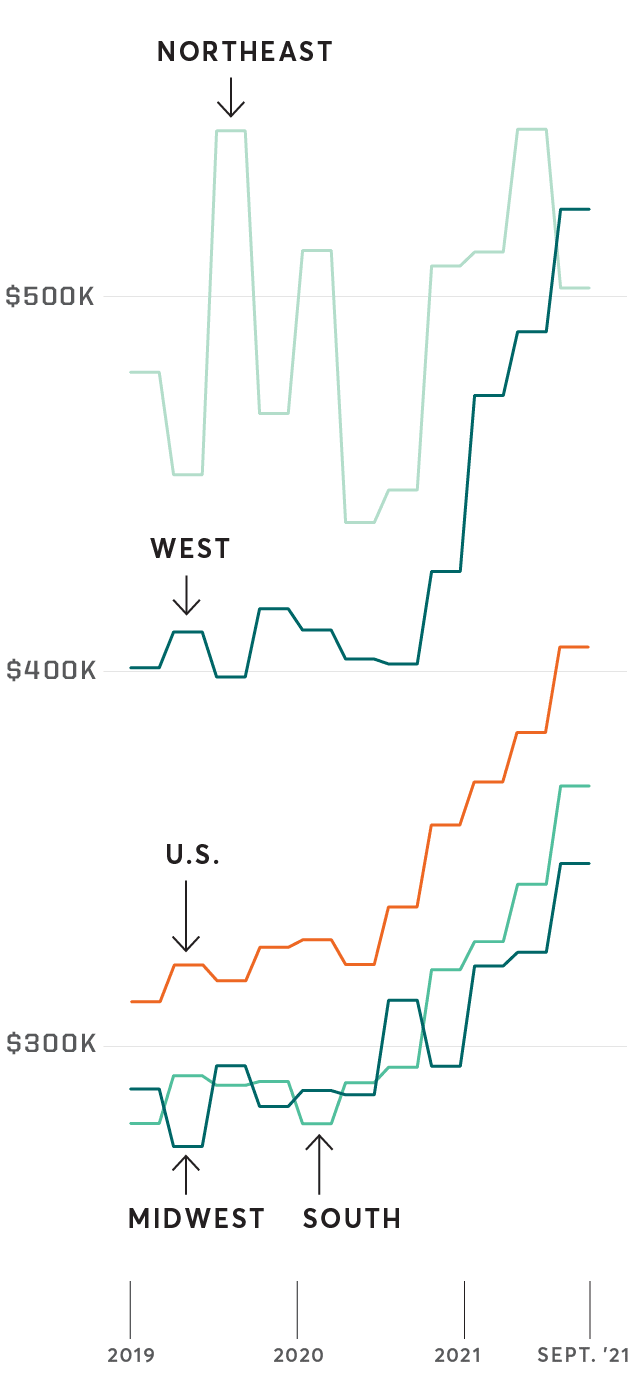 Source: U.S. Census.
How to Buy a Home Right Now
If you can't afford to pay more than the asking price or to buy a home without contingencies, there are other ways to make your offer stand out. Consider these tips.
Search listings on Tuesdays and Wednesdays. In a hot market, deals for homes are often made over the weekend, with listings updated to "pending" or "in contract" at the start of the week, says real estate agent Slanker. Waiting till midweek to search online will spare you the disappointment of latching onto great homes that have already come and gone, and help you identify properties that might be languishing, with owners who may be more willing to negotiate on price or other terms. (Be aware, too, that there could be issues with the home that have kept other buyers at bay.) Then check the listings again starting Thursday evening because that is when brand-new listings are most likely to post, Slanker says.
Ask for "up-front underwriting." This takes the promise of a mortgage preapproval—a conditional agreement from a bank to lend you money—a step further, and can be helpful if you're up against buyers who "can close quickly because they're making all-cash offers," says Wilson Leonard, an agent at Banyan Real Estate in Denver who previously ran a mortgage services company. With up-front underwriting, your financial information—your credit history, debt-to-income ratio, employment, and income—is vetted in advance. If you're approved, you get a firm pledge for a loan of a fixed amount, saving several weeks of back-and-forth with paperwork after you've had an offer on a home accepted.
Sweeten your offer where you can. To add value, you might, for example, offer to let the sellers stay in the home for a set time after closing—potentially free, if you can manage it. Doing this worked for 8 percent of people who bought homes during the pandemic, according to CR's survey. I tried this gambit myself. Because the property with the donkeys had been the sellers' vacation home for decades, I offered to let them return free of charge for one week a year.
Another idea, Leonard says, is to agree to let the sellers keep a portion of the money in escrow—the deposit buyers make at the start of a real estate deal—in the event the transaction falls through. "We have clients who say the seller can keep $2,000 or $3,000 of the escrow if the deal doesn't happen," he says. "That's how we compete with all-cash deals."
Consider off-market homes or "pocket listings." If you have your eye on a particular home that isn't for sale, ask your agent to contact the owners and make an offer anyway, says Scott Westfall, a real estate consultant and owner of CGP Real Estate in Virginia Beach, Va. Or to get a jump on a property before it is broadly advertised on an MLS (multiple listing service) database, ask your agent whether they are aware of pocket listings. These are listings that are more informally marketed by word of mouth and usually shared among agents working in the same office, Westfall says. Your agent may be able to find these as well if they have access to the Private Listing Network offered by Midwest Real Estate Data, a national service.
Don't get discouraged. CR's survey found that 44 percent of homebuyers said they had to make offers on two or more homes before one was accepted. Fifteen percent made more than five before getting to yes.

Illustrations: Fabio Consoli
Editor's Note: This article also appeared in the February 2022 issue of Consumer Reports magazine.
Consumer Reports has no financial relationship with advertisers on this site.
Consumer Reports is an independent, nonprofit organization that works side by side with consumers to create a fairer, safer, and healthier world. CR does not endorse products or services, and does not accept advertising. Copyright © 2022, Consumer Reports, Inc.