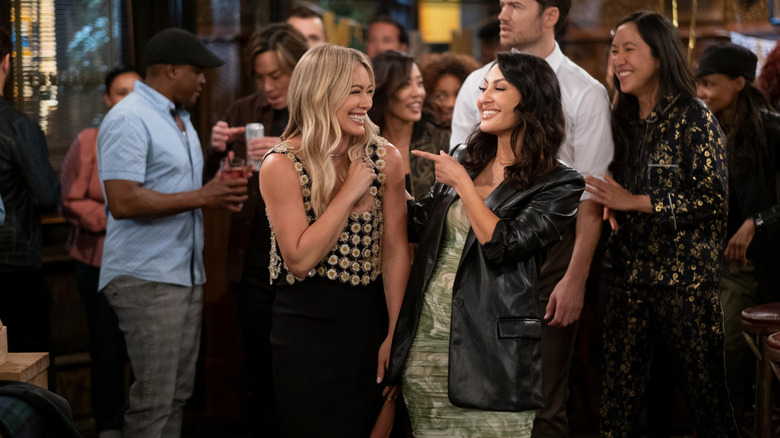 This piece contains spoilers for the season 2 premiere of "How I Met Your Father."
"How I Met Your Father" proved right out of the gate to be a worthy successor to "How I Met Your Mother," and this second season is looking to be no different. Balancing millennial realism with sitcom hijinks is far from an easy feat, but the show's been able to charm from the beginning. This was especially true of the first season's finale, which utilized a key character from "not-Mother" in a way that was far more than just nostalgia-bait. We're talking, of course, about the appearance of Robin Scherbatsky and how her encounter with Sophie (Hilary Duff) serves as a metaphorical baton-passing from one hopelessly-romantic generation to another.
The spinoff's second season premiere carries on this cross-sitcom symbolism, albeit in a different way. While we already knew that Ellen (Tien Tran) managed to get a job at Goliath Market, it was still a bit vague if it was connected to the famous Goliath National Bank. However, this premiere set to rest all speculation and rumors, as the infamous former womanizer himself, Barney Stinson (Neil Patrick Harris), reintroduced himself to "How I Met Your Father" fans. 
A Legen — Wait For It ... Dary Return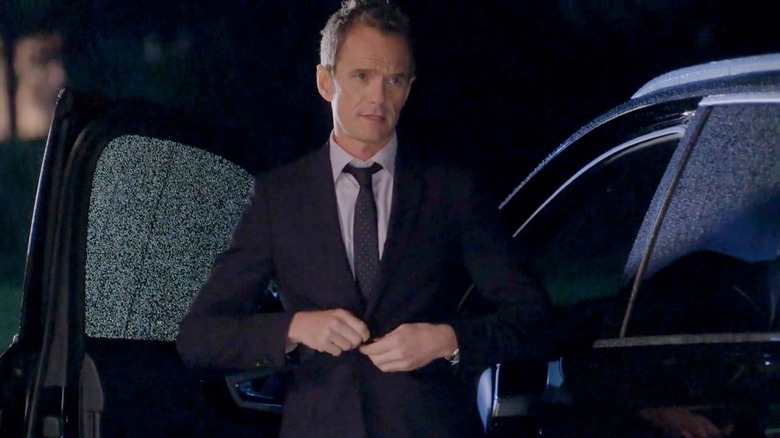 Sophie gets off to a rocky start, romantically speaking, in the "How I Met Your Father" season 2 premiere. Reeling in the wake of two break-ups in the space of 48 hours, she's surprised by the return of an old flame, Ian (Daniel Agustin). Cue sitcom hijinks as she tries to rekindle things with Ian while keeping her complicated love life a secret.
But the future version of Sophie (Kim Cattrall) reveals that this wasn't even rock bottom for her: "rock bottom wouldn't come until later that year." Cut to Sophie driving while panicking on the phone in a voicemail to her mother ("call me back, I think I'm dating my dad!") and accidentally rear-ending a car with the bumper plate LGNDRY. Yes, the sharply-dressed man driving the car is none other than Barney Stinson, and he emerges with an exasperated, "Dude!"
Rather than being a one-episode cameo, it looks like this is setting up a larger guest role for Harris later in the season, which is certainly a good hook to keep "How I Met Your Mother" fans watching. At the end of the original show, Barney did actually become a father to a daughter, Ellie, courtesy of a one night stand. Ellie's mother was never shown, but Sophie is speaking to her son in the future rather than a daughter, which complicates any potential fan theories about Barney being the eponymous father. At one point there was a fan theory that Barney was Sophie's father; hopefully that "dating my dad" thing doesn't turn out to be literal.
New episodes of "How I Met Your Father" release Mondays on Hulu.
Read this next: The Best And Worst TV Couples Of 2022
The post How I Met Your Father Season 2 Brings Back A Familiar Face — Could He Be The Father? appeared first on /Film.