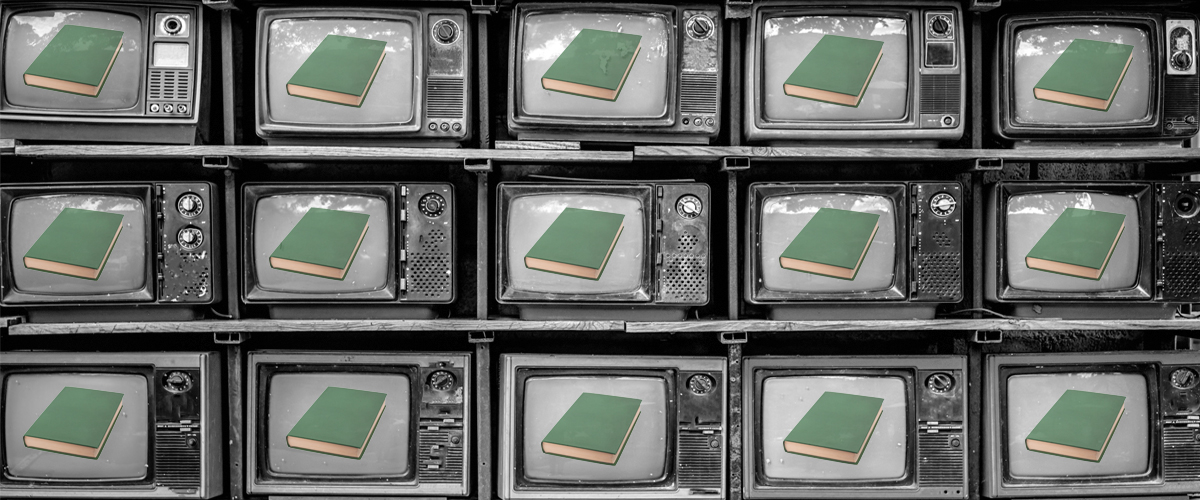 Apologies: rumor has it you're already up to your ears in books to read in 2023. But you can't spend all your time reading. So for the evenings you'd rather be mowing down the popcorn with a friend or Insert-Streaming-Service-and-Chilling at home, here are some of 2023's most exciting literary movies and tv shows—both confirmed and rumored.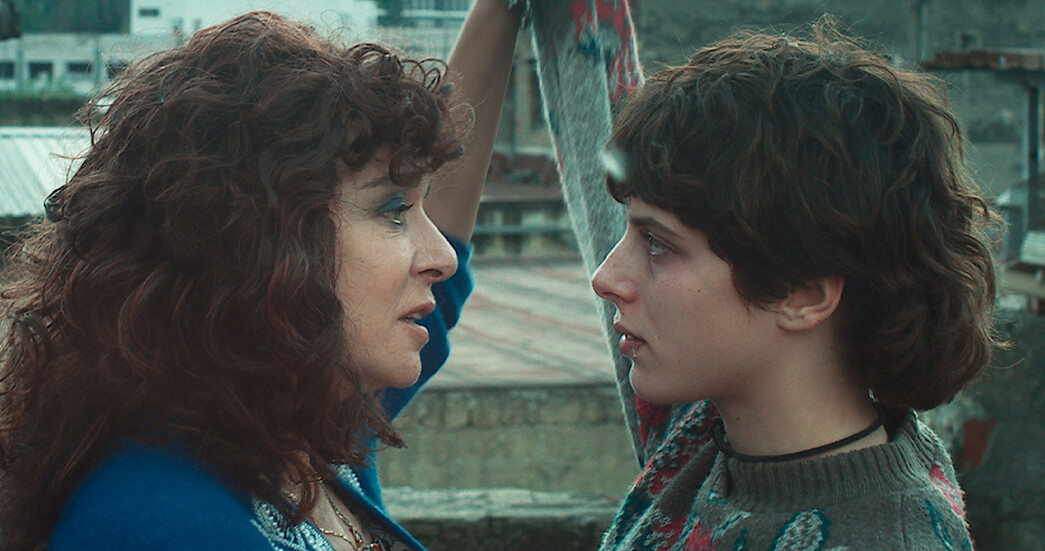 The Lying Life of Adults
Netflix, January 4
Based on: Elena Ferrante's The Lying Life of Adults (2019)
Ferrante fans are luckier than most: every adaptation of her work so far has been great—and that includes this latest effort, in which a teenager who, feeling herself a misfit, seeks out the family outcast as a way of seeking out herself. "Before leaving home, my father told my mother that I was ugly," Giovanna tells us in the opening moments. "He didn't say it directly. He used a metaphor. He spoke in a low voice, but I still heard him." Well worth a watch.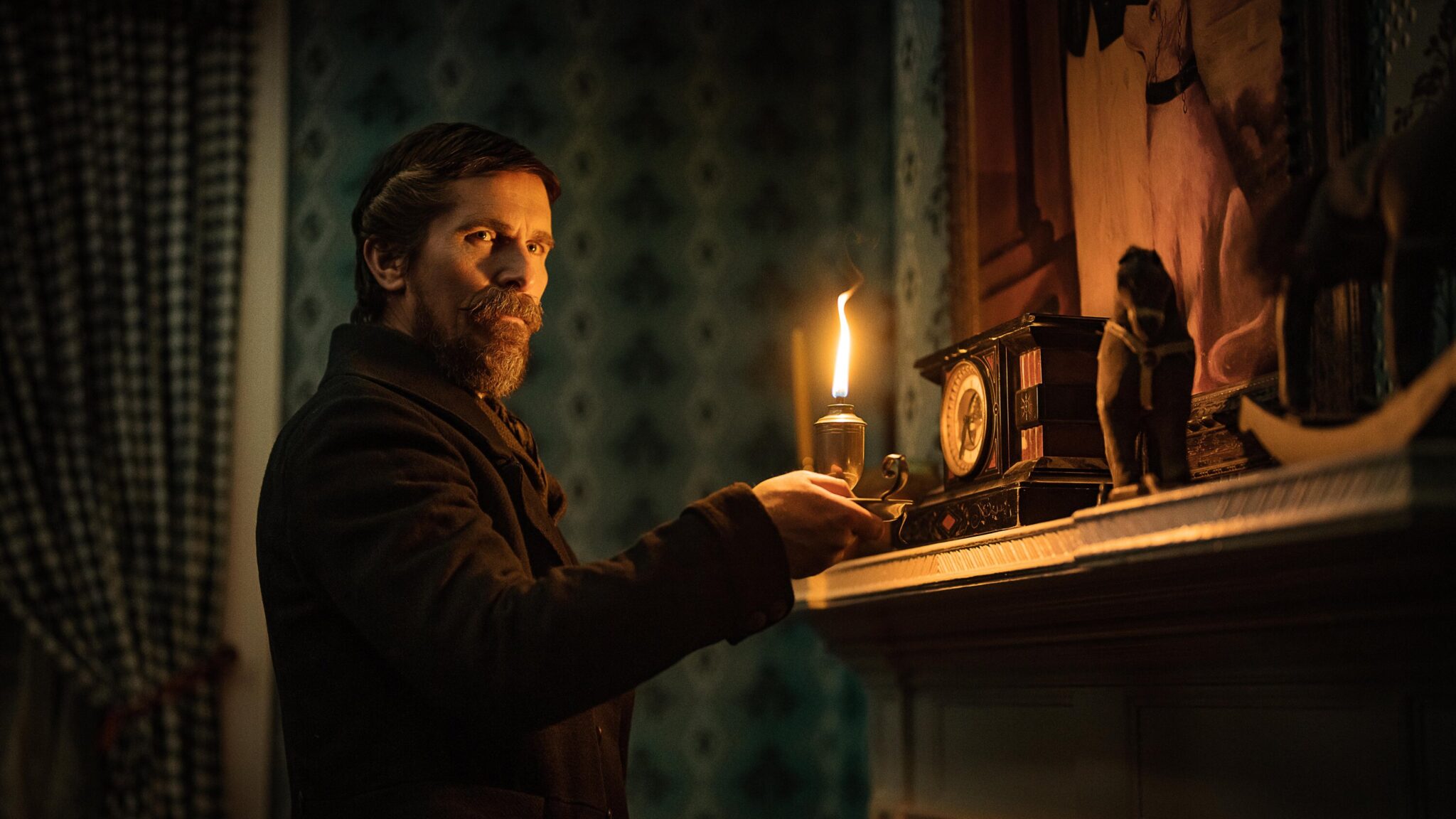 The Pale Blue Eye
Netflix, January 6
Based on: Louis Bayard's The Pale Blue Eye (2003)
Gloom, murder, doom, Christian Bale, winter, Charlotte Gainsbourg, darkness, and Harry Melling as Edgar Allan Poe, perfectly suited to seeking a killer who might cut his victim's hearts out. A film with more tricks up its sleeves than it first appears.
Anne Rice's Mayfair Witches
AMC, January 8
Based on: Anne Rice's Lives of the Mayfair Witches trilogy (1990-1994)
Reviews for AMC's latest plunge into the Anne Rice extended universe are decidedly mixed, but I got eerily addicted to watching Alexandra Daddario during the first season of White Lotus, and she more than pulls her weight here. It's probably not going to change the future of television, but it might be fun for an evening or two.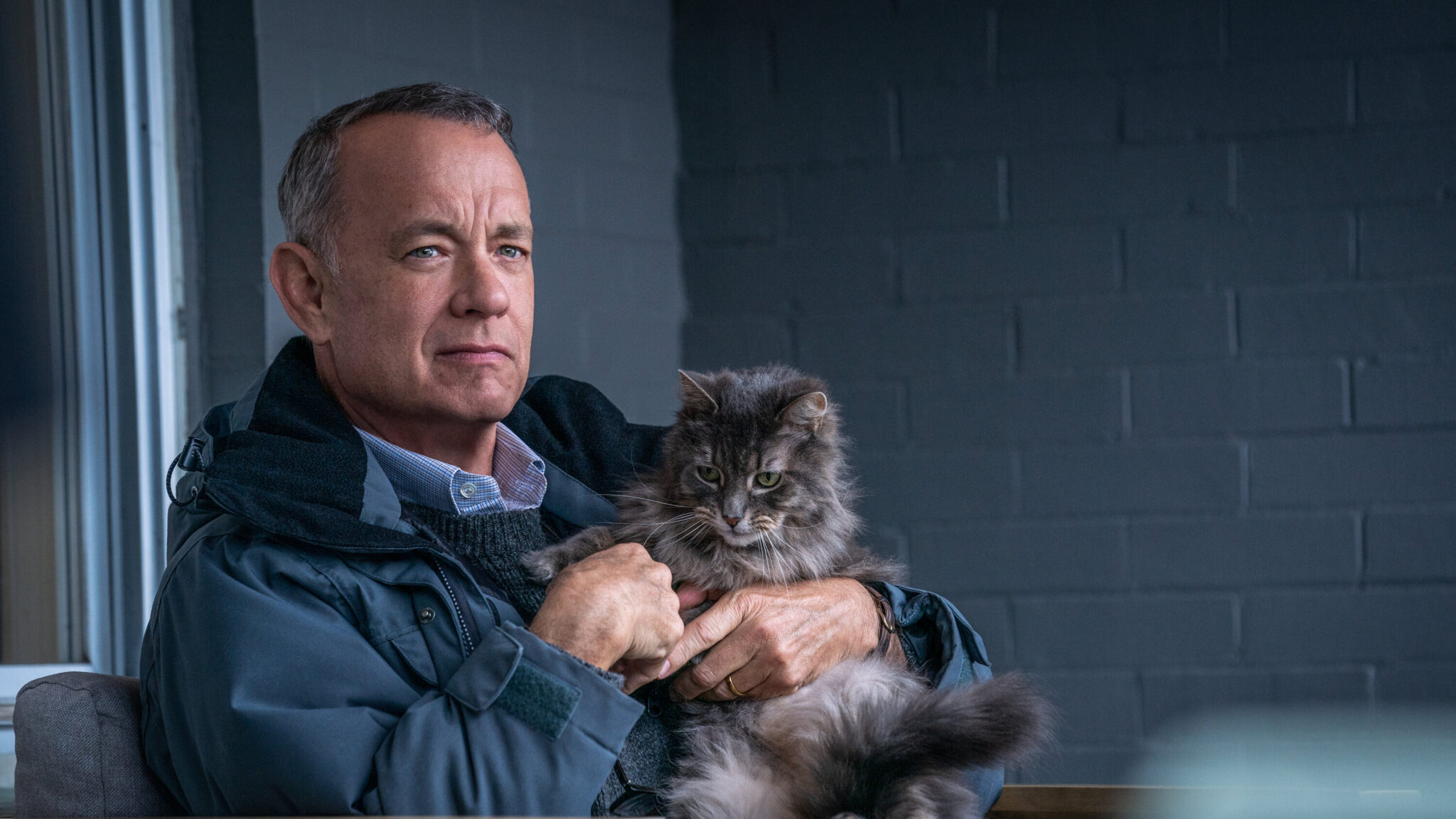 A Man Called Otto
Sony Pictures, January 13
Based on: Fredrik Backman's A Man Called Ove (2012)
They've Americanized Fredrik Bachman's Swedish curmudgeon so completely it's funny—the tagline of this movie is "Fall in Love with the Grumpiest Man in America," and besides, that man is Tom Hanks. But that won't have much effect on whether you buy the whole tried-and-true love-wins redemption arc—that will just depend on your level of cynicism, I suppose.
The 1619 Project
Hulu, January 26
Based on: Nikole Hannah-Jones and The New York Times Magazine's The 1619 Project: A New Origin Story (2021)
Hulu's six-part docu-series is an expansion of "The 1619 Project," which interrogates and reframes our received national narrative around slavery, through essays, stories, poems, and podcasts, created by Nikole Hannah-Jones for The New York Times Magazine. Each episode is based on a chapter from the 2021 book, covering ways in which the legacy of slavery reverberates through our history: "Democracy," "Race," "Music," "Capitalism," "Fear," and "Justice." It's amazing to see this project expand into so many different media; the more people it reaches, the better.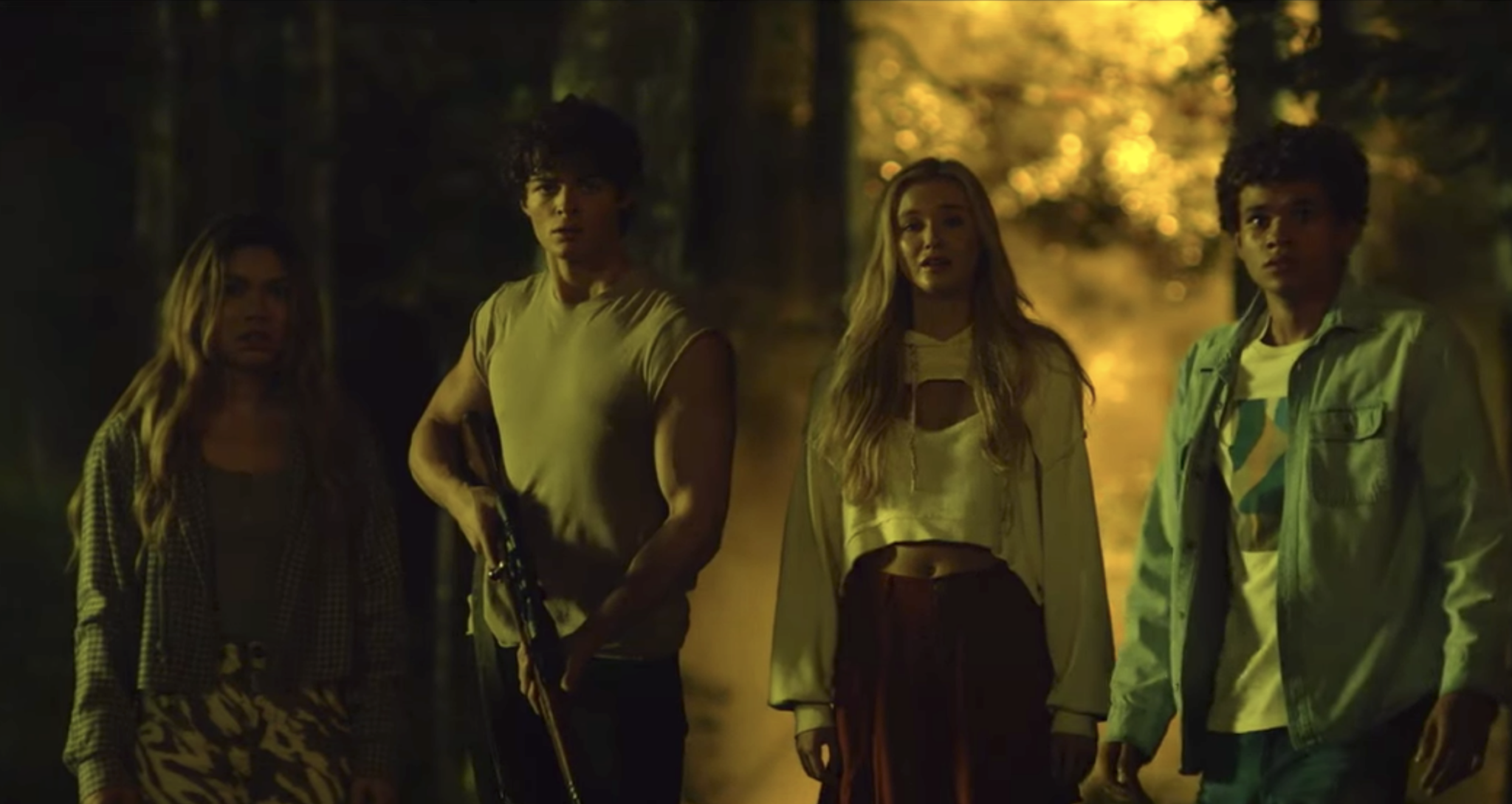 Wolf Pack
Paramount +, January 26
Based on: Edo van Belkom's Wolf Pack (2004)
Hi, it's your resident Buffy the Vampire Slayer die-hard to say that Sarah Michelle Gellar hunting monsters in the woods will always make me turn on my television. (Wolf Pack was developed by Jeff Davis, who was also behind MTV's Teen Wolf revival, so it seems he too has a niche.) Would it be too much to ask for a Seth Green cameo?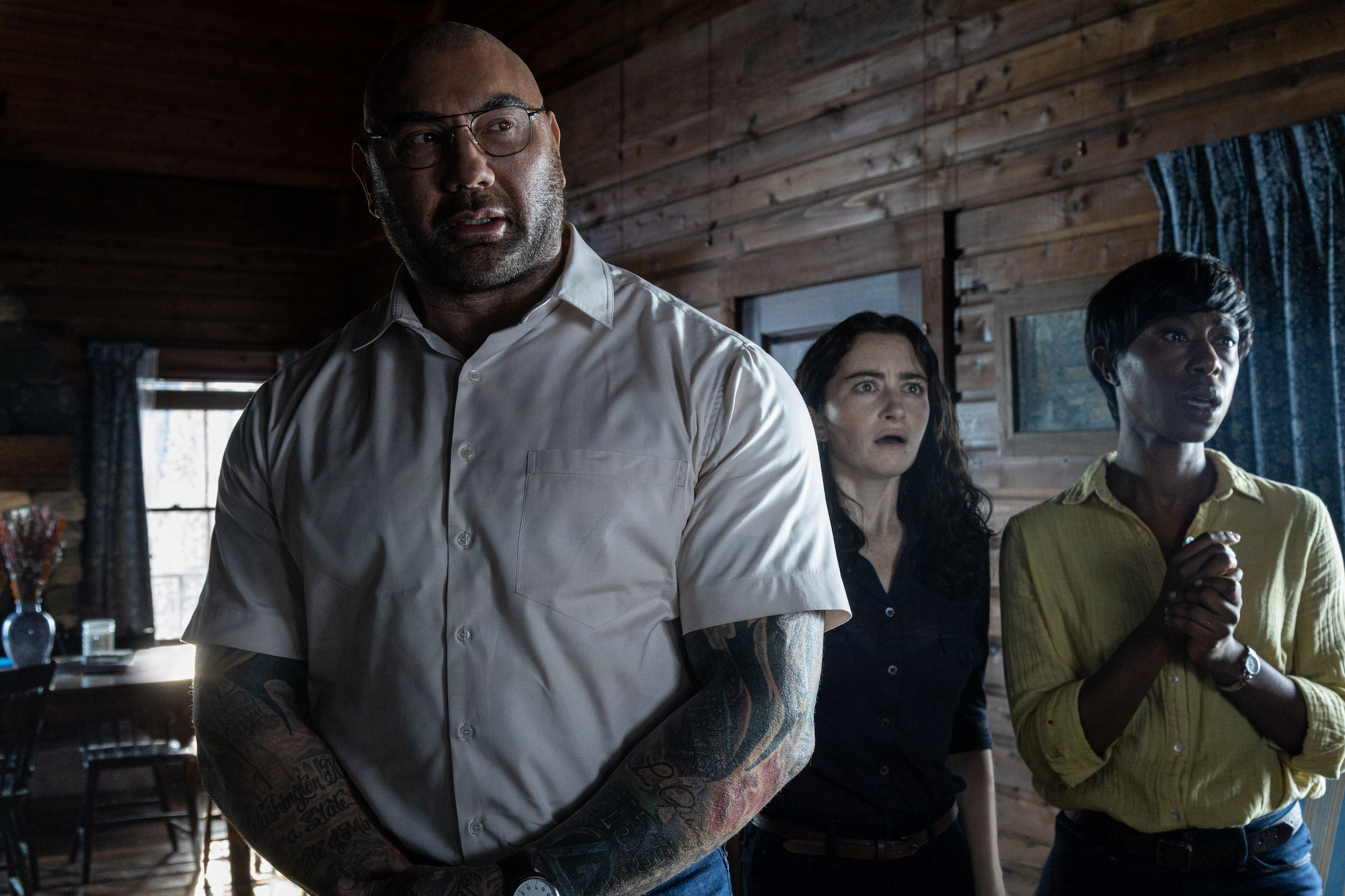 Knock At the Cabin
Universal Pictures, February 3
Based on: Paul Tremblay's The Cabin at the End of the World (2018)
M. Night Shyamalan is back with (surprisingly) Hollywood's first adaptation of a Paul Tremblay novel, a psychological thriller in which a family on vacation in a cabin in the woods (never a good idea) is held hostage by a group of people who claim that the world will end unless one of them sacrifices themselves. Things, needless to say, spiral from there.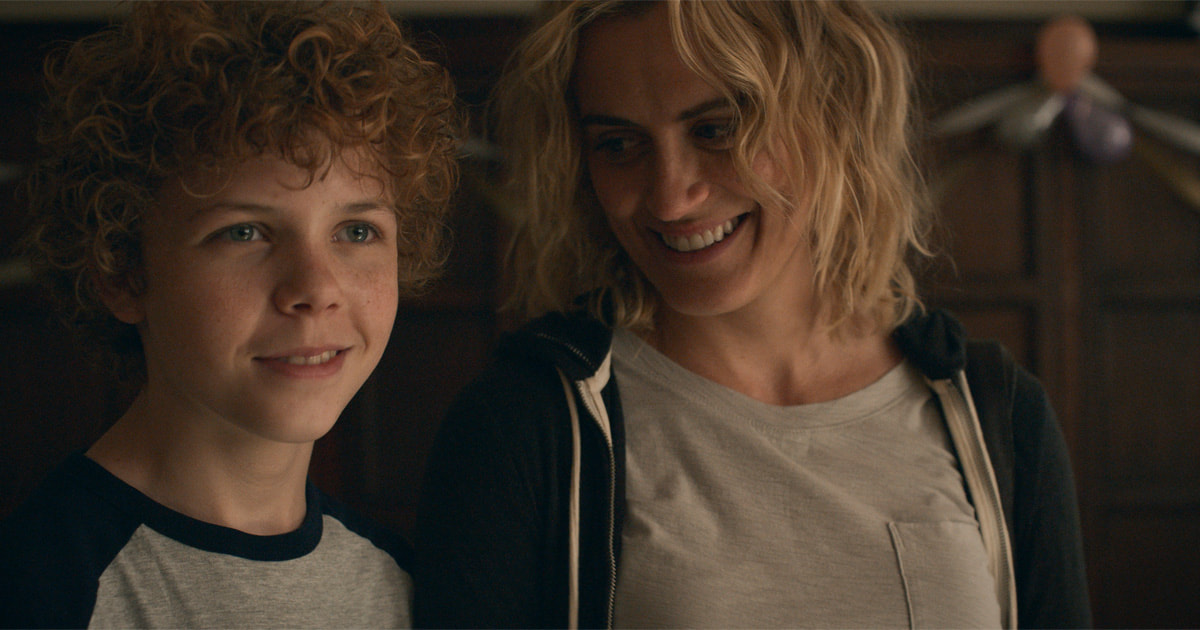 Dear Edward
Apple TV+, February 3
Based on: Ann Napolitano's Dear Edward (2020)
Connie Britton and Taylor Schilling lead this adaptation of Napolitano's novel about a 12-year-old boy who is the only survivor of a plane crash who learns, through his connections with others affected by the tragedy, how to cope. Pack your tissues!
Marlowe
Open Road Films, February 3
Based on: Benjamin Black's The Black-Eyed Blonde (2014)
Liam Neeson is (weirdly) Philip Marlowe in this star-studded—Diane Kruger, Jessica Lange, Adewale Akinnuoye-Agbaje, Alan Cumming, Danny Huston—adaptation of John Banville/Benjamin Black's 2014 novel directed by Neil Jordan (The Crying Game, Interview with the Vampire, The Butcher Boy, The End of the Affair). Early reviews aren't great, but considering the talent in play, I'll be keeping an eye on it.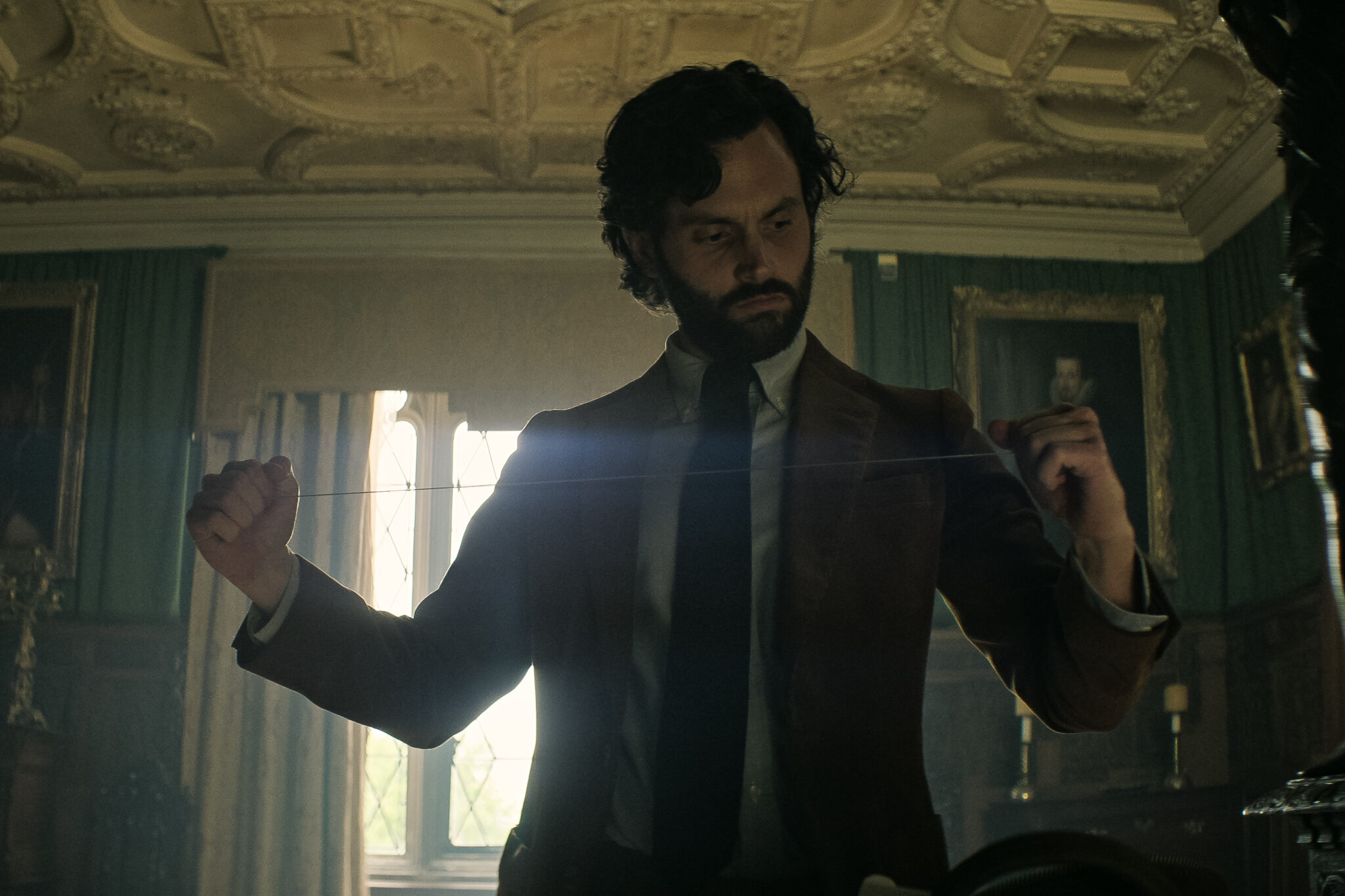 You (Season 4)
Netflix, February 9
Based on: the novel series by Caroline Kepnes
Joe Goldberg goes to London! (Yes, I'll just keep watching this insane show, don't @ me. Take all my free time, Sera Gamble.)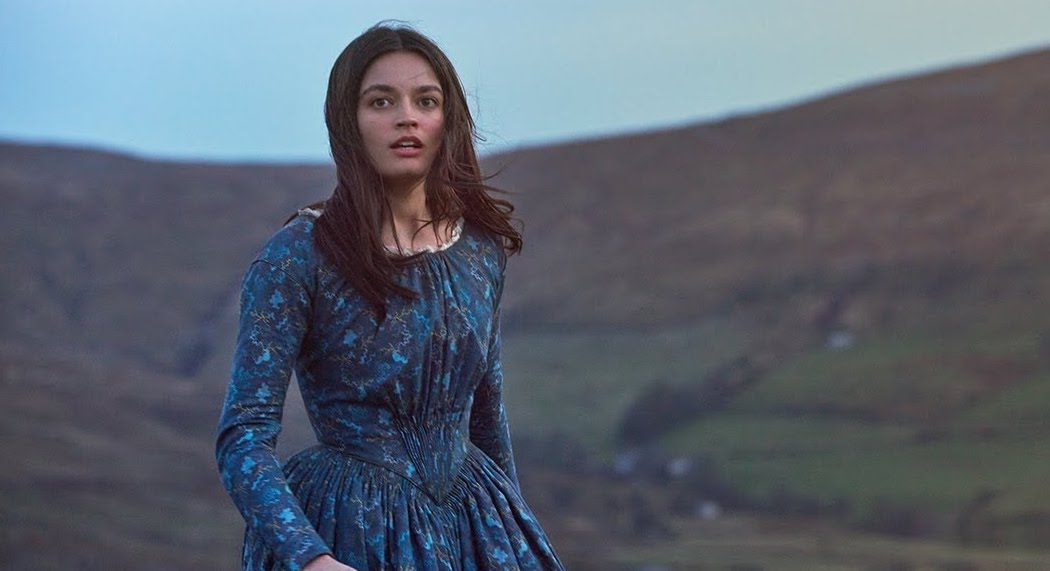 Emily
Bleecker Street, February 17
Based on: the life of Emily Brontë
In this irreverent fictionalized biopic, director Frances O'Connor gives Emily Brontë (Emma Mackey) a love life, among other things. "I know there'll be some people that are pissed off about it," O'Connor told Total Film. "People like Brontë historians will probably say, 'Well, that didn't happen.'" (Reviewers in the UK so far have mostly said "who cares? It's fun," and Americans are even less attached to the truth about English historical figures, so I think we'll probably be fine with it.)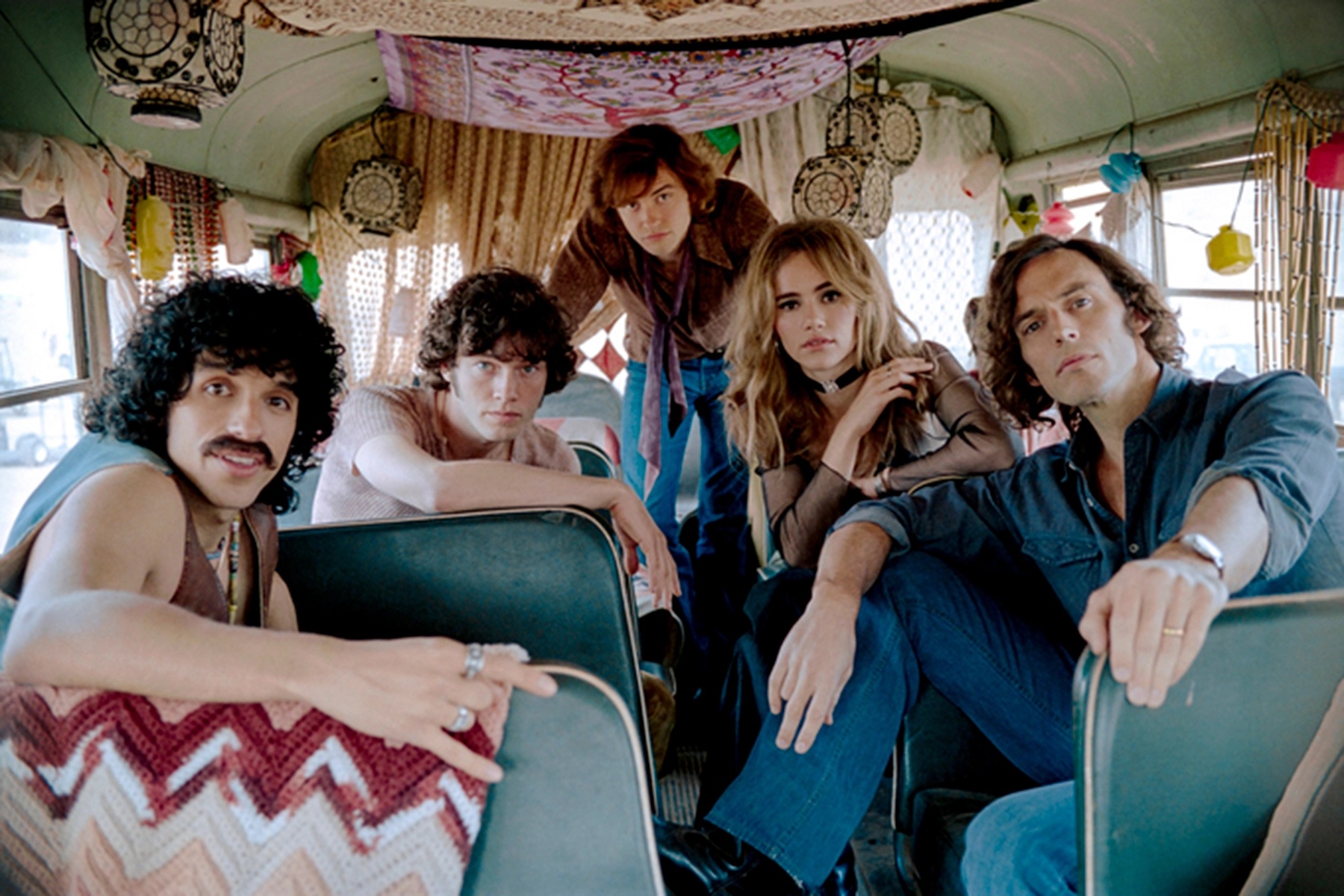 Daisy Jones & the Six
Amazon Prime Video, March 3
Based on: Taylor Jenkins Reid's Daisy Jones & the Six (2019)
Riley Keough (Elvis Presley's granddaughter, natch) stars as Daisy Jones in this adaptation of Taylor Jenkins Reid's bestselling '70s rock novel that is not about Fleetwood Mac, but is also not not about Fleetwood Mac.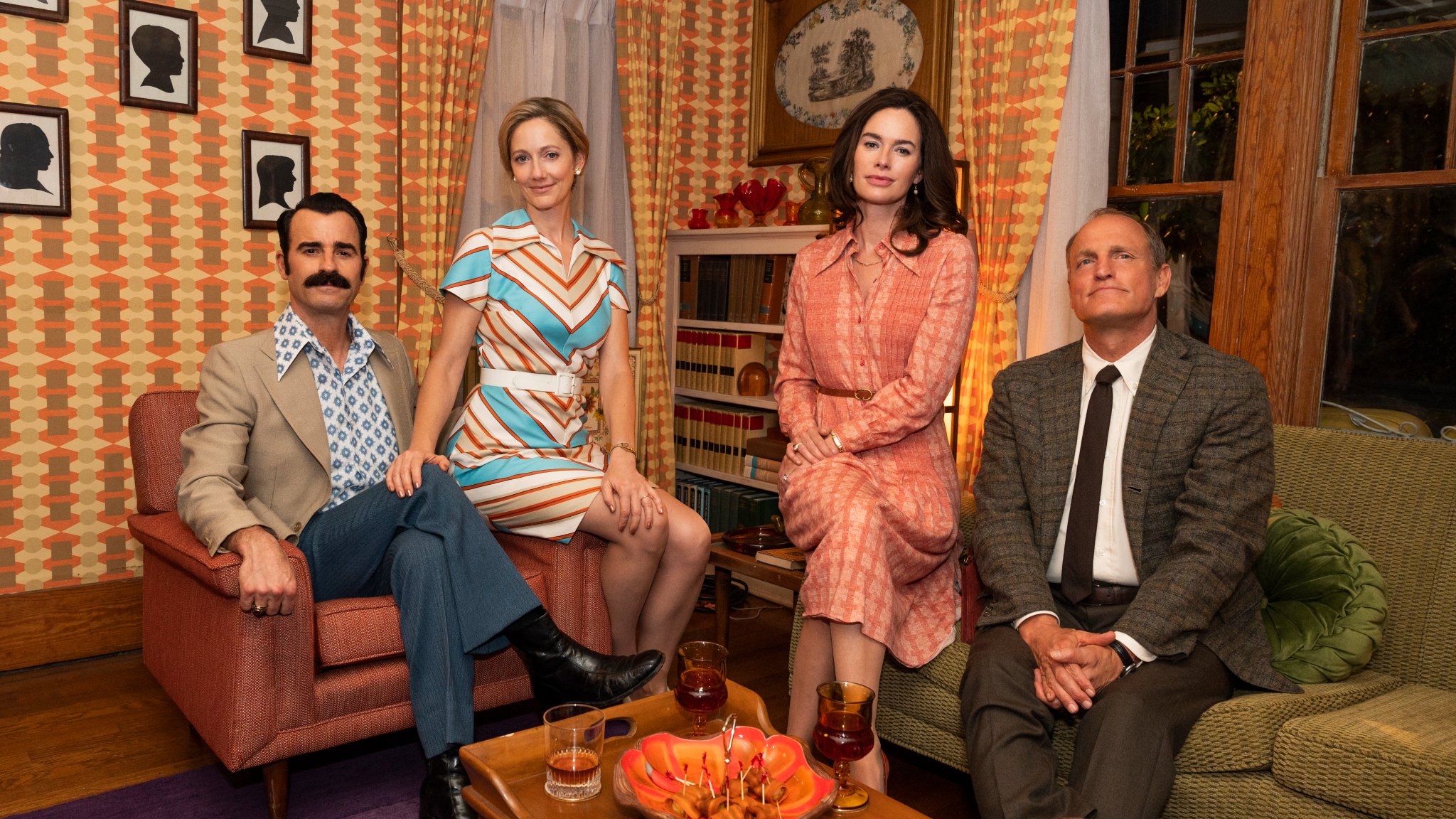 White House Plumbers
HBO, March
Based on: Egil Krogh and Matthew Krogh's Integrity: Good People, Bad Choices, and Life Lessons from the White House (2007)
The "White House Plumbers" were members of a covert group in Nixon's White House, tasked with plugging (ha, ha) any and all leaks to the press. The group was led by E. Howard Hunt and G. Gordon Liddy, who will here be portrayed by Woody Harrelson and Justin Theroux respectively, and joined by a very fun cast: Domhnall Gleeson, Lena Headey,Kiernan Shipka, Ike Barinholtz, Yul Vazquez, Judy Greer, David Krumholtz, Rich Sommer, and F. Murray Abraham, among others. Plus: the clothes!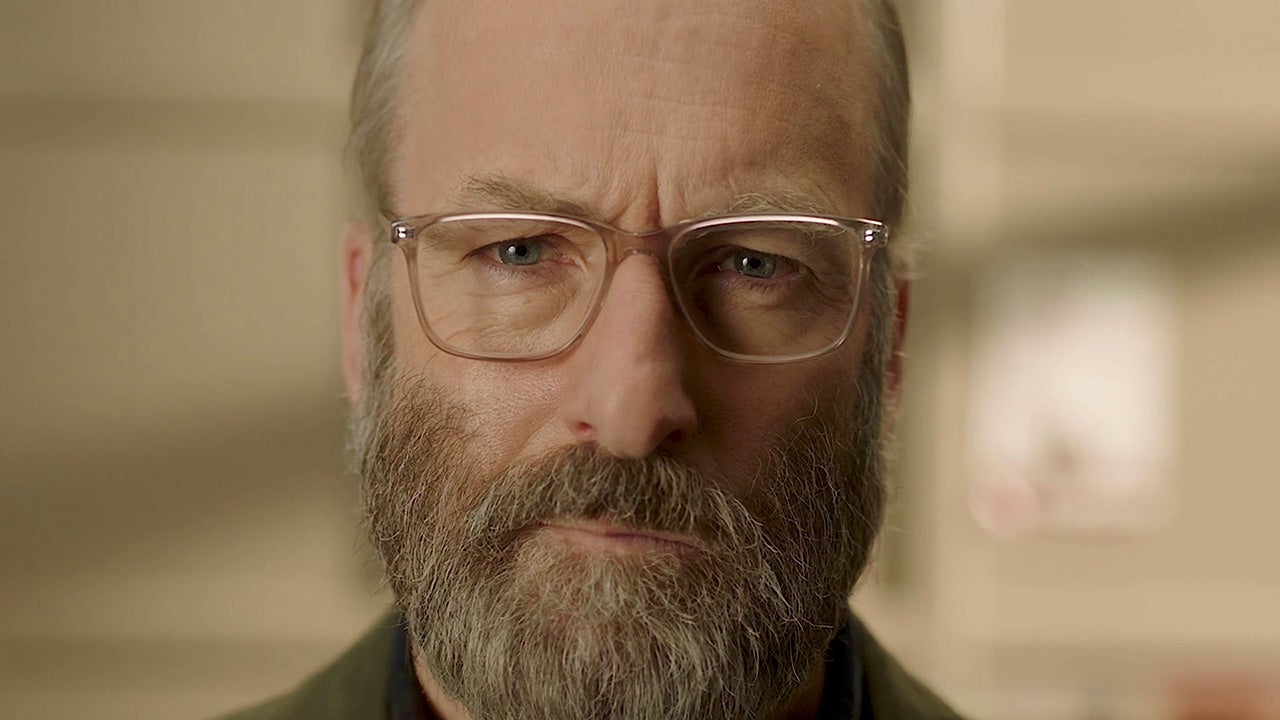 Lucky Hank
AMC, March 19
Based on: Richard Russo's Straight Man (1997)
Bob Odenkirk is Hank Devereaux in this long-awaited adaptation of Richard Russo's modern classic campus novel, one of the funniest books about academia ever written, which is saying something. Honestly, I think Odenkirk is going to knock this out of the park, and I can't wait to watch.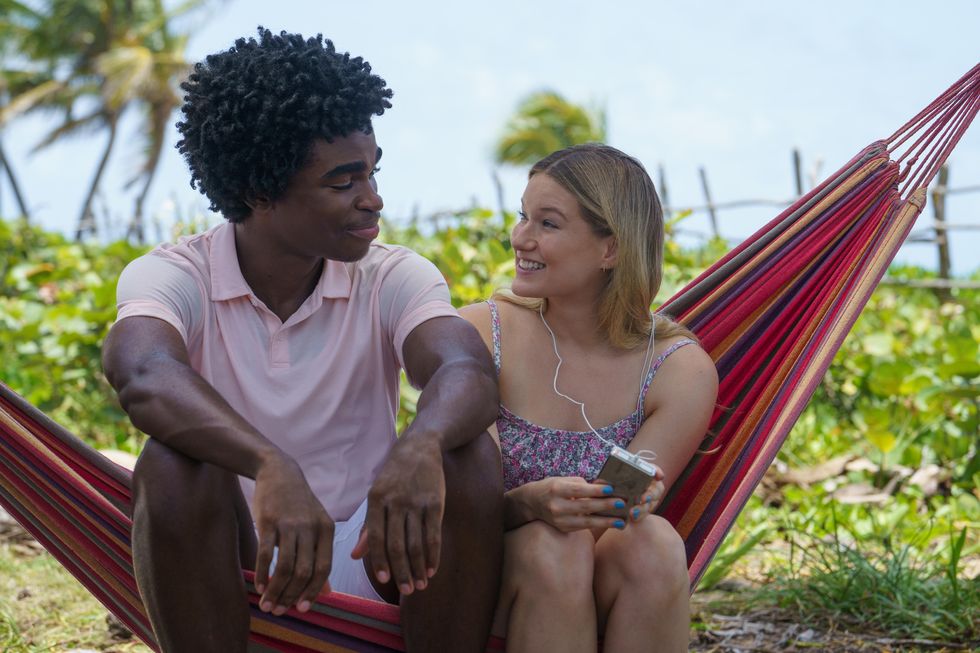 Saint X
Hulu, April 26
Based on: Alexis Schaitkin's Saint X (2020)
This adaptation of Alexis Schaitkin's Saint X uses multiple timelines to examine the fallout when a young woman is murdered while vacationing with her family on a Caribbean island, leaving her younger sister with endless questions and a desperate need to discover the truth.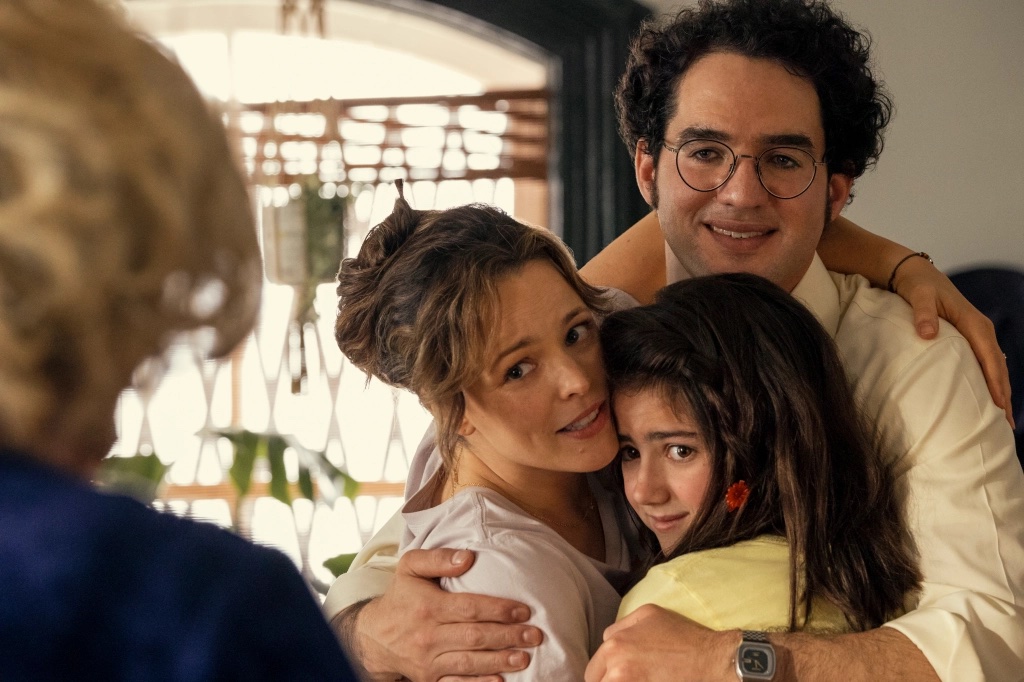 Are You There God? It's Me, Margaret
Lionsgate, April 28 
Based on: Judy Blume's Are You There God? It's Me, Margaret (1970)
50 years later, Judy Blume's classic coming-of-age novel is finally a movie. Considering all that it has meant to generations of young women, it seems impossible that any adaptation will be able to do this book justice, but we'll just have to watch it to find out.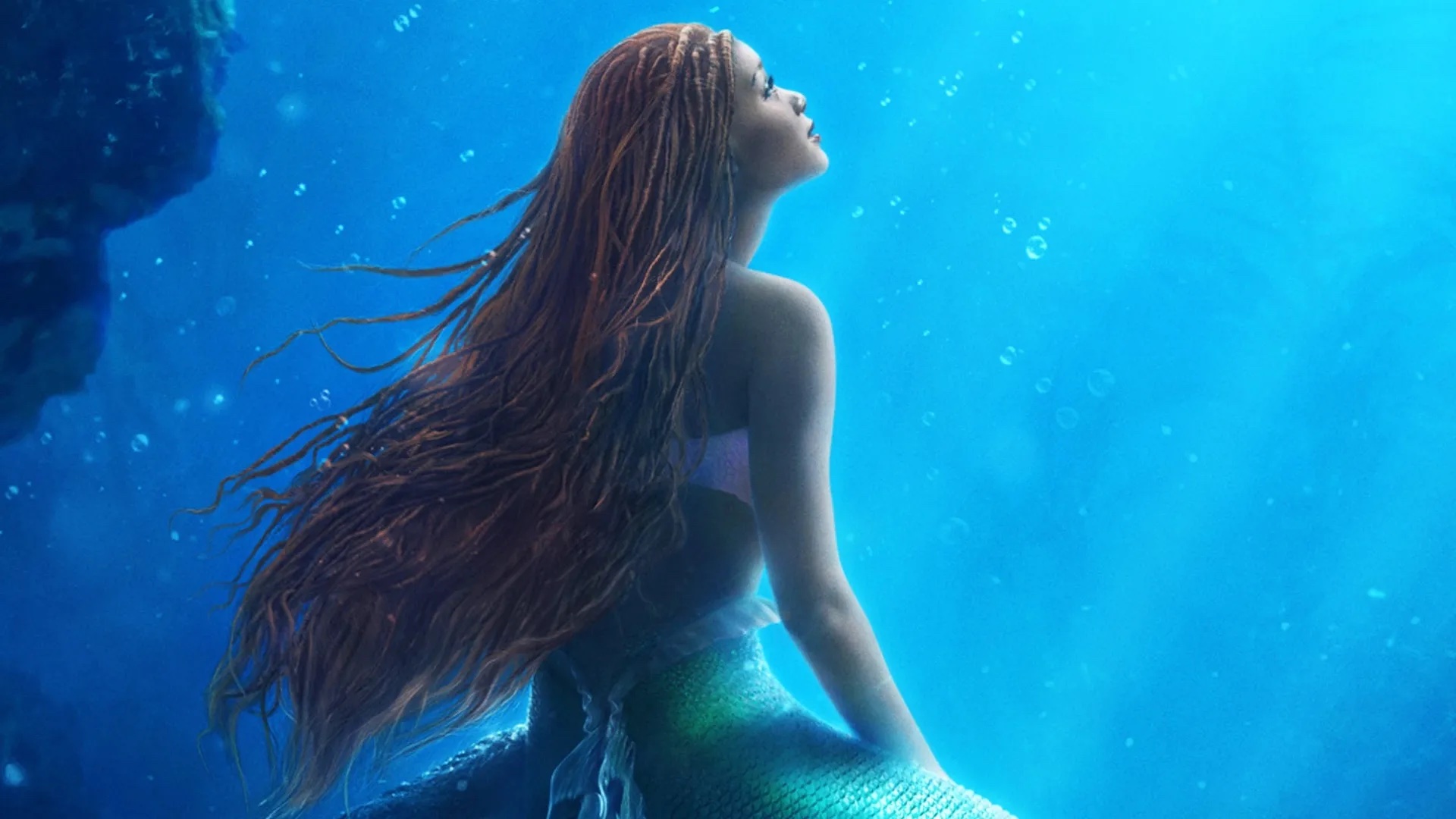 The Little Mermaid
Walt Disney, May 26
Based on: Hans Christian Andersen's "The Little Mermaid" (1837)
There was a predictable, boring backlash back in 2019, when Halle Bailey was announced as Ariel in the new live-action adaptation of The Little Mermaid and more of it in September, when the trailer came out, the thrust being that Black mermaids aren't historically accurate, and/or that adaptations should be carbon copies of the originals. Blah blah blah. Personally, I'm excited for all the little kids who are going to love and see themselves in this movie, and also for Melissa McCarthy as Ursula.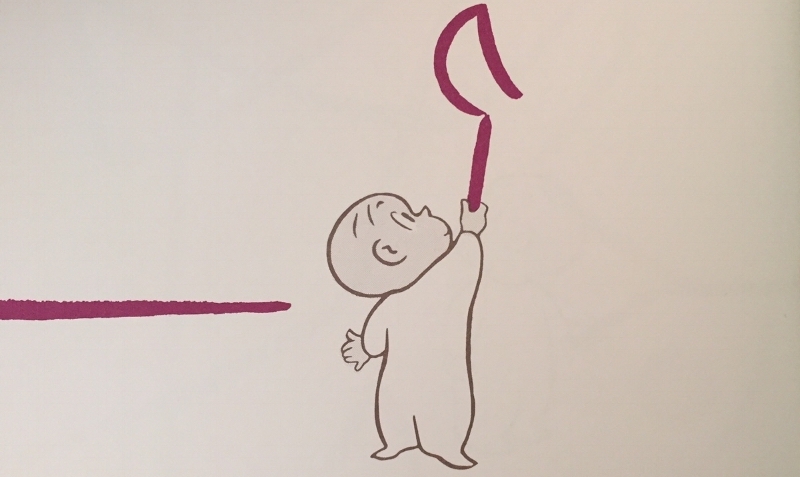 Harold and the Purple Crayon
Sony Pictures, June 30
Based on: Crockett Johnson's Harold and the Purple Crayon (1955)
You know what's really not realistic? Zachary Levi starring in a live-action adaptation of Harold and the Purple Crayon. I mean, Chuck Bartowski's a little old for the part of the little boy who draws himself an adventure with a purple crayon, you know? The cast also includes Zooey Deschanel, Lil Rel Howery, and several other adults, so I have no idea what they're up to over there. But, unfortunately, I want to find out.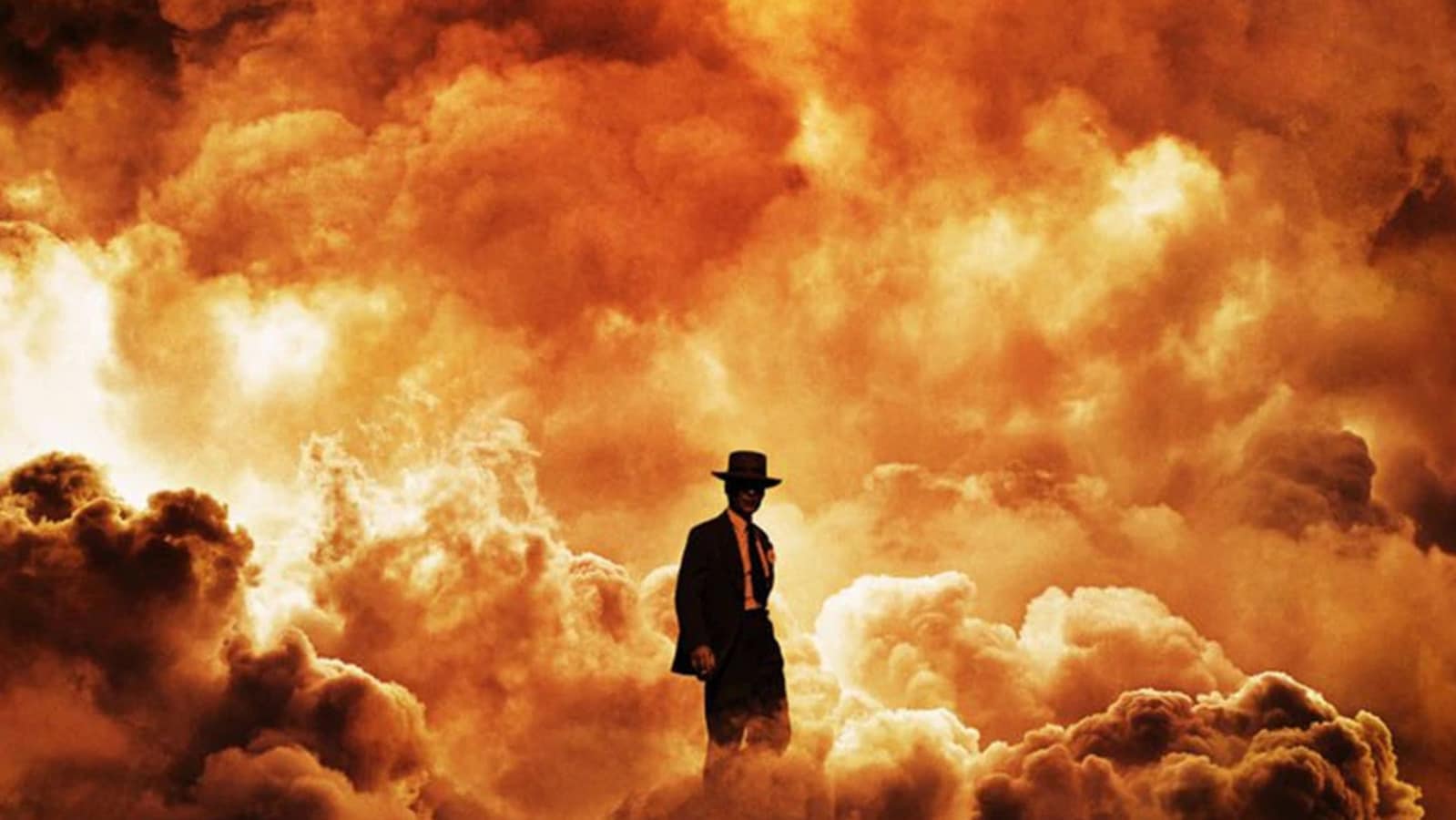 Oppenheimer
Universal Pictures, July 21
Based on: Kai Bird and Martin J. Sherwin, American Prometheus: The Triumph and Tragedy of J. Robert Oppenheimer (2005)
Can't deny it: the story of J. Robert Oppenheimer, father of the atomic bomb, is perfect for Christopher Nolan—and Cillian Murphy's already giving me chills in early images. Round it out with Emily Blunt, Robert Downey Jr., Matt Damon, Rami Malek, Florence Pugh, Benny Safdie, Michael Angarano, Josh Hartnett, and Kenneth Branagh, and the result is likely to be (I'm so sorry) explosive.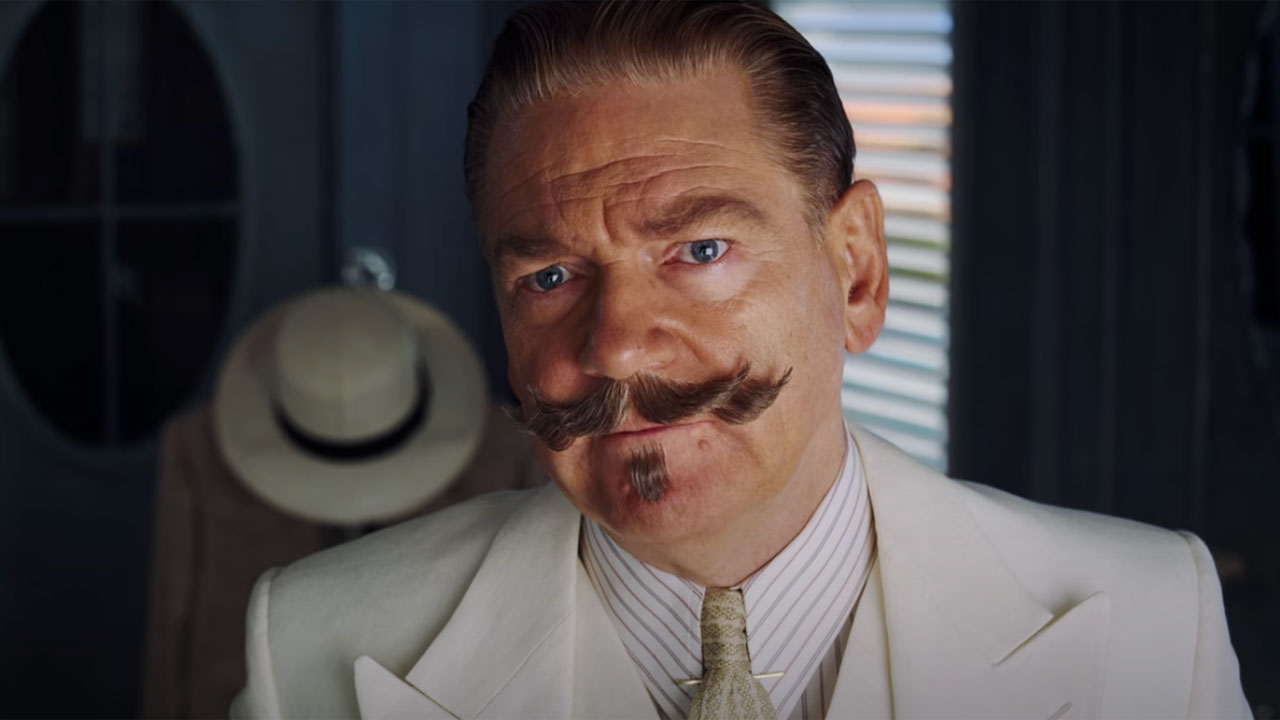 A Haunting in Venice
20th Century Studios, September 15
Based on: Agatha Christie's Hallowe'en Party (1969)
Kenneth Branagh's back for his third turn as Hercule Poirot, despite the . . . let's call them very mixed reviews of the first two films. As always, there's a big, fun cast—Kyle Allen, Camille Cottin, Jamie Dornan, Tina Fey, Jude Hill, Kelly Reilly, Michelle Yeoh—and it will probably all be a bit too much. But Christie is Christie, and we keep on hoping.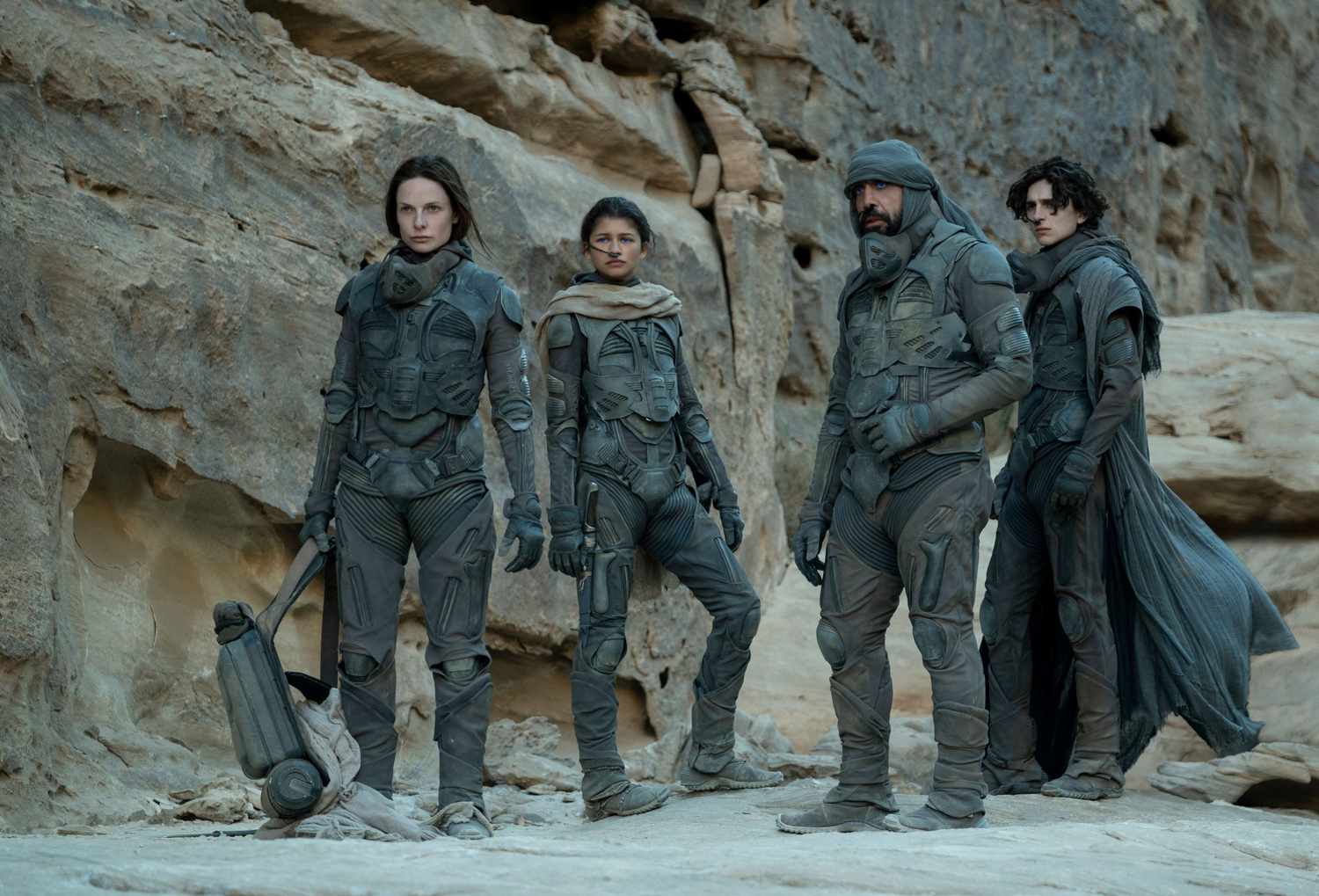 Dune: Part Two
Warner Bros., November 3
Based on: Frank Herbert's Dune (1965)
You already know if you're going to see this, so I won't belabor the point, except to say that Florence Pugh, Austin Butler, Christopher Walken, Léa Seydoux, and Tim Blake Nelson are set to join the already star-studded cast of Dune in its second half. Bring on the sandworms.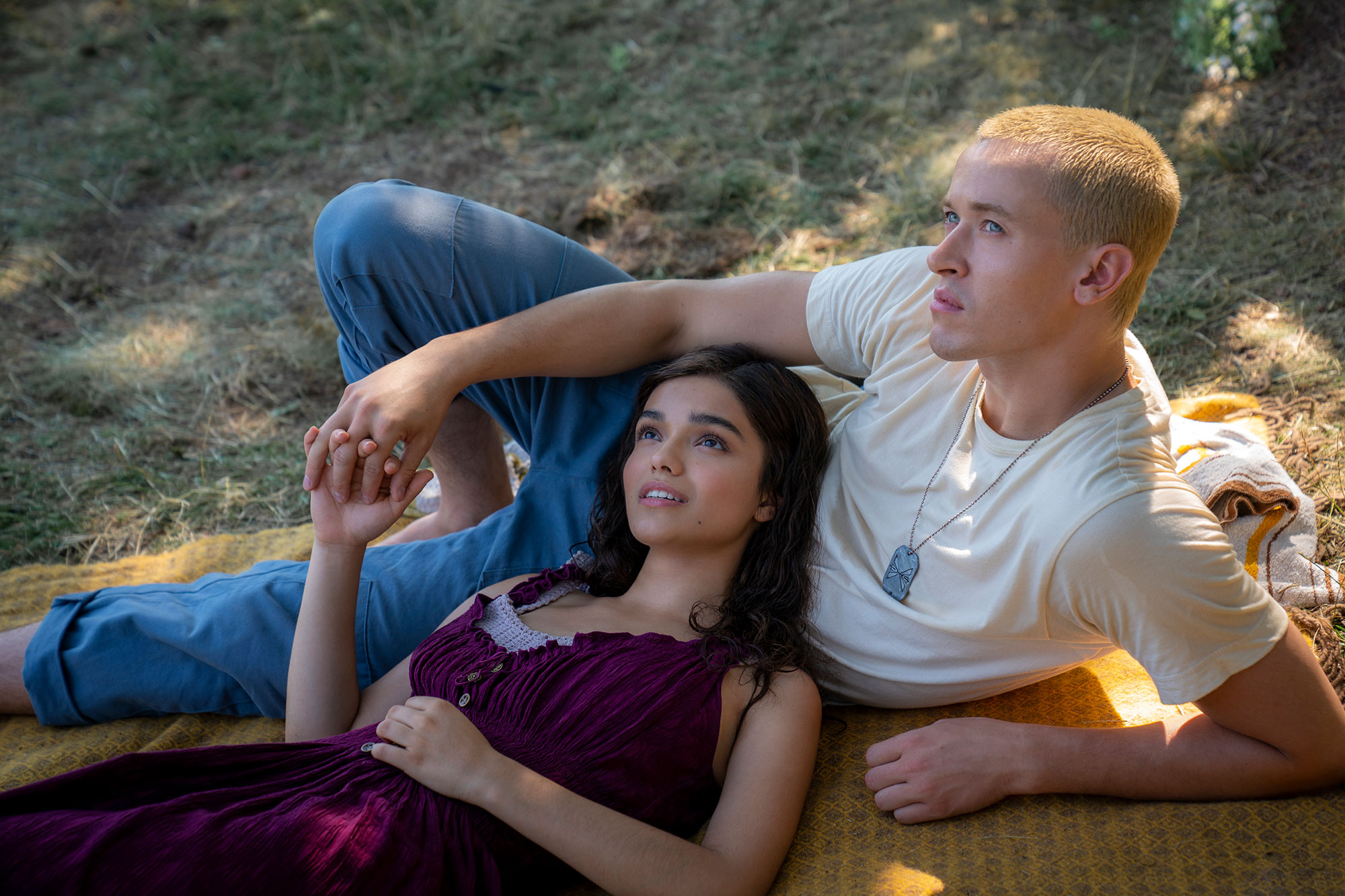 The Hunger Games: The Ballad of Songbirds and Snakes
Lionsgate, November 17
Based on: Suzanne Collins' The Ballad of Songbirds and Snakes (2020)
The Hunger Games prequel is the origin story of murderous villain Coriolanus Snow, which is either exciting to you, or decidedly not. Either way, you have to love the casting of Jason Schwartzman as Lucretius "Lucky" Flickerman, the unspecified ancestor to Stanley Tucci's Caesar Flickerman.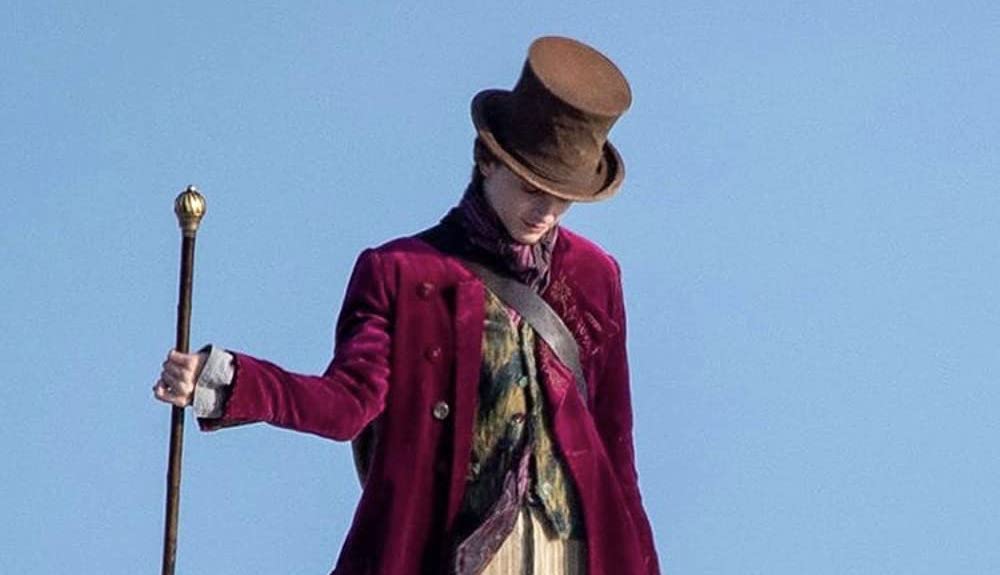 Wonka
Warner Bros., December 15
Based on: Roald Dahl's Charlie and the Chocolate Factory (1964)
Ah, another prequel—only this one's a musical. Timothée Chalamet is a young Willy Wonka on the adventure where he'll meet the Oompa-Loompas, and that's about all we know, other than the rest of the cast, which includes Rowan Atkinson, Keegan-Michael Key, and Olivia Colman.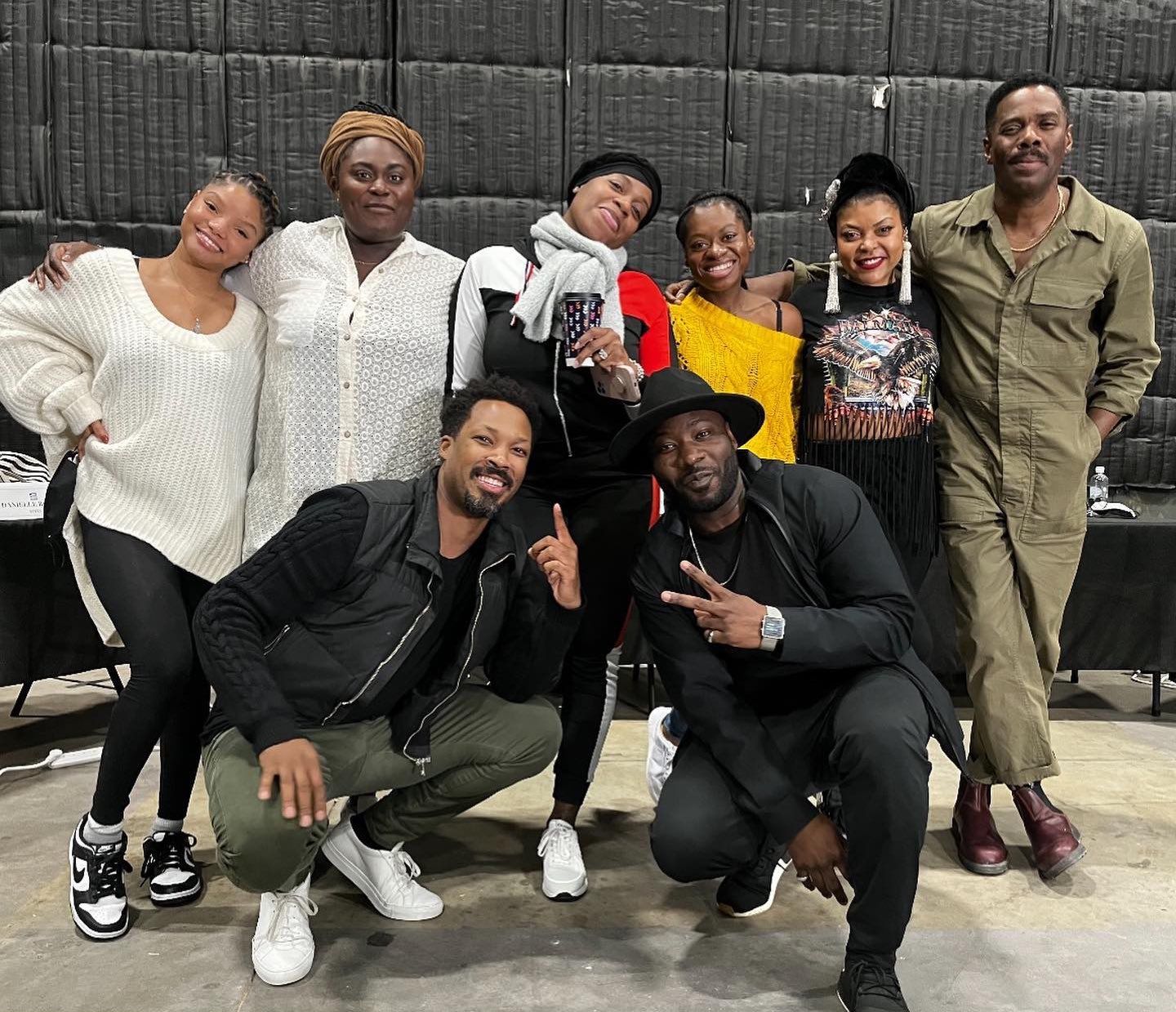 The Color Purple
Warner Bros., December 20
Based on: Alice Walker's The Color Purple (1982)
Steven Spielberg's 1985 adaptation of Alice Walker's Pulitzer Prize-winning novel is a classic in its own right, but that doesn't mean that we can't have more. This The Color Purple is actually a film adaptation of the 2005 musical version, with a book by Pulitzer Prize winner Marsha Norman, and lord knows I love a musical, especially with a cast including Fantasia, Taraji P. Henson, Danielle Brooks, Ciara, Colman Domingo, and Jon Batiste.
*
Also anticipated and expected—but unconfirmed—for 2023:
Killers of the Flower Moon (Apple TV+)
Based on: David Grann's Killers of the Flower Moon (2017)
There's no release date yet for Martin Scorsese's adaptation of David Grann's bestselling book about the Osage murders in 1920s Oklahoma and the fledgling days of the FBI—starring Leonardo DiCaprio, Robert De Niro, Jesse Plemons and Lily Gladstone, no less—but it's likely to be a major event whenever it drops.
Peter Pan & Wendy (Disney +)
Based on: J.M. Barrie's Peter and Wendy (1911)
Look, on principle I'm against the endless recycling of IP, but . . . will I watch a version of Peter Pan directed by David Lowery (A Ghost Story, The Green Knight)? I have to say that I will, even if it's Disney. (Also, Jude Law as Captain Hook? I'm not mad about it.)
3 Body Problem (Netflix)
Based on: Liu Cixin's The Three-Body Problem (2008)
The latest project from David Benioff and D.B. Weiss (um, Game of Thrones), co-written with Alexander Woo (True Blood) is an adaptation of Liu Cixin's beloved trilogy about what happens after humans finally meet some of their neighbors in a nearby galaxy (spoiler: it's war). Considering the source, I'm expecting a huge, ambitious, and dazzling result.
Painkiller (Netflix)
Based on: Patrick Radden Keefe's "The Family That Built an Empire of Pain" (2017) and Barry Meier's Pain Killer: An Empire of Deceit and the Origin of America's Opioid Epidemic (2018)
A drama series about the origins of the American opioid epidemic, and the Sackler dynasty, starring Taylor Kitsch, Matthew Broderick, Dina Shihabi, and Uzo Aduba, based on the in-depth reporting of both Barry Meier and Patrick Radden Keefe (Keefe also serves as a consultant on the series).
Poor Things (Searchlight)
Based on: Alasdair Gray's Poor Things (1992)
Oh boy, is this ever going to be bonkers. The insane and visionary Yorgos Lanthimos (The Lobster, The Favourite) is directing an adaptation of the insane and visionary Alasdair Gray's postmodern satire of Frankenstein, in which Bella Baxter, having drowned herself, is brought back to life via a transplant of the brain of her unborn child. After which all the men fall in love with her, of course. Emma Stone, obviously, will be Bella, with Willem Dafoe, Mark Ruffalo, Ramy Youssef, and Margaret Qualley rounding out the cast.
American Born Chinese (Disney+)
Based on: Gene Luen Yang's American Born Chinese (2006)
Michelle Yeoh leads the cast of this adaptation of the beloved and bestselling graphic novel (also a National Book Award finalist), in which a young Chinese-American boy struggling in his new school gets mixed up in the affairs of some mythological Chinese gods.
Three Women (Showtime)
Based on: Lisa Taddeo's Three Women (2019)
Taddeo herself adapted her #1 New York Times bestseller as a dramatic series for Showtime, which is always a good sign for fans of a book. Shailene Woodley stars as Gia, DeWanda Wise as Sloane, and Betty Gilpin as Lina.
The Last Thing He Told Me (Apple TV+)
Based on: Laura Dave's The Last Thing He Told Me (2021)
Hello Sunshine's latest project is a miniseries adaptation of Dave's bestselling thriller, in which a woman (Jennifer Garner) is left to deal with her husband's lies—and his daughter—when he mysteriously disappears.
The Power (Amazon Prime Video)
Based on: Naomi Alderman's The Power (2016)
Toni Collette stars as Margot in this adaptation of Alderman's acclaimed novel—set in a world like ours, except that all women can electrocute people with a touch. I have very high hopes for this one, which also stars John Leguizamo, Toheeb Jimoh, and Auli'i Cravalho.
Red, White & Royal Blue (Amazon Prime Video)
Based on: Casey McQuiston's Red, White & Royal Blue (2019)
Romance fans will be swooning with anticipation for this adaptation of McQuiston's bestselling 2019 debut, in which the son of the American President feuds—and then falls in love with—the Prince of Wales. Political nightmare or world-saving affair? Either way, should be loads of fun.
The Crossover (Disney+)
Based on: Kwame Alexander's The Crossover (2014)
If you have a youth in your life who likes sports, take note: Kwame Alexander's Newbery Medal and Coretta Scott King Award-winning verse novel about basketball is being adapted into a series narrated by Daveed Diggs and produced by (among others) LeBron James. Legit!
All the Light We Cannot See (Netflix)
Based on: Anthony Doerr's All the Light We Cannot See (2014)
Shawn Levy (Stranger Things, Night at the Museum) directs Netflix's limited series adaptation of Doerr's Pulitzer Prize-winning bestseller about a blind French girl and a young German soldier in WWII. Lovers of tearjerkers, get your tissues ready.
Tiny Beautiful Things (Hulu)
Based on: Cheryl Strayed's Tiny Beautiful Things (2012)
Move aside, Reese Witherspoon—Kathryn Hahn is your new Cheryl Strayed (or, to be precise, a fictionalized version of Cheryl Strayed called Clare). This isn't an obvious source text for an adaptation—it's a collection of Strayed's "Dear Sugar" advice columns originally published on the Rumpus—which makes me very interested to see the result.
The Fall of the House of Usher (Netflix)
Based on: Edgar Allan Poe's "The Fall of the House of Usher" (1839) and other works
Horror auteur Mike Flanagan (The Haunting, Absentia, Doctor Sleep, The Midnight Club) takes on Poe in this eight episode limited series, and expectations are high. (But when are we going to see The Dark Tower?)
Lessons in Chemistry (Apple TV+)
Based on: Bonnie Garmus' Lessons in Chemistry (2022)
The fastest turnaround award goes to Apple TV+'s adaptation of Lessons in Chemistry, executive produced by and starring Brie Larson as Elizabeth Zott. Seriously fast—there were first look images as of August.
The Changeling (Apple TV+)
Based on: Victor Lavalle's The Changeling (2017)
This one may be a long shot, but it's technically being listed as 2023, so I'm leaving it here optimistically. LaKeith Stanfield is attached to executive produce and star as Apollo in Melina Matsoukas' adaptation of Lavalle's dark NYC fable. This one could be outstanding if done right—here's hoping.
Salem's Lot (Warner Bros.)
Based on: Stephen King's 'Salem's Lot (1975)
Another day, another Stephen King adaptation. Salem's Lot, based on King's sophomore novel about a writer who goes back to his hometown and winds up fighting vampires, was adapted into a memorable tv miniseries in 1979, but hey, that was a while ago. The new film was written, executive produced, and directed by Gary Dauberman, who also wrote the two recent IT remakes, which is promising!
City on Fire (Apple TV+)
Based on: Garth Risk Hallberg's City on Fire (2015)
Attention, Upper East Siders: Josh Schwartz and Stephanie Savage (The O.C., Gossip Girl) are taking on Hallberg's New York City crime drama, which is famous for being one of the most expensive debuts ever sold. Also, it's huge. 927 pages in eight episodes? Bring on the drama!
Shōgun (FX on Hulu)
Based on: James Clavell's Shōgun (1975)
The new adaptation of Clavell's bestselling epic about an Englishman in feudal Japan stars Hiroyuki Sanada, Cosmo Jarvis, and Anna Sawai. Considering the involvement of Tim Van Patten (Game of Thrones) it should be a major spectacle.