This cinnamon swirl gluten free banana bread is naturally dairy free—and it's incredibly moist and tender. The cinnamon-sugar just seals the deal. It's going to become your new favorite way to save those dying bananas!
Banana bonanza (too much?)
My one bowl gluten free banana bread recipe is easily one of my favorite recipes in the history of ever. Whenever we talk about it on Facebook, so many of you say (sometimes as a sort of confession, but there's no shame needed here!) that you make that banana bread once a week—at least!
We eat a lot of bananas in my house. Well, with 3 teenagers, we eat a lot of everything in my house!
But about a year ago, I finally got a little hook that sticks on to the underside of a kitchen cabinet to hold bananas, so they don't ripen unevenly. It even folds up and out of sight when it's not in use.
I don't care for those enormous "banana trees." I can't dedicate that sort of counter real estate to one fruit. But this hook is awesome. And my ripening bananas are always front and center!
Banana bread variety is the spice of life
Many of you have said that you add chocolate chips to your banana bread. Well, of course that's genius. Chocolate and bananas are a match made in heaven, and I'm only ashamed that I never thought to try that myself.
Why I've got another of the best gluten free banana bread recipes
Another match made in heaven is cinnamon-sugar and bananas. The cinnamon swirl flavors every bite, but of course is concentrated on the top and toward the center, as that's where we put the swirl mixture.
Every single crumb of the banana bread itself is fork-squish tender (that's a thing, right?), but the swirl itself is just on another level entirely. But somehow it doesn't make the slices delicate or prone to falling apart.
There are so many textures in this banana bread, which come together to make it feel extra special: the soft and springy cake texture with a super moist crumb, with the crispy, crunchy top. "Regular" banana bread really just can't compare.
GF banana bread with cinnamon sugar swirl: ingredients notes
Gluten free all purpose flour – As always, choose carefully and measure by weight. I like Better Batter classic blend gluten free flour here, but Cup4Cup works, too. Since it's a starchier gluten free flour blend, it makes a lighter banana bread and even browns a bit less.
Salt – Salt balances the sweetness and brightens the rich banana bread flavor. I always cook and bake with kosher salt or lightly flaked sea salt because it's much harder to overmeasure than fine table salt.
Baking powder and baking soda – A combination of baking powder and baking soda provides much of the rise of this banana bread. The baking powder does most of the leavening in the oven, since it's "double acting."
Sugar – We use only granulated sugar here, since brown sugar adds additional moisture which makes the bread too heavy. Sugar isn't just a sweetener; it's also a tenderizer so if you are inclined to reduce the amount, your bread won't be as tender.
Coconut oil – I use triple filtered virgin coconut oil, which I get at Trader Joe's. It has no coconut flavor at all. Be sure to use the kind of coconut oil that's solid, not liquid, at cool room temperature.
Eggs – Eggs bind the batter together and help with rise in the oven. Large eggs usually weigh about 50 grams each, out of the shell, but I provide the weight measurement for anyone who uses farm-fresh eggs.
Vanilla extract – Most of the alcohol in vanilla extract evaporates in the oven, leaving behind a rich vanilla flavor without additional liquid.
Thick, non-dairy plain yogurt – Since there's no butter in this recipe, it only made sense to keep the yogurt nondairy, but be sure it's about the consistency of Greek-style yogurt or it will add too much moisture. If you can have dairy, feel free to use plain Greek-style yogurt.
Very ripe bananas – If you don't have very spotty bananas in your kitchen, you want to wait until your bananas are ready before baking with them or your bread. Softening them in the microwave won't develop the sugars like natural ripening does, so patience is key here! You can always peel, chop, and freeze your very ripe bananas and defrost them gently when it's time to bake with them. Just don't discard the liquid they produce as they defrost, since it's part of the banana!
Cinnamon – The cinnamon swirl in the center of this banana bread is what makes it so special.
Tools you'll need to make banana cinnamon bread
There aren't any fancy tools needed to make this bread. You'll need to gather just the basics, including:
A standard 9-inch x 5-inch loaf pan (I like cast aluminum best for baking since it bakes evenly and doesn't heat up too fast)
A simple digital kitchen scale for measuring your ingredients, especially the gf flour blend, with precision
A large mixing bowl for the banana bread batter
A whisk for combining the dry ingredients fully
A large mixing spoon
A small mixing bowl with spoon for combining the cinnamon swirl ingredients
A spatula for transferring the batters to the loaf pan
A butter knife or small offset spatula for swirling the batter together
Tips for making the best cinnamon banana bread
Use very ripe bananas for ultimate sweetness
Bananas that are good for baking are almost a completely different fruit to the onese that are right for baking. As a banana ripens fully, the starches in the fruit turn to sugar and the inside sweetens. (Science source.)
Store very ripened bananas in the freezer for later baking
The peel of a ripening banana eventually turns spotty and ultimately blackened, and the fruit inside becomes softer and softer. If you store your bananas on a hook or banana tree, once they've become quite ripe the peel begins to break down and they'll fall off the hook.
Remove them from the hook before that happens and lay them flat to finish ripening, then peel and freeze the fruit inside if you're not ready to bake with it right away. Seal it tightly in a freezer-safe container so it doesn't get freezer burn, and other foods in your freezer don't begin to smell like bananas!
How to make that cinnamon swirl
When adding a cinnamon swirl, I've found that virgin coconut oil works better than butter. Whenever you're swirling batter with a cinnamon-sugar mixture, the enemy is a too-stiff batter that doesn't want to, well, swirl. Melted virgin coconut oil is thinner than melted butter, and suddenly the entire recipe becomes easier to handle.
When you add melted coconut oil to the cinnamon sugar swirl, too, it tends to stay in place rather than melting throughout the batter like it would if we were using butter. A crumble, which has flour in it, is quite different from a swirl as a crumble has its own structure.
I'll leave it there since we're getting into the ingredient-and-recipe-development weeds, and I'm fairly certain I'm the only one still interested. Just trust me that you want to use melted coconut oil in this recipe where it's called for, even if you're not dairy free!
Let your banana bread cool completely before slicing
Since the crumb of this banana bread is so moist and tender, the bread is quite fragile before it's cool. If you attempt to slice the loaf before it's completely cool, it will collapse under the knife. Let it cool in the pan for about 10 minutes, then carefully transfer it to a wire rack to finish cooling, then slice it thickly and serve.
How to store cinnamon swirl gluten free banana bread so it stays fresh
Leftovers can be wrapped very tightly and stored at room temperature for up to 3 days, and frozen for longer storage. I prefer to slice any leftover bread and wrap the slices so it can be defrosted and enjoyed by the slice. If you prefer to freeze it whole, wrap it tightly and place it on a flat surface like a quarter baking sheet in the freezer until it's fully frozen, then defrost it fully before slicing and serving.
Be sure to layer the batter with the swirl
Resist the urge to dump the whole swirl mixture in between the layers of banana bread. There's too much of it, and it will cause the banana bread layers to separate from one another during and after baking, making the bread unstable.
GF cinnamon swirl banana bread: substitutions
Dairy free, gluten free cinnamon swirl banana bread
This recipe is already dairy-free, and I really recommend that you use the virgin coconut oil and not substitute it with butter. It helps keep the batter the proper consistency for swirling, and butter has more moisture which can cause the bread to sink as it cools.
If you don't have a problem with dairy, you can replace the plain yogurt with an equal amount, by weight, of sour cream or regular dairy-containing Greek-style yogurt. Don't attempt to replace the yogurt with anything thinner, like buttermilk or milk.
Egg free, gluten free cinnamon swirl banana bread
Since this recipe calls for 2 eggs, you should be able to replace each of them with a "chia egg," which is just 1 tablespoon ground chia seeds mixed with 1 tablespoon lukewarm water and allowed to gel. I haven't tried that substitution, though, so you'll have to experiment.
Sugar free, gluten free cinnamon swirl banana bread
I haven't tried this recipe with a sugar alternative, but you might try replacing half of the granulated sugar with Lankato monkfruit granulated sugar alternative. Monkfruit and other substitutes can be quite drying, but if you only replace half in this otherwise very moist recipe, it should be okay.
Coconut oil alternative
Even though I believe that coconut oil is the very best fat to use in this recipe, you may not be able to use it. If you don't care for the coconut flavor in coconut oil, try "triple-filtered" coconut oil, which has absolutely not coconut aroma. My local Trader Joe's has it.
If you have to replace the coconut oil, I recommend using Spectrum brand non-hydrogenated vegetable shortening. I often get a lot of push-back when I recommend using Spectrum, but it's not Crisco.
Spectrum shortening is made from sustainably produced palm oil that is free of hydrogenation and trans fats. Crisco is hydrogenated vegetable shortening, made from soybean oil and hydrogenated palm oil.
Banana alternative
Just kidding! We're not making banana bread banana-free, silly! If you don't like or can't have bananas, try one of the many other gluten free quick bread recipes here on the blog.
More gluten free breakfast bread recipes
FAQs
Is there gluten in bananas?
No! Bananas, like all plain fruits, are safely gluten free.
Do you put cinnamon in banana bread?
I sometimes add a pinch (1/8 teaspoon) of ground cinnamon in our classic gluten free banana bread, but this recipe is really a true banana bread with cinnamon. It's cinnamon forward!
How ripe should the bananas be for this banana cinnamon bread recipe?
They say that there are no "too ripe" banans when it comes to baking with bananas. You don't need to wait until the peels are blackened, though, before baking with them. They should at least be quite spotty, and most importantly, fragrant. Generally, baking bananas are not the ones you want to peel and eat!
Can I add nuts to this banana bread recipe to make cinnamon banana nut bread?
Yes! You can add up to 2 ounces of soft, raw, and finely chopped nuts the cinnamon swirl mixture (pecans or walnuts would work well). Avoid adding more nuts than that to the swirl or the banana bread layers will separate from one another in the oven and make the bread unstable.
How do you keep gluten free cinnamon banana bread moist?
I typically avoid refrigerating any baked goods, since the refrigerator tends to be drying. After this bread has cooled completely, you can store it, covered, at room temperature for up to 2 days. For longer storage, wrap the slices tightly and freeze them.
Why did my gf banana bread sink after baking?
A too-hot oven or baking in glass or a dark colored pan will cause baked goods to rise rapidly and overbake on the outside before the center is fully baked. A raw center can't support the weight of the bread as it cools, so your baked goods will sink.
If you undermeasured your all purpose gluten free flour, overmeasured your wet ingredients, and/or didn't divide the swirl mixture into multiple layers and then swirl, your bread will be too wet, and will sink as it cools.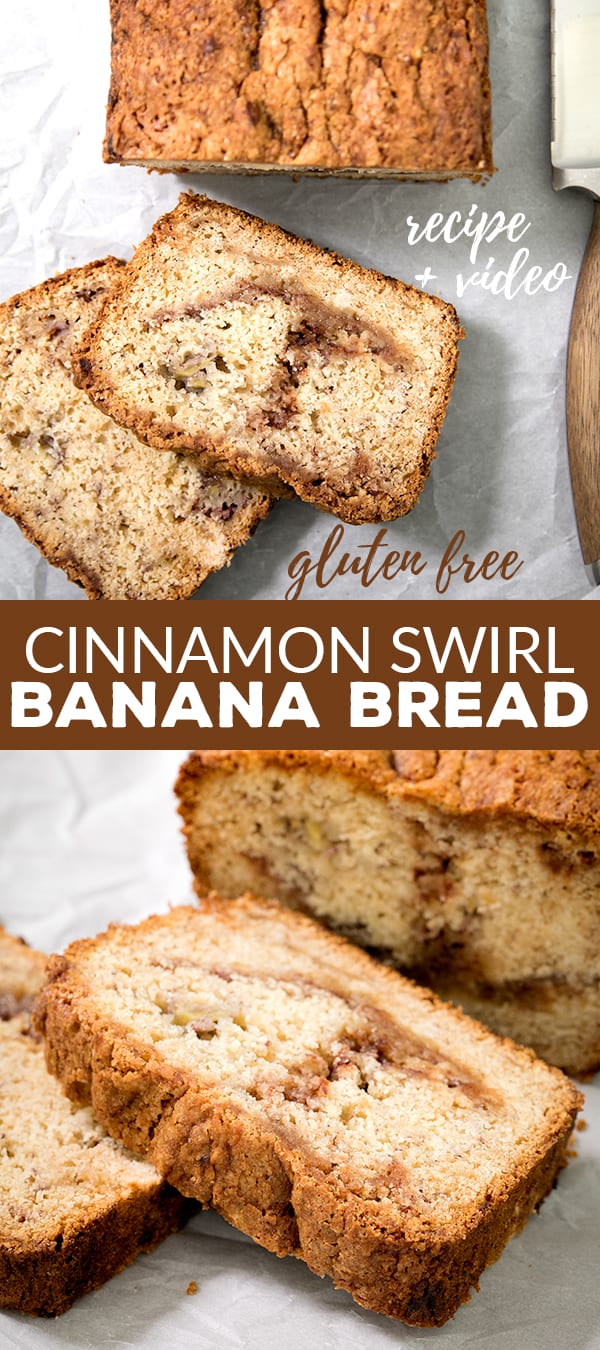 Cinnamon Swirl Gluten Free Banana Bread Recipe
Print
Cinnamon Swirl Gluten Free Banana Bread
Try something a little different with this cinnamon swirl gluten free banana bread. See how well bananas and cinnamon pair in this easy gf banana bread recipe.
Course
Bread, Quick bread
Keyword
cinnamon swirl gluten free banana bread, gluten free dairy free banana bread
Servings
1
standard 9×5-inch loaf bread
Ingredients
For the batter
2

cups

all purpose gluten-free flour blend

(I used Better Batter; click thru for appropriate blends)

1

teaspoon

xanthan gum

(omit if your blend already contains it)

¾

teaspoon

kosher salt

1

teaspoon

baking powder

½

teaspoon

baking soda

⅔

cup

granulated sugar

8

tablespoons

virgin coconut oil

melted and cooled

2

eggs

at room temperature, beaten

1

teaspoon

pure vanilla extract

⅔

cup

Greek-style non-dairy plain yogurt

at room temperature (nondairy sour cream also works well)

1

cup

peeled, ripe bananas

mashed lightly (from about 2 medium-size bananas)
For the swirl
2

tablespoons

virgin coconut oil

melted

⅓

cup

granulated sugar

2

teaspoons

ground cinnamon

⅛

teaspoon

kosher salt
Instructions
Preheat your oven to 350°F. Grease and line a standard 9 x 5 inch loaf pan, and set it aside.
Make the batter.
In a large bowl, place the flour, xanthan gum, baking soda, baking powder, salt and sugar, and whisk to combine well.

Add the coconut oil, eggs, vanilla, then the yogurt, mixing until just combined after each addition.

Add the mashed bananas and mix them carefully into the batter, taking care not to further mash the bananas.

Transfer half of the banana batter to the prepared loaf pan and spread it into an even layer with a wet spatula. Set both aside briefly.
Make and add the swirl.
In a small bowl, place all the swirl ingredients and mix to combine well. It will be a thick mixture.

Place about one half of the swirl mixture on top of the batter already in the loaf pan and spread it gently into an even layer.

Top with the remaining banana batter and spread that with a wet spatula into an even layer. Finish with the remaining swirl batter and spread again gently into an even layer.

With a butter knife held perpendicular to the bottom of the loaf pan, swirl the batter from one short side to the other of the pan, back and forth in a looping pattern.

Smooth the top of the swirled batter into an even layer once more.
Bake the banana bread.
Place the pan in the center of the preheated oven and bake for 45 minutes. The loaf should be until golden brown on top, and mostly firm toward the center.

Lower the oven temperature to 325°F and continue to bake until completely firm when pressed lightly in the center, another 10 to 15 minutes.

Allow the bread to cool in the pan for 10 minutes before transferring to a wire rack to cool completely before slicing and serving.

Leftovers can be wrapped very tightly and stored at room temperature for up to 3 days, and frozen for longer storage.
Notes
Originally published on the blog in 2018; in 2022, recipe clarified a bit, text resources added.
The post Cinnamon Swirl Gluten Free Banana Bread appeared first on Gluten Free on a Shoestring.