We tried seven smart hose timers to see how well they work and whether they can save you water—and money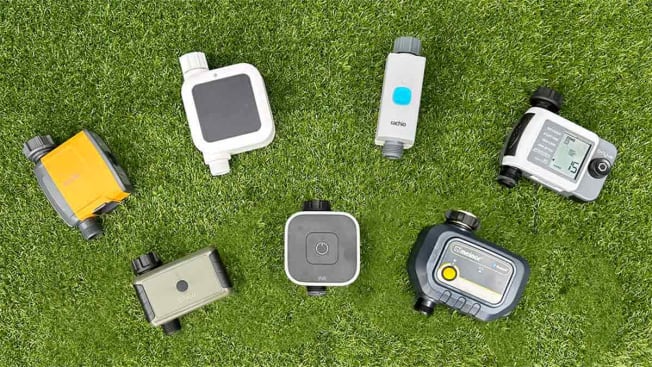 By Daniel Wroclawski
Smart sprinkler controllers are a great way to cut down on home water usage, sparing both your wallet and the planet. But they have one key limitation that prevents them from being used by most consumers: They require an in-ground sprinkler system.
According to the Environmental Protection Agency, only 20 percent of U.S. homes as of 2019 had an automatic irrigation system, meaning there are a lot of backyard warriors with just a garden hose and oscillating sprinkler head who can't use a smart controller. Luckily, just as smart sprinkler controllers have grown in popularity, manufacturers have quietly brought the same smarts to the humble water hose timer.
Today's WiFi water hose timers can pull in weather data to adjust watering schedules on the fly, connect to other smart home devices, and take voice commands from digital assistants. Because they connect to garden hoses, they also cost a lot less than controllers and give you many more watering options. You can connect them to everything from a soaker hose buried in garden beds (my personal backyard use case) to drip irrigation lines for potted plants.
But for all their promise, many smart hose timers are held back by poorly designed app interfaces, buggy software and plug-in bridges. (Because all hose timers run on battery power, most rely on plug-in bridges and dongles to connect them to your home WiFi network.)
To help you find the best WiFi water hose timer, I put seven of them to the test in my own suburban New Jersey backyard. The lineup includes major irrigation equipment manufacturers Melnor and Orbit, popular upstarts Eve and Rachio, and lesser-known brands Diivoo, Netro, and RainPoint. Read on for a detailed review of each model.
Skip Ahead
• Best WiFi Water Hose Timers: Rachio, Diivoo, Eve, Netro, Orbit
• Other Hose Timers We Tried: Melnor, RainPoint
• How I Picked the Best WiFi Water Hose Timers
• How I Evaluated WiFi Water Hose Timers
Best WiFi Water Hose Timers
The Rachio Smart Hose Timer Starter Kit offers a polished app experience, responsive controls to manually water your yard, and a straightforward, albeit long, setup process. That might not sound like much, but it's a tall order for these smart hose timers, most of which can be buggy and use apps that look like they shipped with the very first iPhone.
The Rachio also comes with a plug-in hub to connect it to your home WiFi network. While hubs can add complexity and reliability issues, I found neither to be true in this case.
The Rachio app uses slick visuals to walk you through each step of the setup process, helping you add your home address (necessary to use local weather data), connect the hub to your home WiFi network, and then connect the hose timer valve to the hub.
For me, the only drawback to the whole process was that both the hub and the timer required long firmware updates, lasting about 10 minutes and 6 minutes, respectively. Despite how long they took, the app completed both updates without issue.
The Rachio app also makes it easy to create a watering schedule and use local weather data to intelligently skip watering. Rachio's default weather network claims to aggregate data from over 300,000 weather stations, but you can also have the app use weather data from a nearby national weather station, a publicly available personal weather station (via Weather Underground), or your own WeatherFlow Tempest Weather Station, a Rachio partner product.
The only major downside to the Rachio Smart Hose Timer is that, unlike the Rachio 3 sprinkler controller, you can't integrate the hose timer with smart home systems. Rachio's controller works with Amazon Alexa, Google Home, and Samsung SmartThings, but the hose timer works with none of them at this time. If that's a deal-breaker for you, you'll want to consider the Diivoo and Eve models below. But if you simply want a hose timer that's easy to use and intelligently waters your yard, the Rachio is a great choice.
Like with many cheap, obscure products sold on Amazon, I had very low expectations of the Diivoo Smart Sprinkler Irrigation Timer. But I was pleasantly surprised by just how well it worked and how easy it was to set up.
The Diivoo timer doesn't have its own app. Instead, it relies on a somewhat generic smart home app called Smart Life. The app is made by a company called Tuya that manufactures white-label smart home devices and software for other companies (it also supports the app used by RainPoint, below). Despite being a generic app with a lackluster design, it did a great job of setting up the Diivoo timer, simultaneously finding both its plug-in hub and the timer itself and connecting them in less than 2 minutes.
While the Diivoo timer and Smart Life app use local weather data, the timer doesn't adjust your watering schedules automatically. Instead, you have to manually create an automation in the app to have it delay watering if it rains, gets too cold, gets windy, etc. The only problem is you can't define how much rainfall has to be in the forecast to trigger the rain delay (a common feature with the other timers). However, you can choose a specific temperature or wind speed.
Compared with the other hose timers, the Diivoo had the best—and most robust—integrations with Amazon Alexa and Google Home. It was the only timer that could link with both smart home systems without needing to enter your timer's account credentials. Both systems found the timer in a matter of minutes. Finally, the Diivoo timer was the only one to have both digital button controls in the Alexa and Google Home apps, as well as voice controls with their digital assistants.
At less than $50, the Diivoo is almost a no-brainer. It's not the best choice if you really care about automated watering, but it checks every other box and is by far the best timer we evaluated for Alexa and Google Home users.
The Eve Aqua is one of the more unusual timers I tried. It's the only timer on the market to use the new low-power Thread wireless network, which is key to the Matter smart home standard. But the Eve Aqua doesn't support Matter (water valves aren't part of the standard yet), so right now it works with only Apple devices and the Apple Home (formerly HomeKit) smart home system.
To connect the Eve Aqua, you will need an Apple HomePod or Apple TV streaming device to act as a hub for it. Newer HomePods and Apple TVs feature Thread networking, but the Eve Aqua will still work with older HomePods and Apple TVs via Bluetooth. I connected the timer to my Thread-enabled HomePod Mini and found that the Thread network provides a speedy connection to the timer, with app controls reacting almost instantly.
Setup in the Eve app was also a breeze. I scanned the Apple Home pairing code on the timer from the app and it connected in under 2 minutes. From the Eve app, you can customize your watering schedule, but you can't easily automate your watering based on the weather. While Eve offers weather automation that you can program into the Apple Shortcuts app on your iPhone, you have to manually run it every day for it to take effect. Despite this, the Eve Aqua works well, and Apple Home users will enjoy its speedy and reliable performance.
The Netro Pixie does a few things differently from the other timers I tried. It has a built-in solar panel to charge up its rechargeable battery (no AAs here), and it connects to WiFi directly, without needing any sort of hub. But even with its solar panel, the Netro Pixie still has to sacrifice speediness to accommodate its power-hungry WiFi chip.
To save energy, the Pixie connects to your WiFi network only occasionally to check for updates and new data. That means that when you have the app manually start the timer, it won't actually do so until the timer reconnects to WiFi, which could take 20 minutes or longer. The same thing occurs when you use voice control with Amazon Alexa. (It also has a Google Home/Assistant integration, but that's being discontinued June 13.)
Despite those shortcomings, the Pixie is fairly easy to set up and has the most robust app features among these hose timers for customizing your watering and cataloging your plants.
The only hiccup in the setup process occurred when I had to connect to the timer's own WiFi network (this is part of connecting it to your home WiFi network). The app didn't recognize that I had connected to the timer on my first attempt, but my second attempt worked and the rest of the setup process worked flawlessly.
With setup complete, I was able to create a watering schedule and log a trove of data to help it intelligently water my yard, including plant types and individual species (there are hundreds you can add), soil type, sprinkler head type, shade, and ground slope.
Netro's weather-based watering adjustments are called Smart Zone, and you can select between Basic and Advanced modes, with the latter allowing you to customize soil moisture levels and sprinkler flow rate.
As for its weather data, you can choose among three different weather providers, Weather Underground personal weather stations, and your own WeatherFlow Tempest Weather Station. Finally, you can incorporate local watering restrictions and connect Netro Whisperer plant sensors to monitor sunlight, temperature, and soil moisture levels.
While it may be slow, the Netro Pixie's wealth of data inputs and sources, as well as its ability to log all your plant species, make it a great choice for gardeners.
The Orbit B-hyve XD Smart Hose Timer is one of the company's newer models and was the only timer I tried with a built-in display and physical controls that go beyond simply toggling the timer on and off. We purchased the one-port version with the WiFi hub included, but you can buy it without the hub, as well as in two-port and four-port versions to connect multiple hoses and sprinklers.
The timer uses a plug-in hub, and the setup process is straightforward but long. The only issue I encountered was during a firmware update for the hose timer; it was unclear whether the update completed successfully.
The B-hyve app's menus and controls are a bit confusing, but there are many options and features available. Similar to the Netro Pixie, you can customize its smart watering feature with information about your yard, including soil type, plant type (but not species), sprinkler type, sunlight exposure, rainfall, ground slope, sprinkler head count, drought level, and more. You can also add watering restrictions and choose your weather data source from local airports and publicly available personal weather stations.
The only drawbacks to this hose timer are its slow response times to manual watering commands and its clunky integrations with Amazon Alexa and Google Home/Assistant.
Initially, the Alexa integration would load a broken webpage when you need to log in to your Orbit account. I tried again a few days later and it worked, but even once set up, the integration relies on awkwardly phrased commands that start with "Alexa, ask B-hyve . . . " The commands work, but the required phrasing makes them annoying to use.
I was able to set up the Google integration without issue, but it too relied on awkward "Hey Google, ask B-hyve . . ." commands. The timer had digital controls in the Google Home app, but clicking on them always opens a "Device not responding" screen, making them useless.
The Orbit B-hyve XD Smart Hose Timer works well enough, and it's a good option if you want manual controls or a timer with multiple hose ports, but the app experience could benefit from some polish. If you want voice control or a hose timer that works with smart home systems, you'll need to look elsewhere.
Other Hose Timers We Tried
As its name suggests, the Melnor Bluetooth Water Timer doesn't connect to the internet, meaning you can't use weather data to automate watering. Because it's limited to Bluetooth, you could probably control it remotely from inside your home but not from across town.
The Melnor app is also the most poorly designed of the bunch, with tiny menu buttons and confusing controls. Still, it responds quickly to app commands and there is no setup process. You simply open the app and it connects to it via Bluetooth automatically.
While the Melnor is cheap at $40, you're much better off with the Diivoo model above. Its price is similar, it provides many more features, and it offers a much better app experience.
The RainPoint hose timer is another obscure model sold on Amazon, similar to the Diivoo above. The RainPoint was easy to set up and responds to app commands quickly, but it tells you to disconnect it from the RainPoint app and connect it to the Smart Life app (or Tuya's other generic app, called Tuya Smart) if you want to use it with Amazon Alexa and Google Home/Assistant.
In my opinion, having to re-set up a smart device to get these basic features is just not a good experience. To make matters worse, I tried to connect it to the Smart Life app I was already using, but the app could not register the RainPoint timer or its hub. Simply put, the Diivoo is a much better option.
How I Picked the Best WiFi Water Hose Timers
To pick this selection of smart hose timers, I started by focusing on the big irrigation equipment makers, Melnor and Orbit, as well as popular smart home startups in this space—Eve and Rachio. I then checked major retailers, including Amazon, Home Depot, and Lowe's, to see which models they offered and found the models made by Diivoo, Netro, and RainPoint.
To keep things simple, I focused on models with only one port (hose fitting). A few of these brands (Melnor, Orbit, and RainPoint) offer models with multiple ports that enable you to hook up multiple hoses and sprinklers.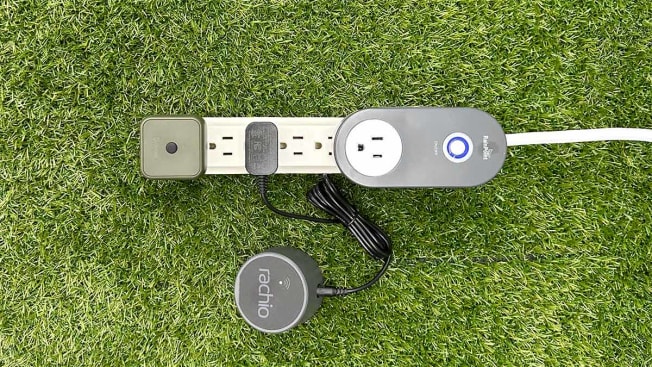 The Diivoo, Rachio, and RainPoint WiFi water hose timers (left to right) come with their own hub.
Photo: Daniel Wroclawski/Consumer Reports
How I Evaluated WiFi Water Hose Timers
As CR's smart-home reporter, I'm no stranger to working with connected devices. I live with them, too. In my own home, I've installed about 70 smart home devices—Lutron smart light switches, Samsung water leak sensors, and an LG smart refrigerator, to name a few. I've also owned an Orbit B-hyve Smart Hose Watering Timer for three years now, so I have a good understanding of what you want these smart hose timers to do.
To evaluate these WiFi water hose timers, I purchased two four-port hose splitters to connect them all to two hose spigots in my backyard. I then set up each hose timer (and, if applicable, its hub), following the manufacturer's instructions and noting how the process went and what steps were involved.
Next, I evaluated their features, including whether they use weather data to adjust watering, account for local watering restrictions, and more. I also judge the design of their smartphone apps and their responsiveness to app commands.
Finally, I considered their integrations with digital assistants and smart home ecosystems—focusing on the big four: Amazon Alexa, Apple Home/Siri, Google Home/Assistant, and Samsung SmartThings—to see how easy they were to integrate with each platform and how well each integration worked.
Consumer Reports is an independent, nonprofit organization that works side by side with consumers to create a fairer, safer, and healthier world. CR does not endorse products or services, and does not accept advertising. Copyright © 2023, Consumer Reports, Inc.