Every summer it takes me a few weeks to get my van packed and really dialed. Depending on where we are going and the activities we have planned, we have different gear that needs to come along. This year posed some new challenges with our new baby added to the mix.
We had to swap out some of our outdoor gear to make room for our stroller and other baby items, but thanks to these camper van organization ideas that I've developed over the years (and a bit of Tetris), everything fit in the van perfectly.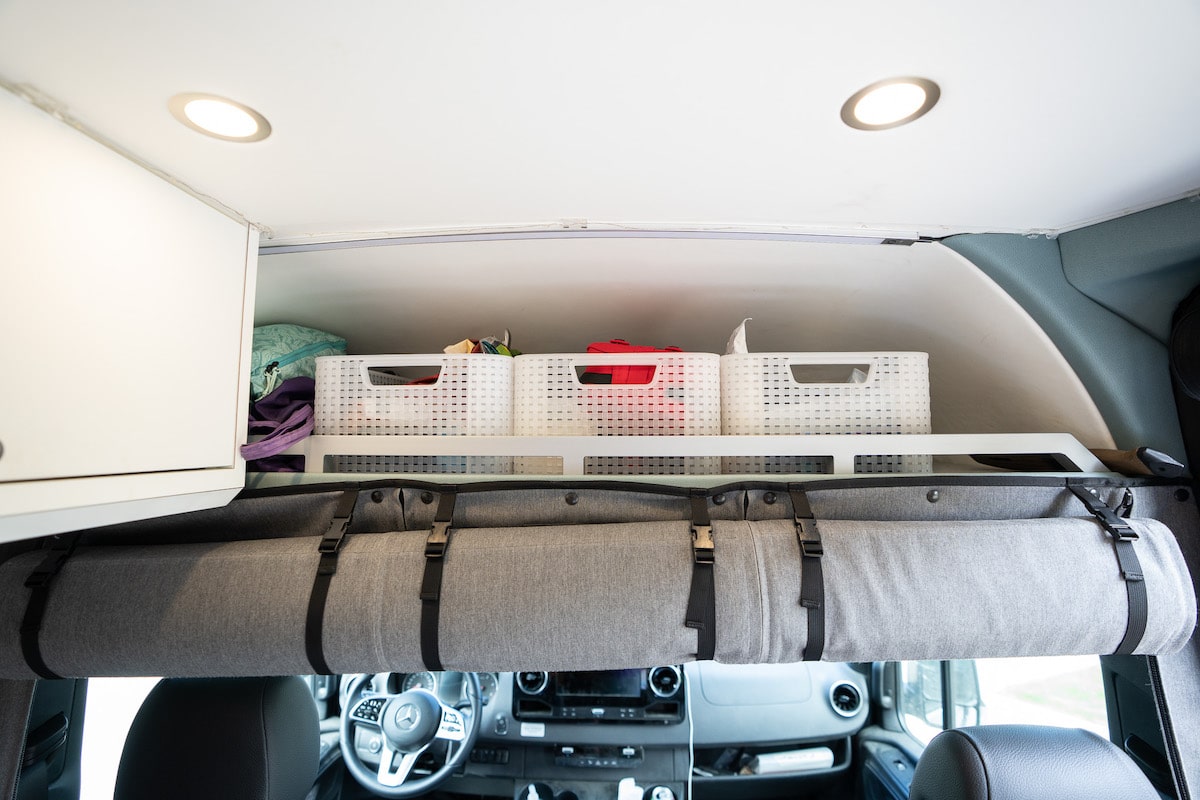 I consider an organized van to be essential to my sanity on the road. With two adults, two dogs, and now a baby, everything HAS to have a place….otherwise it quickly becomes chaos. 
Here are some tips to help you take your van organization to the next level and make life on the road easier.
---
Camper Van Organization Ideas
1) Measure Every Inch of Space & Use Bins to Compartmentalize 
Before you start packing your van, measure the inside of every cabinet, drawer, and floor area where you plan to store your stuff. Start to visualize what needs to go where.
Then purchase bins that perfectly fit in these spaces in order to compartmentalize your stuff and prevent it from sliding around while you drive. Bins also make it easy to pull things in and out of the van when you are loading and unloading.
For smaller items that need to go in your overhead cabinets and drawers, like toiletries, food, and kitchen utensils, The Container Store has just about every shape and size of bin you can imagine.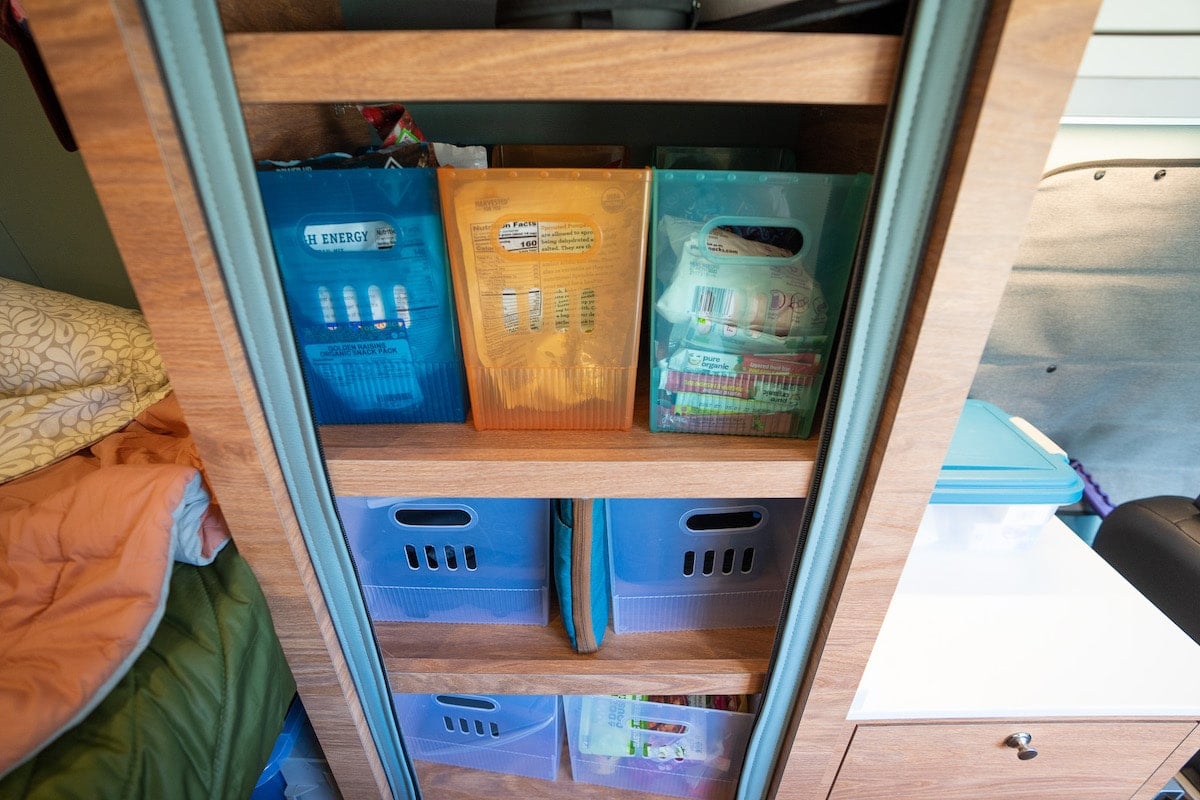 For larger items, get some stackable plastic bins with lids that are the right size for your van garage. I like to lump items of the same category in my van's gear garage bins. For instance, backpacks and hiking gear are all in one bin. Shoes are in another. Dog food in a third. This camper van organization idea will help you keep track of what goes where so you never have to search for things again!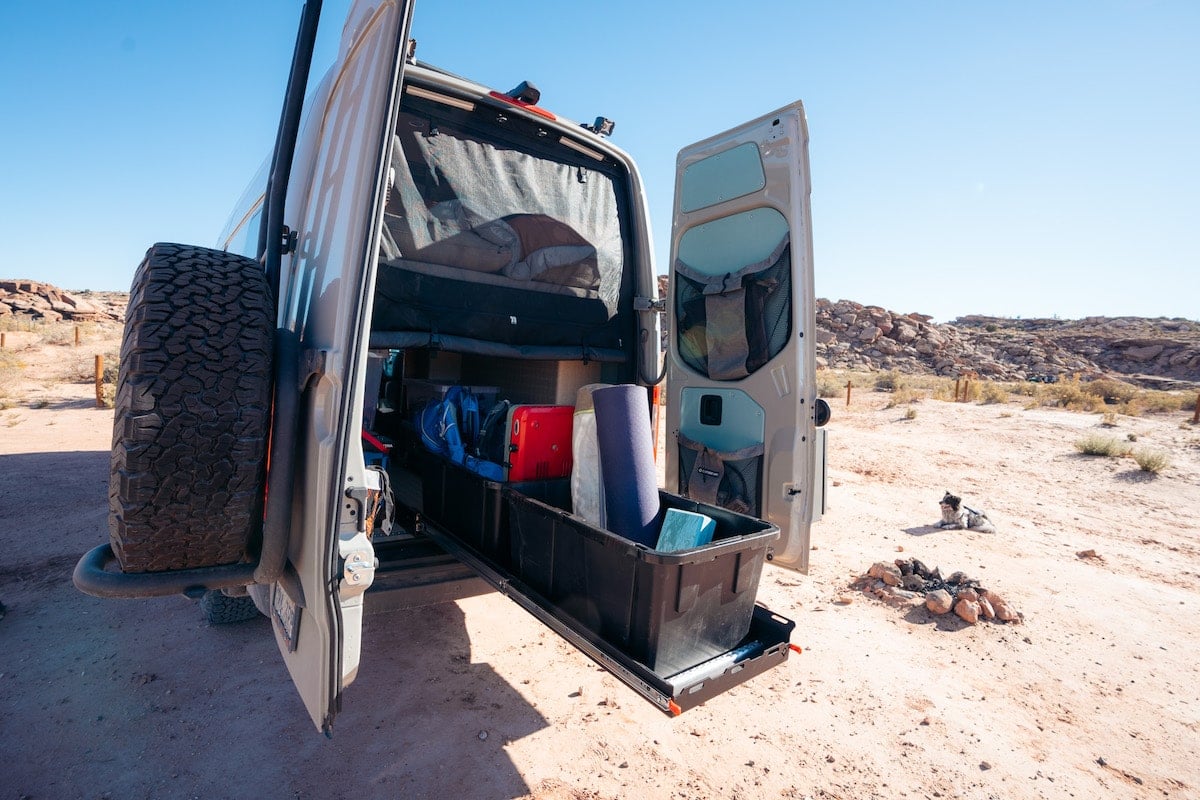 If you're looking for a lightweight and compact storage solution for your Starlink, check out the gear boxes made by Radius Outfitters. I recently got the Radius Outfitters Starlink Storage Case which is their 5500 Gear Box with a foam insert that is perfectly cut for the Starlink Dishy and Modem.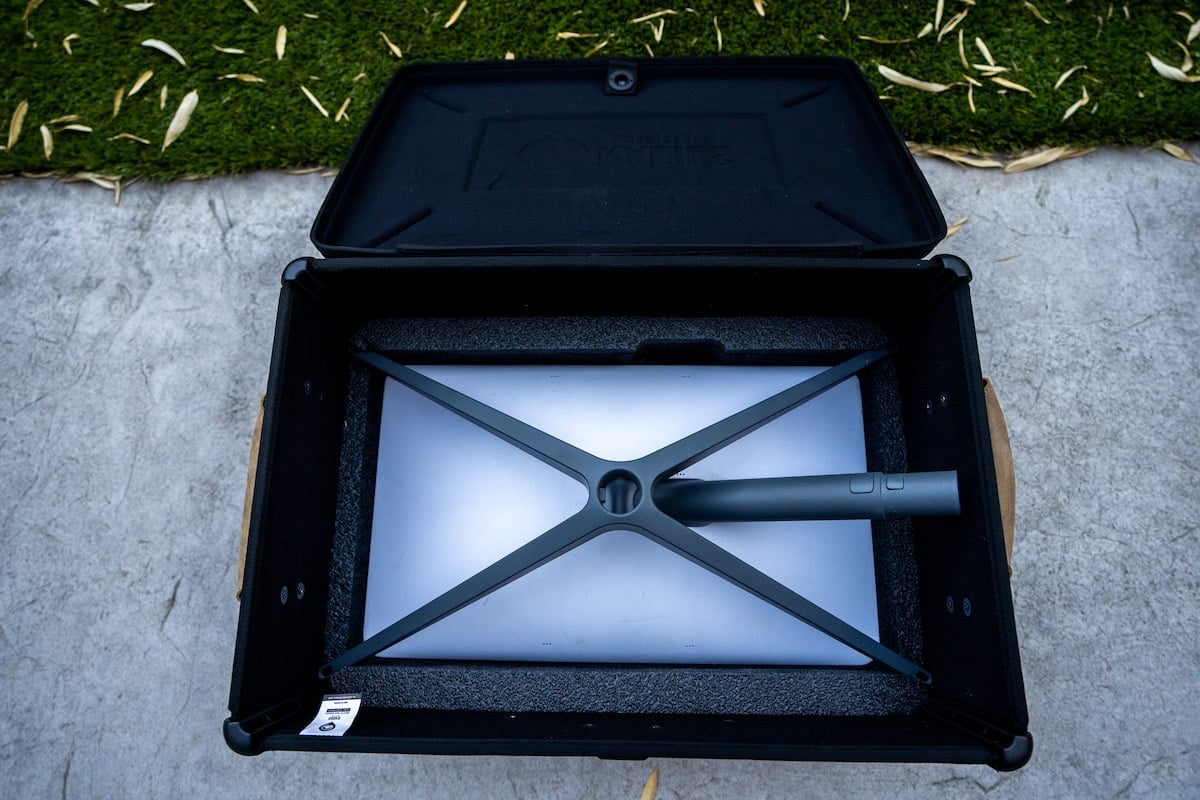 Previously I had an Alubox that was adapted for the Starlink. The box itself was very high quality, but you really had to wrestle to get the Starlink in and out. This Radius Outfitters Starlink Storage Case makes it so much easier to store and protect my Starlink which is pretty important considering it's how I work and access the internet on the road.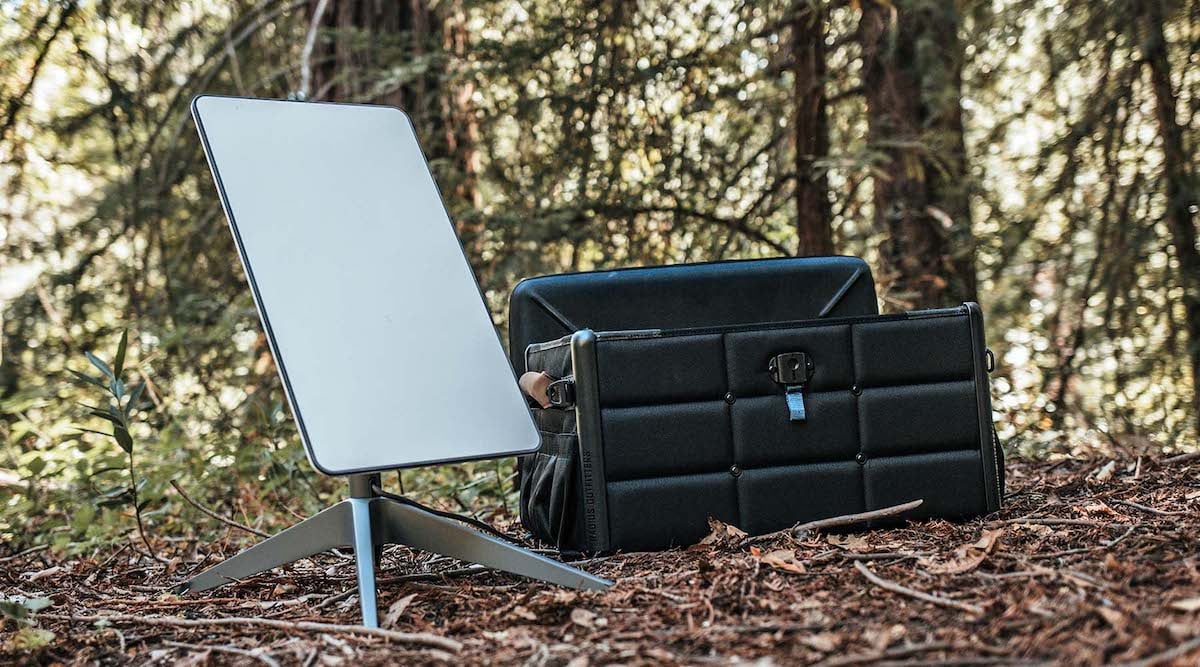 Save 15% on Radius Outfitters
Radius Outfitters is currently running a 15% sitewide Father's Day Sale through 6/19. Use the code DAD15 at checkout!
2) Don't Overpack
Seems simple, but I bet 90% of us do it anyways. I know I'm still guilty of this even after all these years. Although I have my clothes pared down to what will fit in five packing cubes, once we are on the road, I realize that I still have too much.
For example, we left Salt Lake City 10 days ago, and I'm only on my second shirt. If you choose quick dry, athletic-type fabrics and solid colors that are easily matched, you can get away with a minimal number of outfits. Having fewer clothes that you can wear many times before needing to wash them makes it easier to keep your van clothes folded and tidy. Plus, it's nice to not have an overwhelming amount of clothes in the van to have to keep organized.
The same goes for the rest of your belongings. You don't need to bring every toiletry you might use over the next six months. Unless you're driving to Alaska, you should have no problem getting what you need on the road. You can even get Amazon packages in most places as you travel if you really need to restock something.
Pare down your outdoor gear so you're packing stuff for your favorite activities that you know with confidence you will use. That paddleboard that's been collecting dust for 2 years in your garage? That can probably stay home.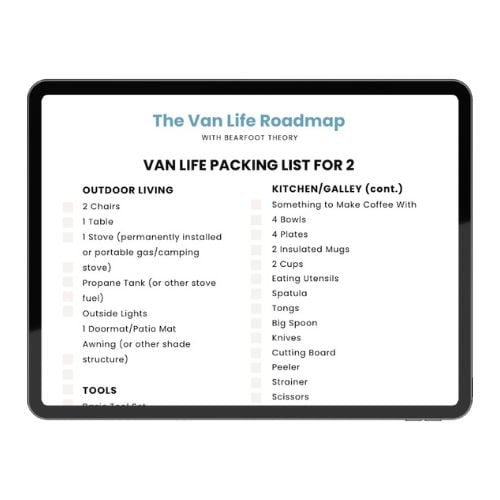 Freebie!
Van Life Packing Checklist
Get this free PDF that will help you pack up your van in a jiffy.
3) Use Packing Cubes for Clothing
Packing cubes are a genius way to store your clothes in your van. You just need one for shirts, one for pants/shorts, one for socks, one for underwear, and one for miscellaneous items like a beanie, gloves, and a swimsuit. This helps keep your clothing organized so you aren't searching through a duffel bag or a cabinet for a pair of socks.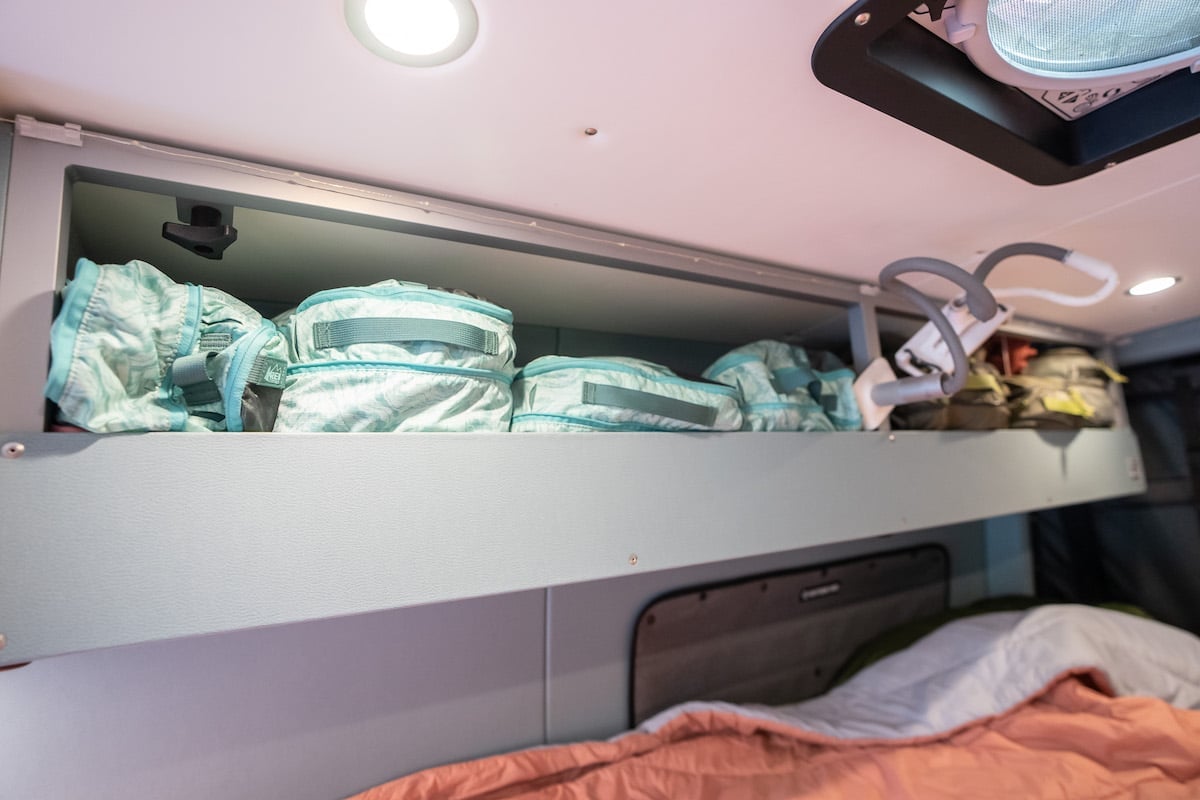 4) Utilize the Back of Your Seats
This is a fairly new hack for me. I recently realized that utilizing the back of your seats is a great camper van organization idea, as it provides a place to store small things that would otherwise get easily lost in the van. 
On the back of my driver's seat, I have the Overland Gear Guy Sprinter III Seat Organizer. It's a great place to store charging cords, dog poop bags, business cards, our baby monitor, and other things that we use regularly. It also has a secret laptop compartment which is not only good for security, but also makes it easy for me to reach my computer if I want to get a little work done while Ryan's driving.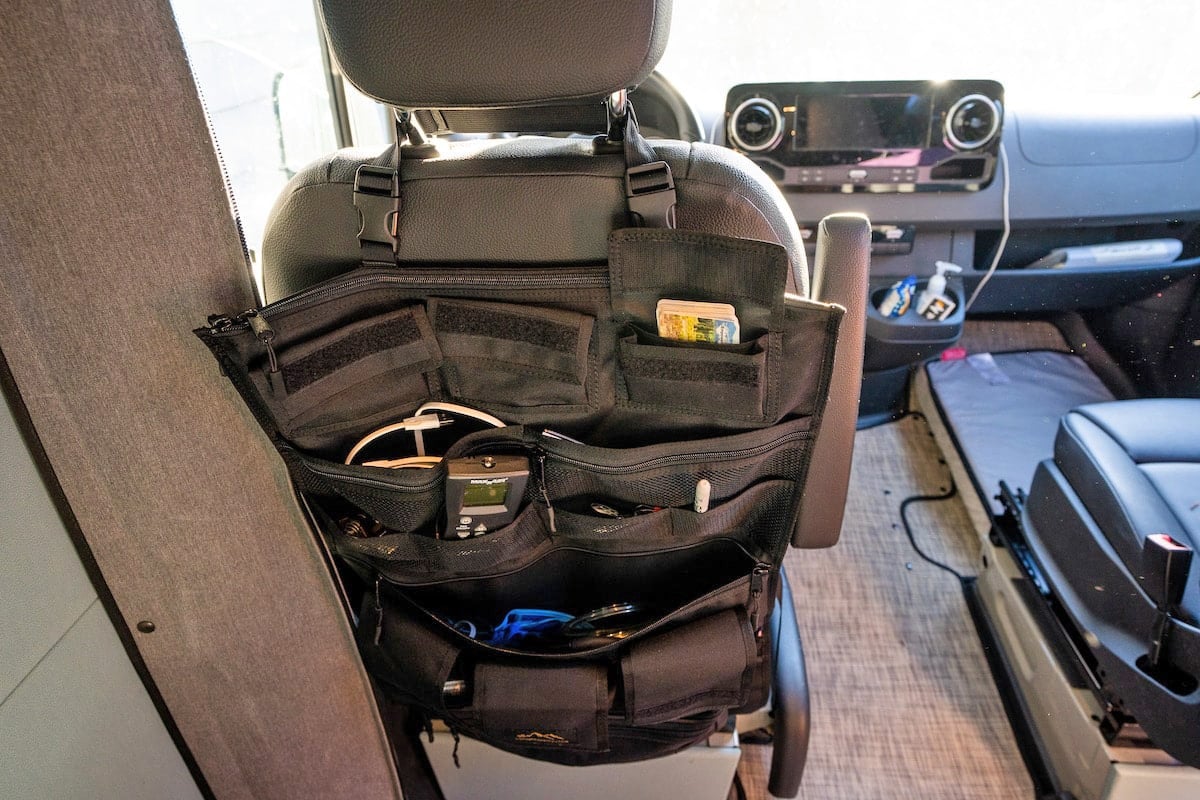 On my passenger seat, I have the Radius Outfitters Small Trash Tube. I'm not using it for trash though. Instead, I'm using this for my dog gear (leashes, harness, chuck it, frisbee, etc) – which we use every single day. It's so handy having everything all in one place right by the door.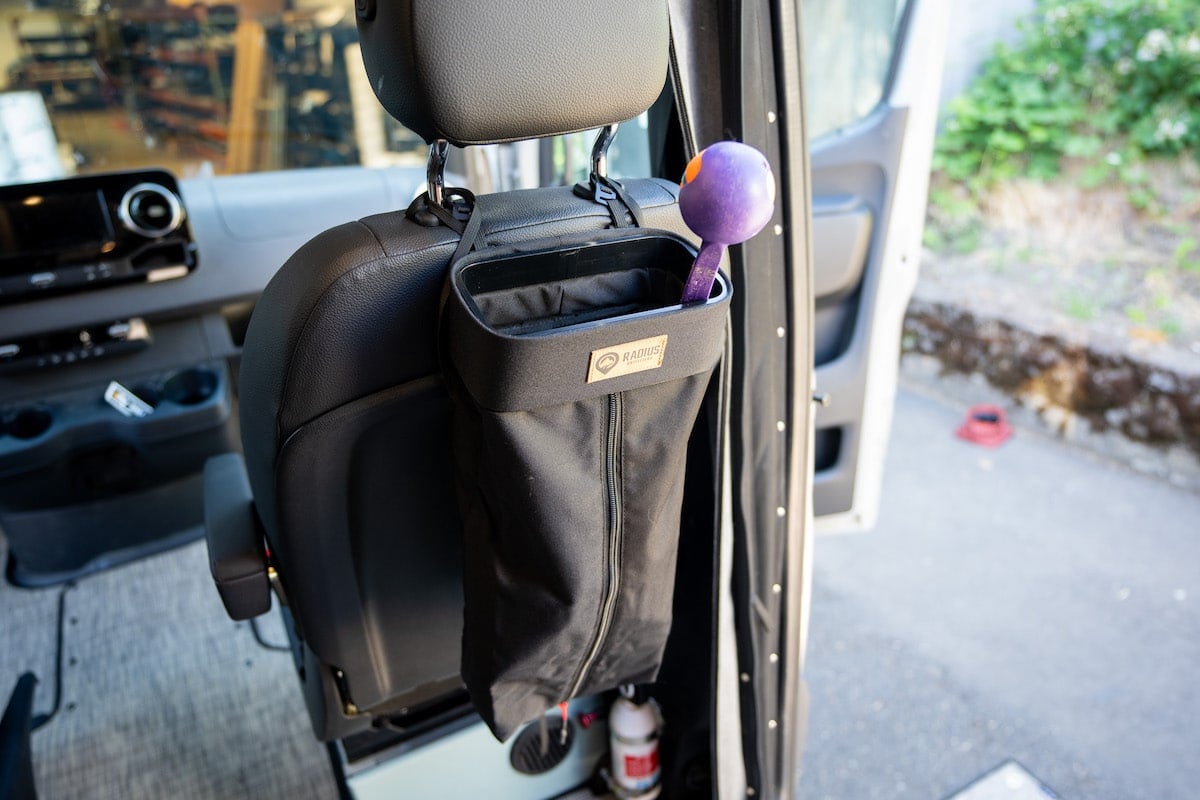 5) Don't Forget About Your Trash Storage
Where to store your trash is an afterthought for many people when they are building out their vans. In my first Sprinter Van, I had nowhere to store my trash because I didn't think to plan for it. I ended up hanging my trash bag on a hook on my back door. I hated that it was always visible, and when I got a dog, it became a big no-go.
In my newest Sprinter Van, I hide away my trash cans in a cabinet so my dogs can't get to them. However with a new baby, I didn't want to be putting dirty diapers in my kitchen trash, so I picked up the Overland Gear Guy Spare Tire Trash Bag.
Made of heavy-duty vinyl, it's water resistant and can be used for trash, transporting firewood, tools, or anything else that you don't have room for inside your van. And since it sits outside the van, you don't have to worry about any funky smells in your living space.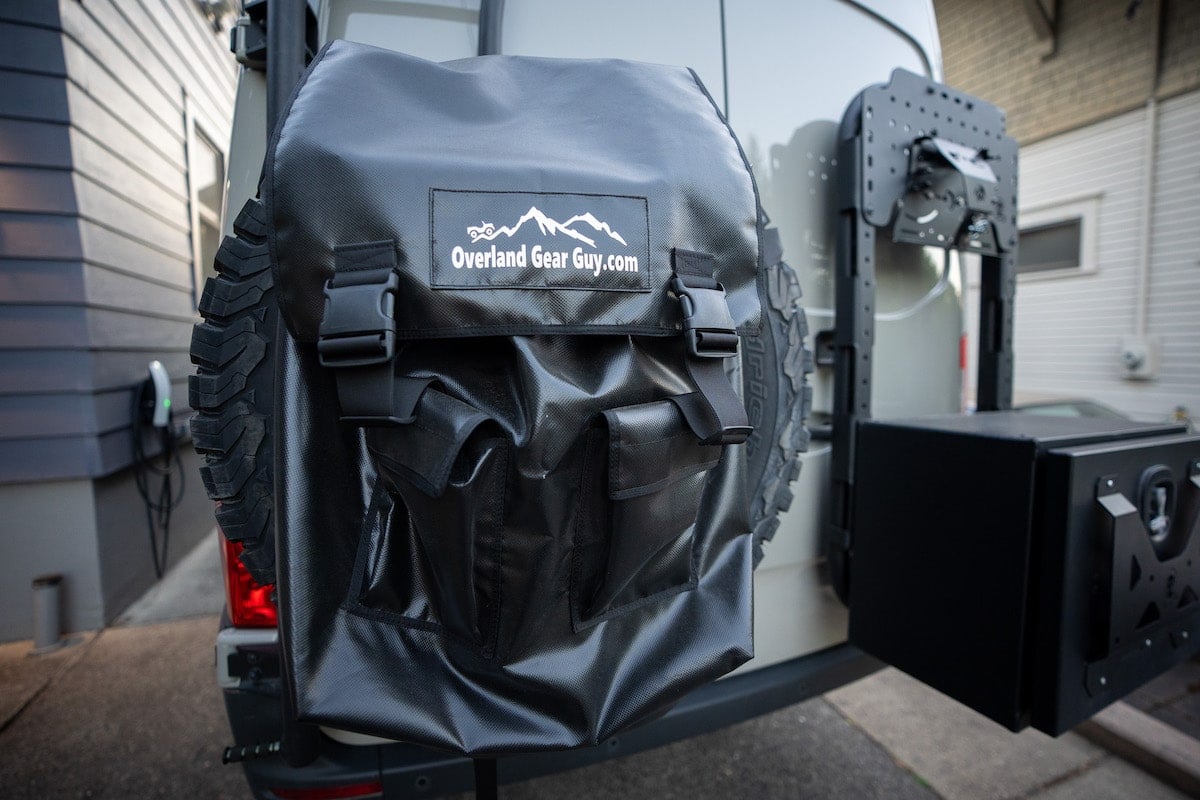 6) Utilize Outside Storage
If you've run out of space in your van or things are getting cluttered, consider storing some things outside your van. I have the Owl Vans Medium Expedition box on the back of my passenger side door, and I love the added storage it provides (check out my Owl Vans review for more details).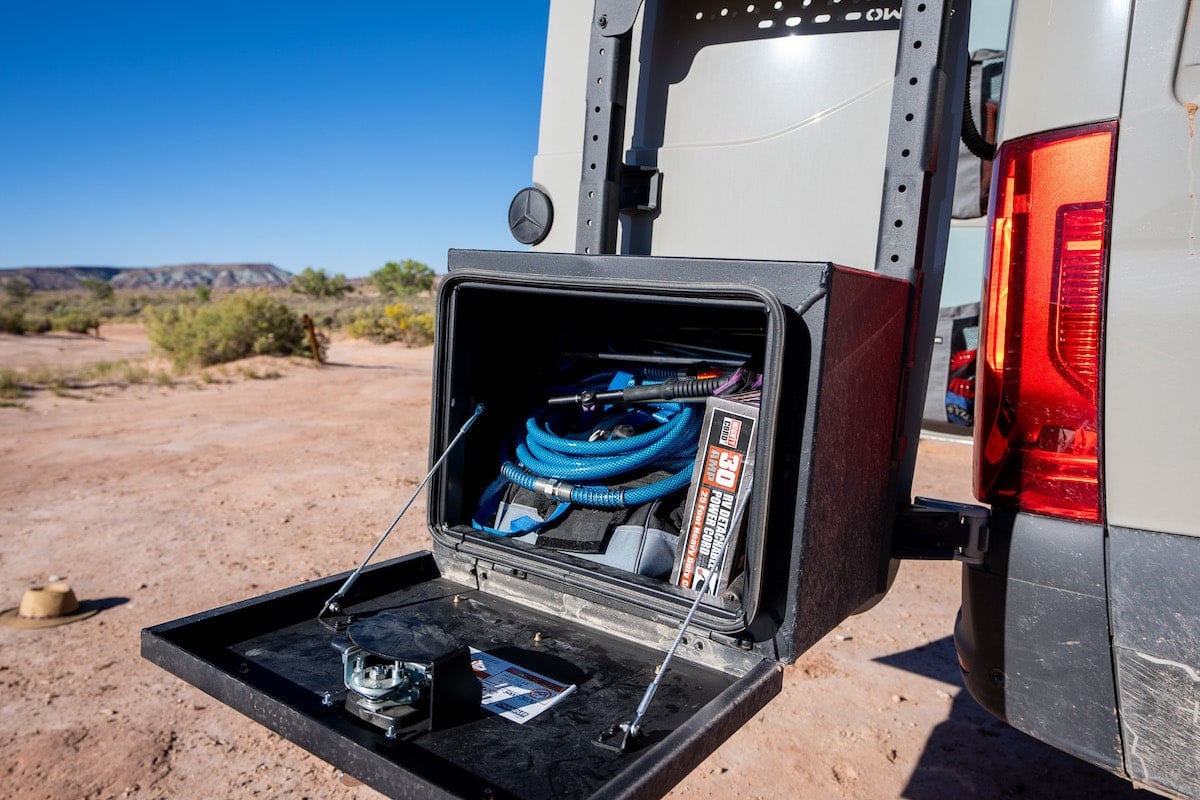 Inside our Owl Vans storage box, we keep our hose, electrical hookups, tools, trekking poles, and even our portable gas Lavabox portable firepit (pictured below).
It's so nice not having to store that stuff that tends to get dusty and dirty inside the van, and it really helps reduce the clutter.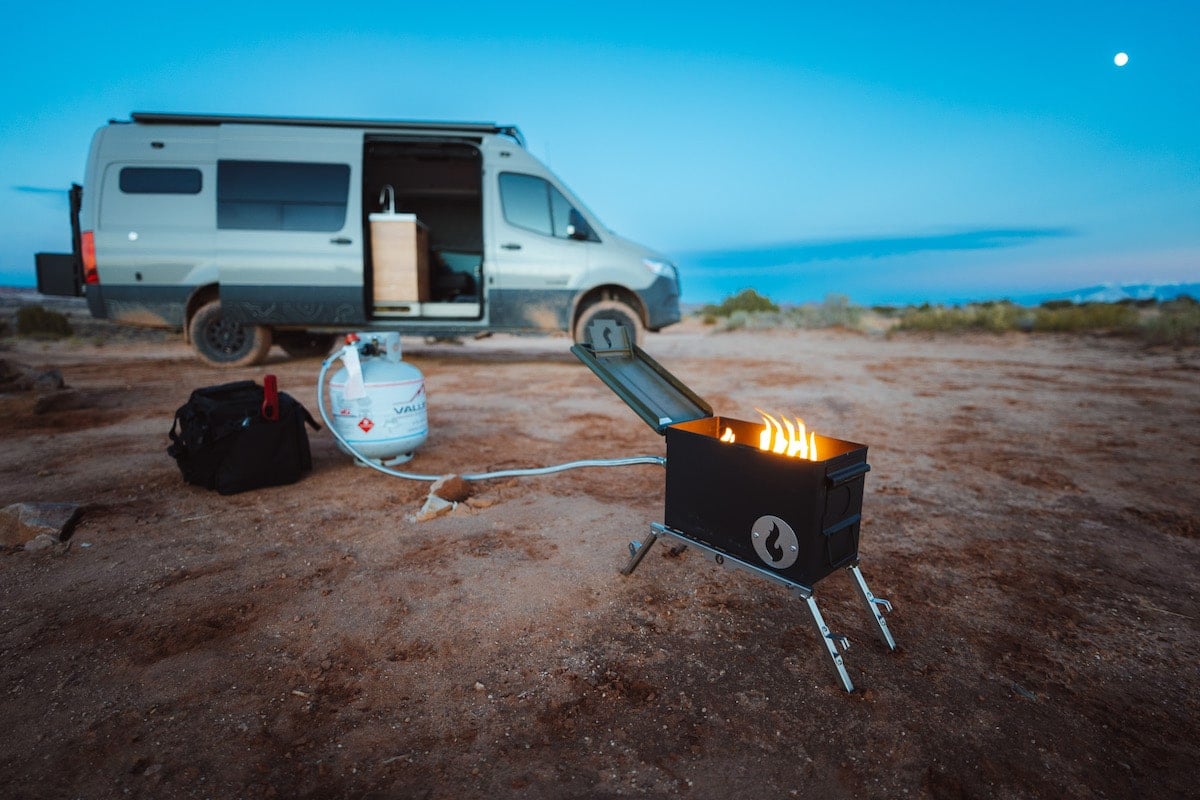 Save 10% on a LavaBox Portable Campfire
Use the code 'BEARFOOT' to save 10% on any LavaBox.
7) Have a Designated Food Bin
It's nice to have some extra pantry goods on hand for easy meal planning, but food can quickly eat up space in your living area. Instead of trying to cram canned goods, pasta, bread, cereal, chips, and other food into your cabinets, consider having a designated food bin.
We have a big bin in our van garage that has all of our food. It's easily reachable from our van's living area so whenever we need a snack or are prepping dinner, I just reach under there, open the lid and grab what I need.
For your food bin, I'd suggest something clear so you can see what's in there and something that latches closed. This way if your dog gets sneaky OR a mouse ever makes its way into your van (it happens!), your food will be protected.
8) Tidy Up Regularly
No matter how organized you are, you really have to stay on top of the clutter when living and traveling out of a small space. When you're in a hurry (ie running out the door to hit the trail), it's so easy to not put something back "where it goes."
If you get lazy, before you know it, the van is a mess.
In order to prevent our whole organizational system from getting out of whack, we try to tidy up regularly. Then every couple of days we make a bigger effort to put things back where they belong and do some cleanup.
I hope these practical camper van organization hacks will help you maintain order in your van, so you can focus on enjoying the journey.
Got your own van organization tips? Share them in the comments below!
The post 8 Camper Van Organization Ideas & Smart Storage Solutions appeared first on Bearfoot Theory.