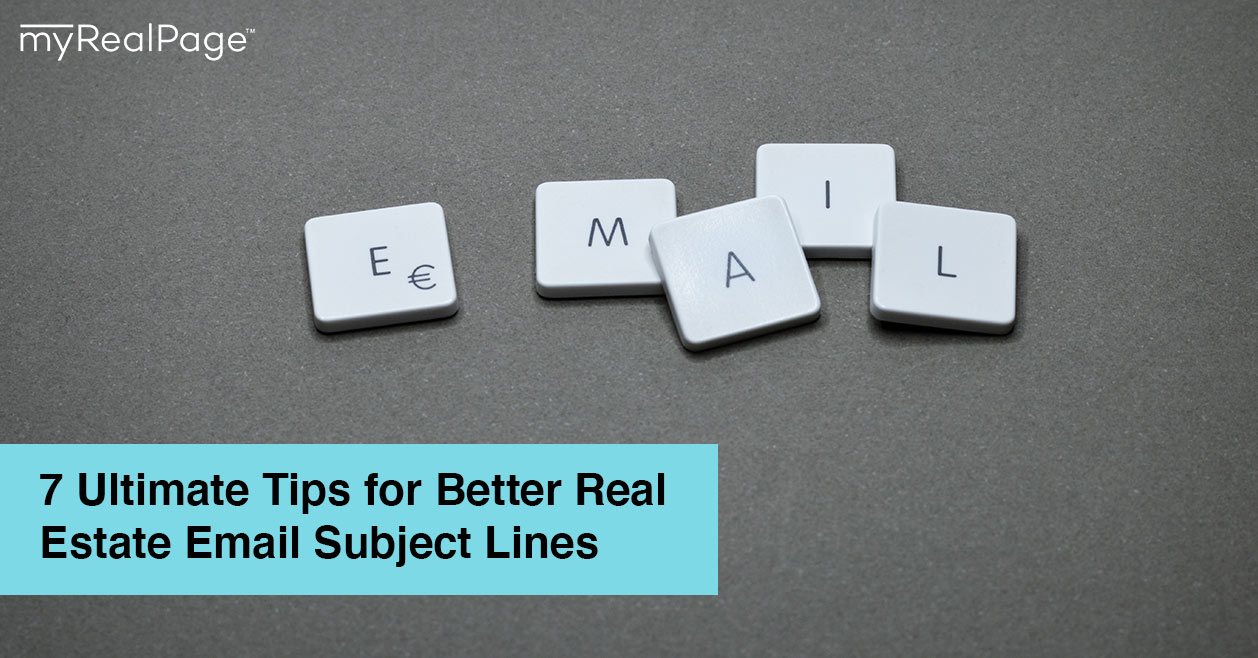 In theory, writing real estate email subject lines should be easy.
After all, they're so short.
In practice, coming up with subject lines is hard.
How do you convince your recipient to open your email in only a handful of words? How do you keep them from simply hitting the "Trash" button?
It's possible — with the right strategies.
If you're struggling with low open rates for your real estate emails, this is for you.
Keep reading for the seven ultimate tips for better real estate email subject lines.
Personalize Them
Want to immediately grab your recipient's attention? Put their name in your subject line. 
According to a recent report, emails with this kind of personalization see higher click-through rates than non-personalized emails. 
Most email marketing platforms — including Mailchimp and ConvertKit — offer ways to personalize your email subject lines.
They do this by making use of standard information you've already collected about your recipients — such as their name, or location — and filling a field of your subject line with that information.
It looks something like this. Using the personalization tags offered by your email marketing tool, you craft a subject line along the lines of: "Could this be the condo for you, [first name]?" 
When the email is deployed to your contact list, each recipient will see their name in that [first name] field. Like: "Could this be the condo for you, John?"
Keep Things Short and Simple
Here are three facts about emails:
Recipients tend to read the subject line very quickly

Recipients tend to open a lot of emails on their phones

Generally speaking, inboxes can't display more than 65 characters of a subject line
For all three of those reasons, real estate email subject lines need to be short and they need to be simple.
Length: Mailchimp recommends using no more than nine words and 60 characters in your subject line. Marketo recommends about seven words with about 41 or so characters.
Simplicity: Don't make your recipients work hard to understand your subject line. Short, easy-to-understand words and straightforward structure are your best bet.
Be Descriptive
Back to one of our last points: email recipients tend to read subject lines quickly. Simplicity is important — and so is clarity.
A common mistake when it comes to email subject lines is trying too hard to be clever, catchy or alliterative. Being more concerned with how it sounds than what it communicates.
Don't mislead your recipients about what your email contains. You want to hook them into opening your email by telling (or teasing) what they'll receive — benefits, values, news, etcetera.
Here's an example of a descriptive and non-descriptive real estate subject line:
Non-descriptive: Time to *spring* into new real estate
Descriptive: The Toronto housing market just broke THIS record…
Ask a Question
Being descriptive doesn't always have to mean teasing or summarizing the content of your email. 
Another great tactic to give recipients a sense of what's inside while also hooking them is to ask a question in your subject line.
For real estate emails, that could look like:
Curious about what your neighbour's house sold for?

Would YOU live here?

Is this the best condo in Toronto?
Create Segments
Email marketing platforms offer the ability to segment your contact lists. That is, to create distinct recipient lists based on certain qualities. 
In real estate, for instance, you could have a list for buyers and a list for sellers. Or one specifically for those interested in condos. Or one for those who live in a certain neighbourhood.
The value of these lists is that you can more deeply personalize your emails according to your recipients' interests. And the more you can do that, the more likely your recipients are to open your emails and read your emails.
Don't Be Spammy
Email subject lines can easily, and unintentionally, trigger spam filters. And when that happens, your email will land in your recipient's spam folder where it likely won't see the light of day.
Words and phrases like free, buy now, extra cash, make money, and big bucks can all trigger spam filters. So can putting too many words in all caps, or using too many exclamation marks. 
Test Test Test
Email marketing platforms have another strategic feature that real estate agents should use to improve their subject lines: the ability to A/B test.
A/B testing means you can write two different subject lines for your email and send them to two small samples of your subscriber list. The idea is to see which subject line gets more opens, and then send the email to the rest of your subscribers with the winning subject line.
Using A/B testing for your real estate subject lines is key to maximizing your email open rate and learning about what kinds of subject lines tend to perform best.
What else do you want to know about real estate email marketing?