(Kimberly (she/her) took the express train down the fountain pen/stationery rabbit hole and doesn't want to be rescued. She can be found on Instagram @allthehobbies because there really are many, many hobbies!.)
I just got back from the 2022 Chicago Pen Show and whooey, I need a vacation to recover from all the fun! It was a mere 7 months ago that I was at the 2021 Chicago Pen Show and in some ways, it feels like an eternity ago while also feeling like just yesterday. And yes, our very own Sarah Read just did her write up of this year's show, so check that out too! I am really curious to see how this year's show, which was at its usual end of April/beginning of May time, compares to last fall's show, as well as what its rating will be.
Size - Unchanged from prior years, the show starts at the front atrium with a mix of makers, modern and vintage sellers, as well as the large ballroom inside. According to the exhibitor list, there were roughly 90 vendors which felt like more than last fall. It continues to be a show that has a good mix of modern and vintage dealers as well as non-pen items like inks, papers and other accessories.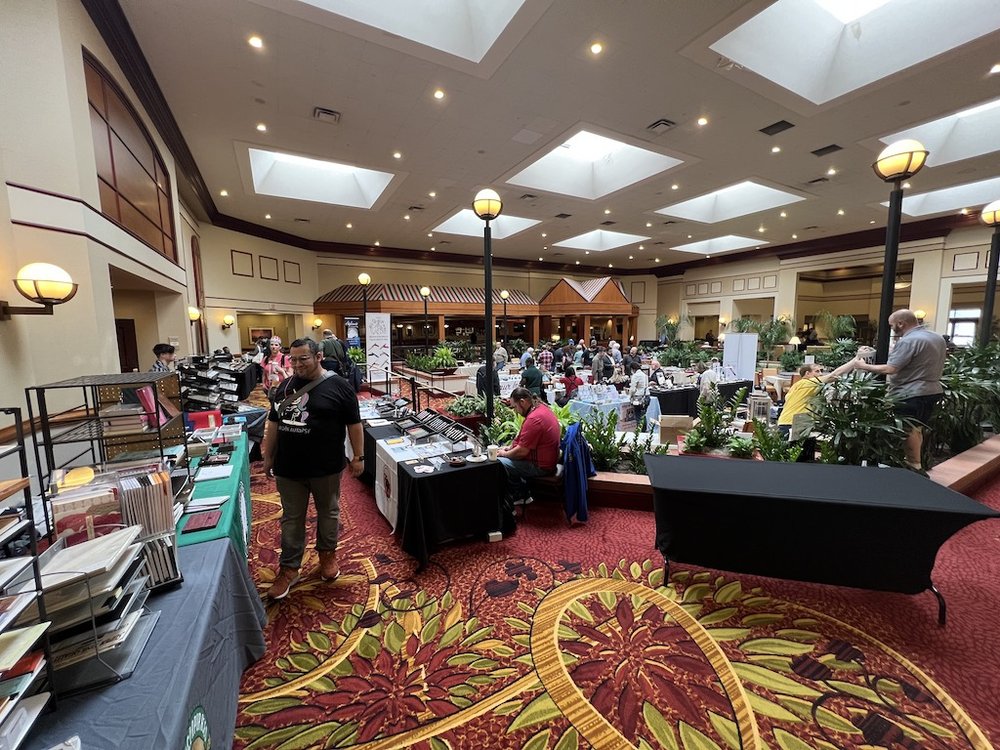 It was really good to see folks who had not been to the Chicago show (or any show) in some time, like Brian Gray of Edison Pen Company, Shawn Newton, Luxury Brands of America, and Vanness Pens who did not attend last fall. It was also wonderful to see newcomers to the show including local Erick Gama and his new shop Amarillo Stationery, personal favorite Roses Without Thorns as well as Ray Walters of Vintage and Modern Pens who came all the way over from the UK and had never been to Chicago before.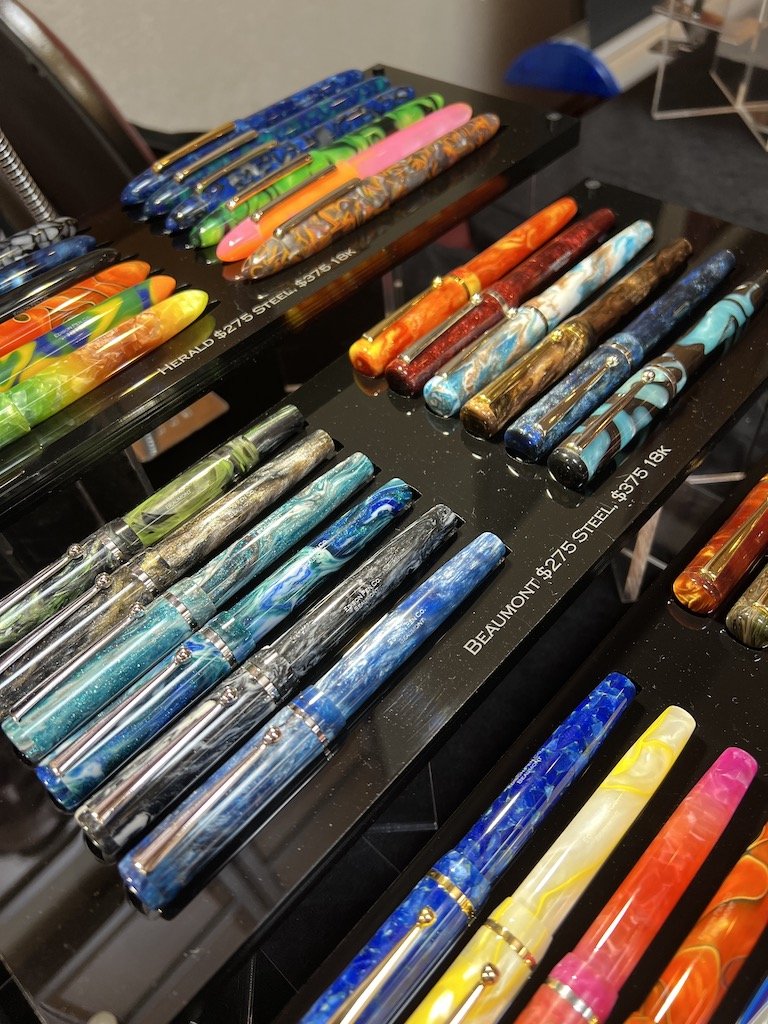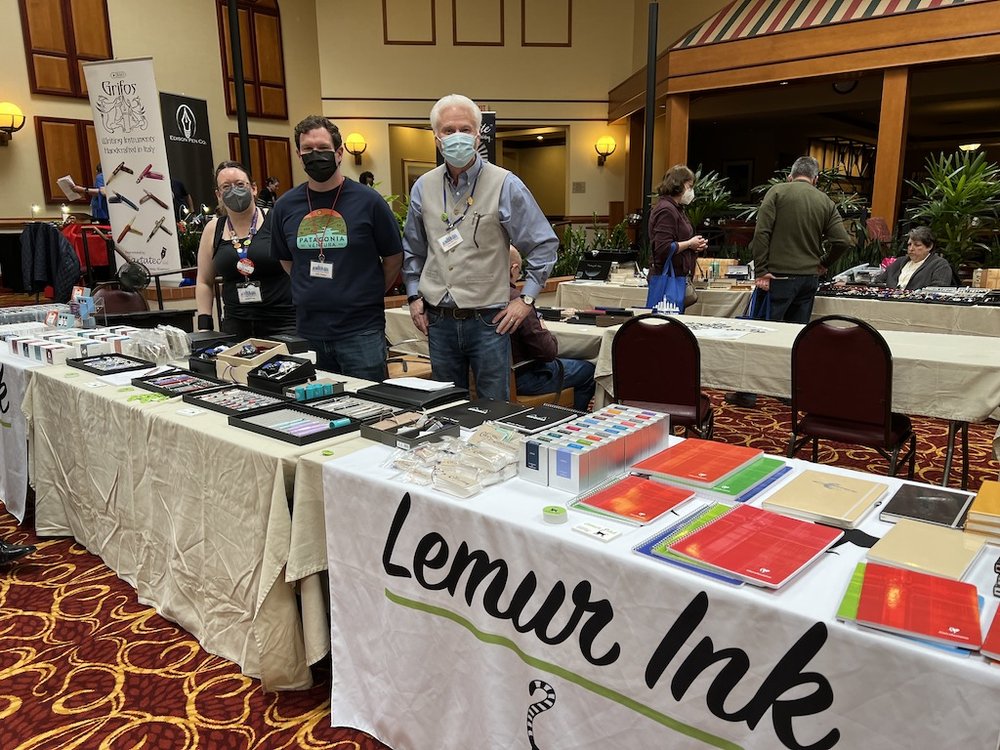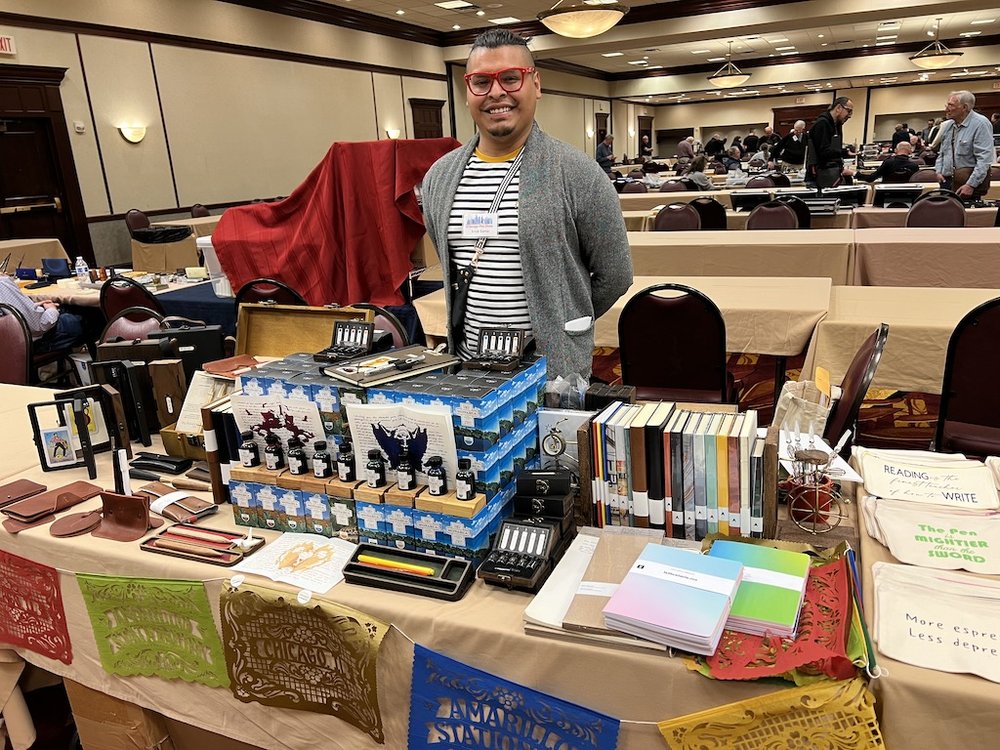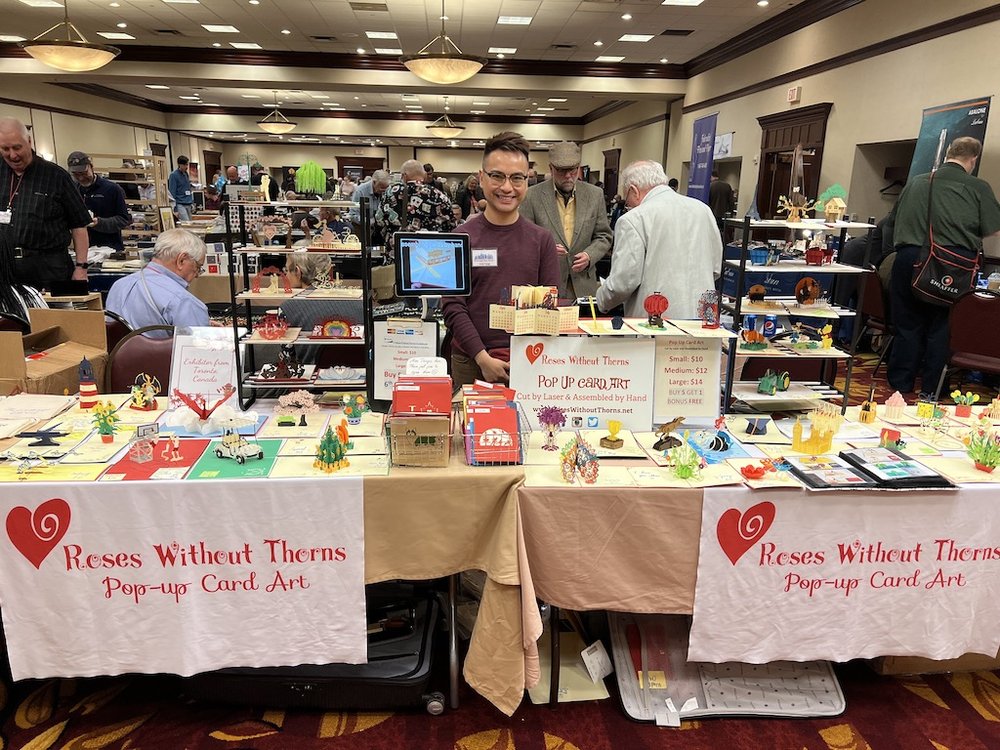 It felt a bit larger than last fall's show and had a good variety of vendors as well. Last time I said it felt like it skewed a bit more modern than vintage, but this time around I would say it's closer to 50/50. Score - 8/10
Location - The Chicago Pen Show isn't actually in downtown Chicago but in a suburb called Hoffman Estates, which is 45 minutes northwest of downtown (if there's no traffic), about 30 minutes west of the O'Hare Airport and 45-60+ minutes from the Midway Airport. It cost me about $45 to get from O'Hare to the hotel. Chicago flights are pretty easy to find as O'Hare is a major hub for several airlines. I spent a couple extra days after the show in Downtown Chicago where there are plenty of museums, tours, and food. Score - 7/10
Hotel - The Chicago Marriott Northwest hotel is a decent hotel, with a big atrium in the lobby with a water fountain, several couches near TVs, a big tall "bar" table, as well as other small seating areas around the lobby and restaurant/bar. The restaurant's food was good at typical hotel prices. The bar service wasn't the best - the bartenders were pretty slow, but they were nice enough. They were generally nice about letting folks hang out after closing. This is one of my favorite show hotels for hanging out and socializing. There is also a very small shop behind the registration desk for snacks and incidentals. My room was alright, though the sheets didn't fit the bed and the temperature controls didn't seem accurate.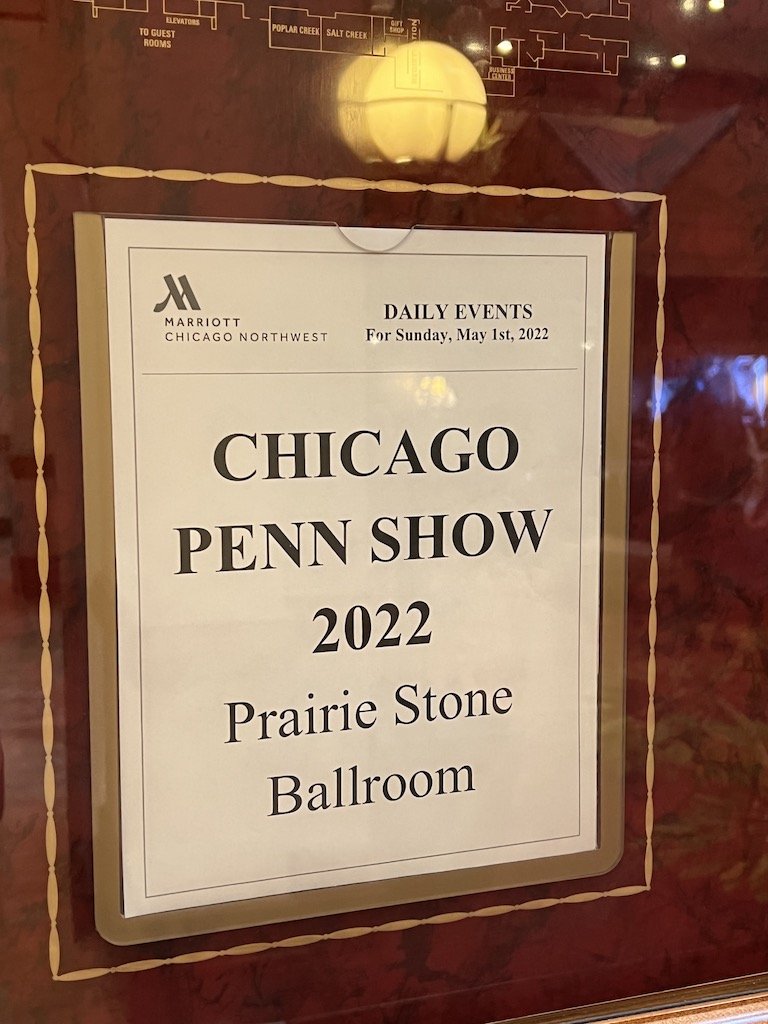 The show rate for the rooms was $115/night (before taxes/fees), which is slightly lower than average price for most pen show hotels, and parking was free. A big strip mall was located across the street, which made it very convenient. Target, Ulta, Ross, and Burlington stores are there, as well as a bunch of small and medium sized restaurants (Pita Pita is a great change of pace for typical pen show fare). There are other options in a short 5-15 minute drive too. I don't love the distance from the airport but the hotel proximity to food and shopping, plus the hangout-friendly spaces helps me give this a pretty high score. Score - 8/10
Tickets - Full weekend registration costs $60 and includes an extra pass for a significant other or child, early entry Thursday through Sunday, the pizza party on Thursday night, whisk(e)y tasting on Saturday night (thank goodness they finally moved this to Saturday night)(21+, of course); and Friday night auction. Friday's public hours were from 12pm-5:30pm and costs $25 for a half day (still cheaper than LA's Friday or Saturday non-weekend pass price). Saturday and Sunday prices felt more reasonable, at $10 cash, for 9-5:30pm and 9-4pm access, respectively. There were also free seminars as well as paid classes/workshops. Tickets were only available at the registration desk and could not be purchased ahead of time. Still, good prices for Sat/Sun general admission and a good price for the VIP pass since it included the pizza party. Heads up for next year though, weekend passes no longer include an extra pass for s.o./kid. Score - 8/10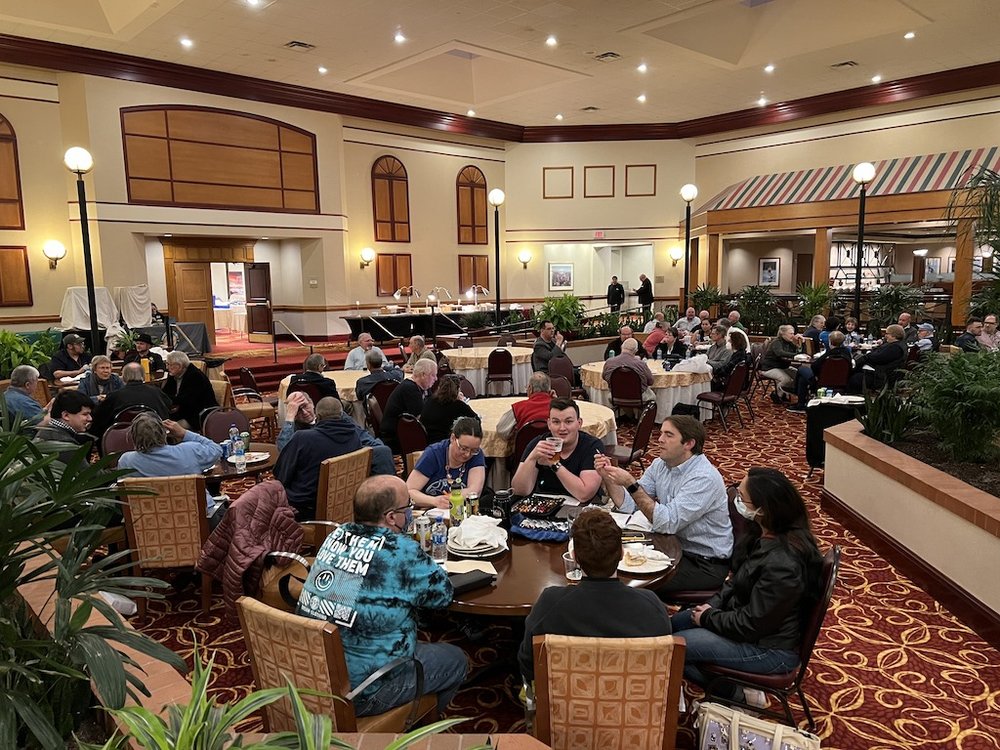 Classes/Seminars - There were more classes and seminars this time around than last fall. There were several handwriting/calligraphy paid classes from regulars like Nik Pang and Hong Nguyen as well as beginning/intermediate nib tuning classes taught by Ralph Reyes. There were also free seminars on special edition Pelikans, fine stationery, nib retipping/repairs by Greg Minuskin, Parker Museum and Archives discussion and more. I'm glad there were more non-writing classes or seminars than last year. Score - 9/10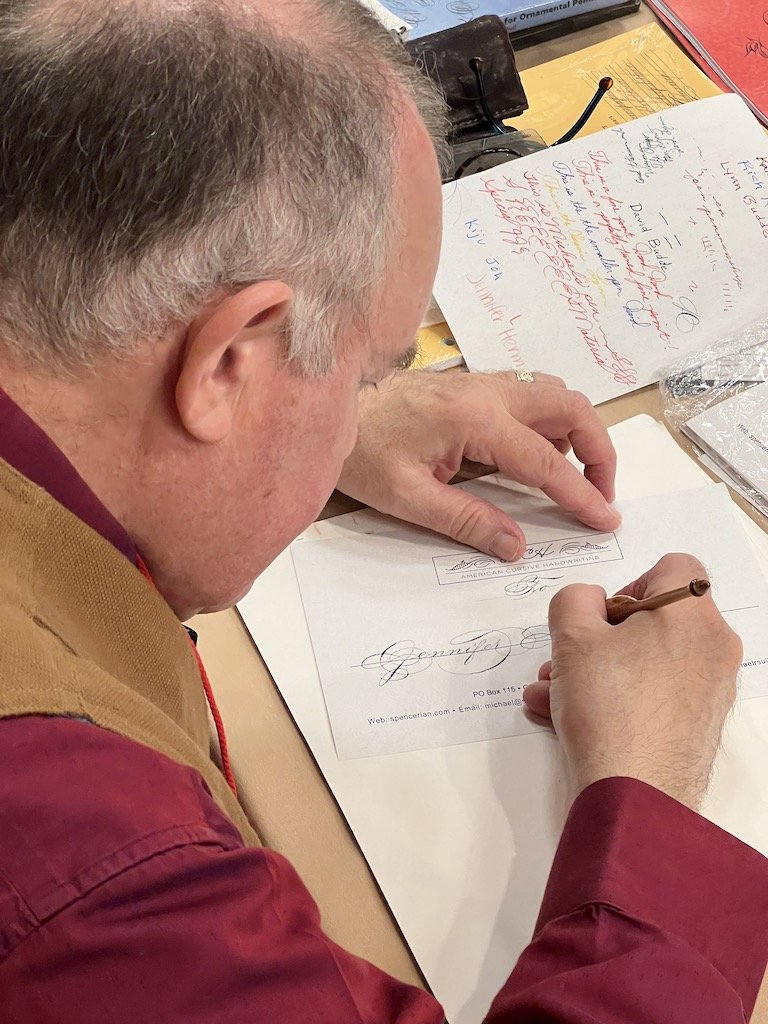 Nib Worker Availability - I consider Chicago as a middle-sized show, maybe a wee bigger. Compared to other shows this size, there weren't as many nib workers as I would have expected but there were still 3 to choose from (in first name alphabetical order).
Gena Salorino of Custom Nib Studio
JC Ament of The Nib Tailor
Kirk Speer of Pen Realm
I don't know if the show needed more nib workers but given the sheer quantity at the last few shows of similar or smaller size, I was a bit surprised that there were only three. Score - 8/10
Overall sense/vibe - Compared to last fall, when the Delta variant was rampant and had everyone nervous, the show this past weekend felt like a breath of fresh air. Heading into the ballroom Thursday afternoon, it was great to see people I hadn't seen in a long time as well as folks who had never been to this pen show before. People felt more comfortable traveling (including from other countries) and that feeling was also shared by attendees and vendors alike.
As I mentioned earlier, there is the atrium in the lobby, which had probably 25 vendors ranging from folks like Vanness Pens and Lemur Ink, to makers like Shawn Newton, Ryan Krusac, Jim Hinze, Hardy Penwrights, Stylosuite and Edison and more. Lots of variety in the atrium before you even get inside.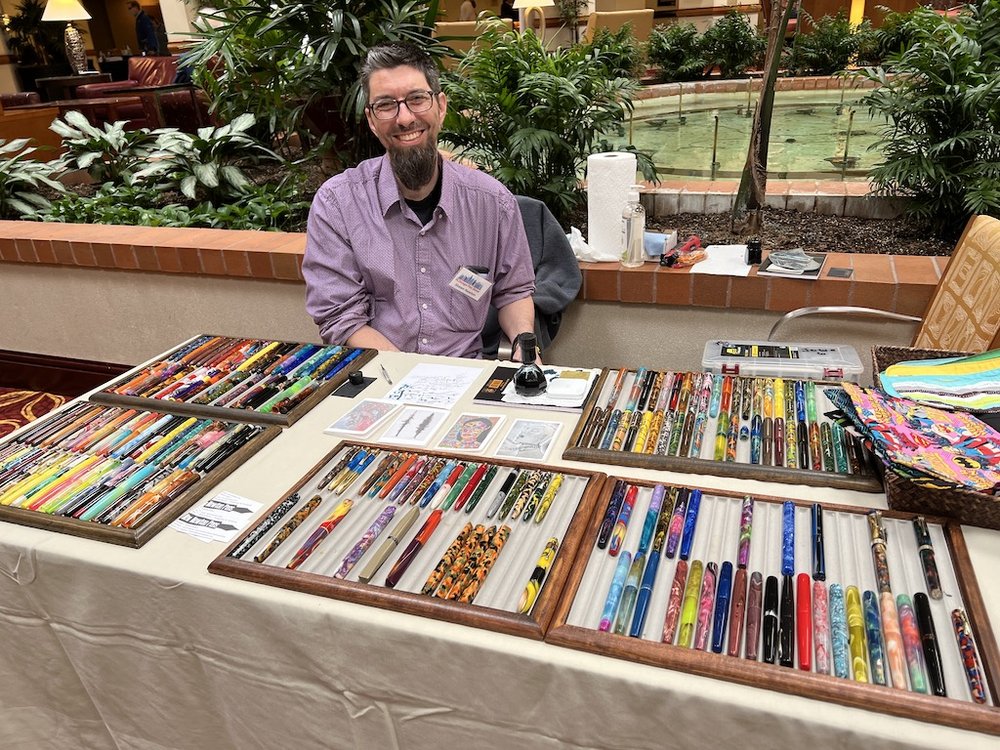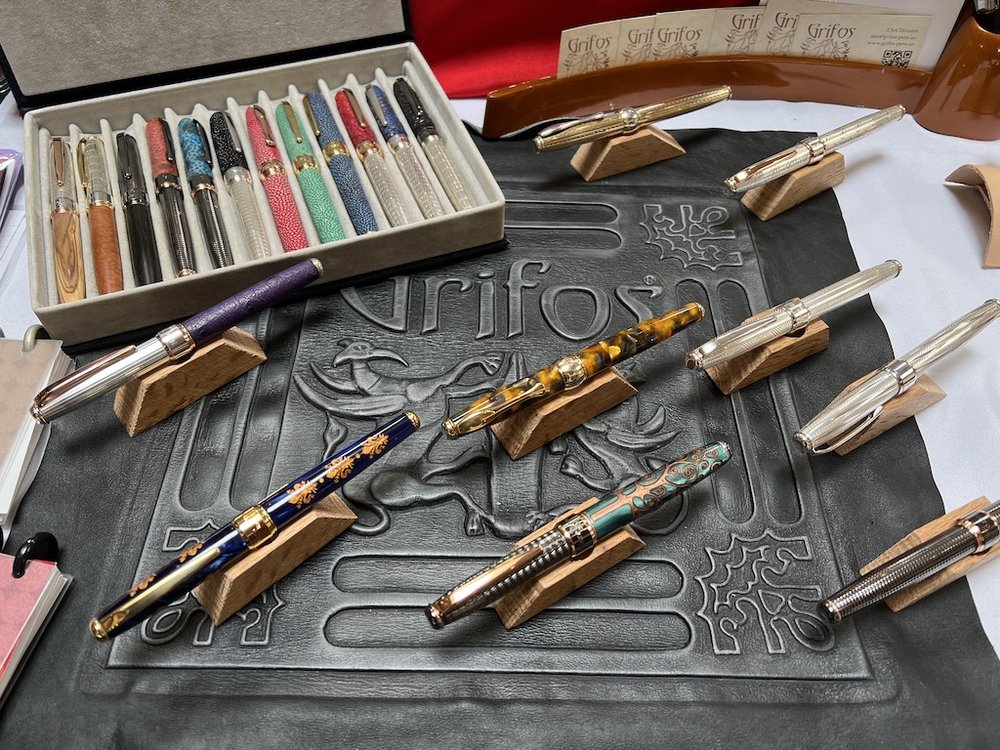 Like last year, the main ballroom really had a good mix of vendors, not just vintage and modern. Atlas Stationers took up several tables of real estate and had papers, ink and other accessories as well as pens. They were right across from Luxury Brands of America, but they weren't the only distributor at the show - Coles of London (Visconti, S.T. Dupont), Chartpak (Pelikan) and Pilot USA were also there.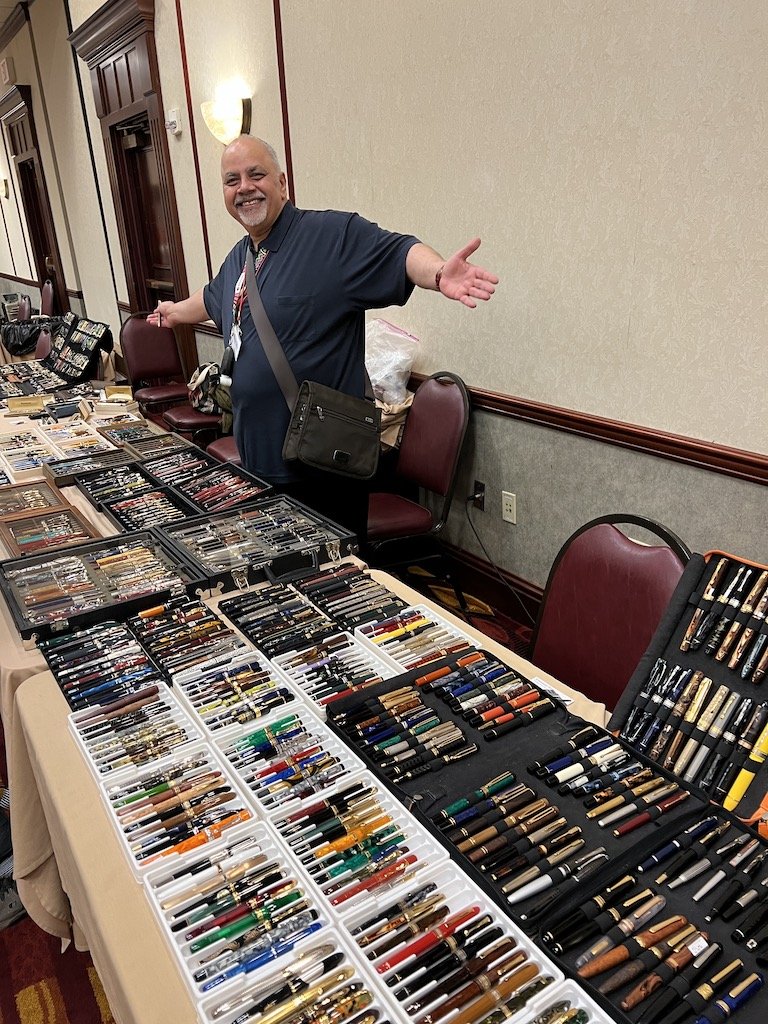 There were more attendees than last year and that's a good thing. No point having a show with a lot of vendors if there aren't many attendees. From talking to about a dozen vendors, it seemed like there were not only a lot of first time show attendees, but many of them were also new-to-the-hobby, which is great to see! There was some threatening weather that had people nervous about coming on Saturday, but it cleared up and Sunday morning was alright but after 12pm, it was painfully slow, with the show ending at 4pm but a lot of vendors started packing up at 2pm.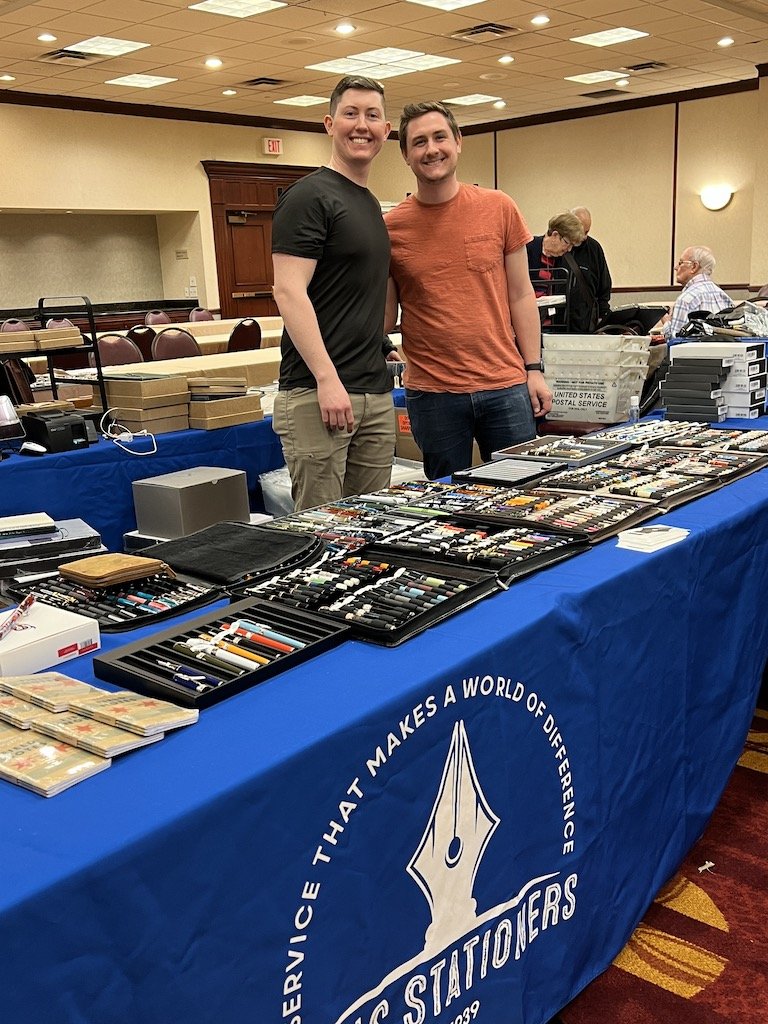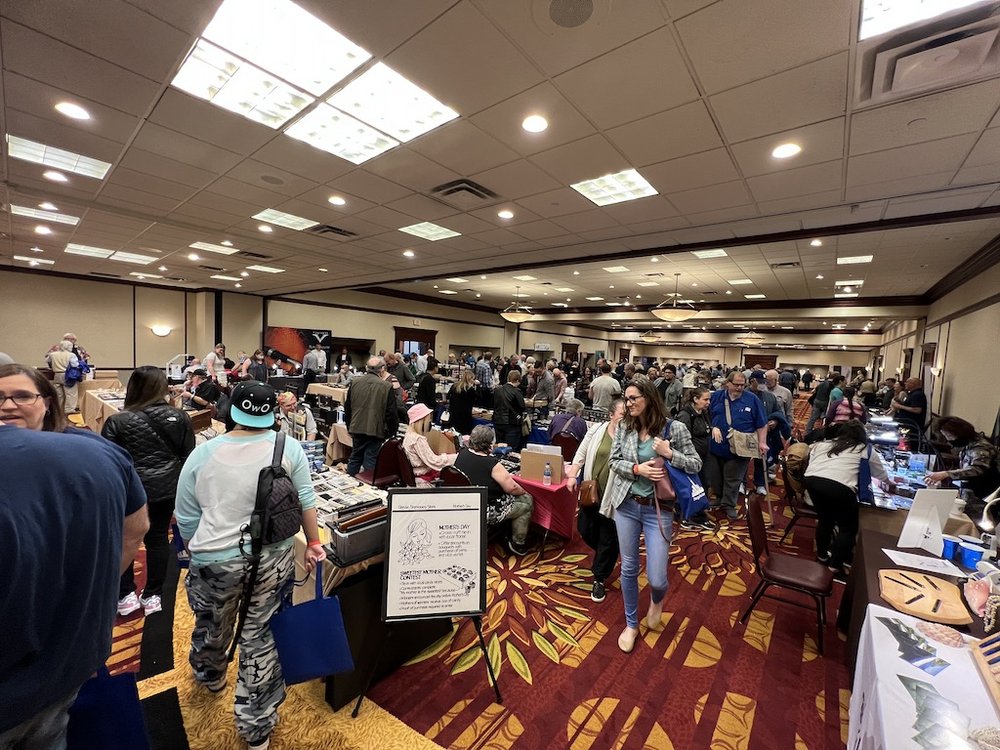 I'll go into it in more detail below but the after hours scene is off the hook in Chicago. In fact, when I think of the Chicago show, it's not so much the show itself that makes it great, it's the socializing. It's one of my favorite shows for after-hours gathering, and even for taking breaks during the show. Score - 8/10
Food - There is a bar that serves food (the restaurant section seems to be closed although maybe I just missed breakfast hours) and the food is pretty good and the prices are what you'd expect at a hotel. Thursday's pizza night for vendors and weekend pass holders featured both thick and thin crust pizza from Lou Molnati's (I prefer the thick crust and thankfully there was plenty of it this year). Don't eat the hotel pre-made sandwiches if you can avoid it - I heard bad things about how they tasted. There is also a small coffee bar which has long lines especially in the morning. If you have a little bit of time and it's not inclement weather, it is a very short walk across the way to get an insanely good (and huge) breakfast at Honey Berry, or Pita Pita (yummy Mediterranean food), or maybe you need a hit of wings from Buffalo Wild Wings or something quick from Chipotle or Panda Express, or you need an actual Starbucks and not hotel coffee. There are too many to name, but also Culver's and Kyoto (good Japanese food). And Target is also really convenient to stock up on bottled water or snacks too. Score - 8/10
After hours/socializing - I've already talked a fair bit about the after house/socializing at this show so I won't go too much further. The Thursday night pizza party is always a blast and you never know who you're going to sit with. I was at an informal "TPA Slack" table which was great to see and meet fellow Slackers that I've only known online. The Saturday night whisk(e)y tasting looked to be a blast (sorry, not for me cuz that's not my jam). And I've already talked about how great a space it is for after show hangouts and pen play.
People are spread out across so many tables and seating areas, with binders and cases of their pens to show others, or to share what they picked up at the show. And because there are so many places to hang out, one can easily move around from place to place and meet lots of different people. Other than maybe the inefficient bar staff, which is about the only major ding on this score, this is one of my favorite after hours shows. Score - 8/10
Other - The Chicago Pen Show is typically held around the last days of April into the first days of May, which is conveniently before Mother's Day. The weather can still be unpredictable this time of year. It was warm-ish and windy on Thursday but a storm threatened the area on Saturday (someone said maybe even tornado warning) and downright cold the days after the show; this Californian thinks that a high of 45 (and wind chill of 36) in May is cold, ok? Lol. So Saturday's attendance, especially in the afternoon, was lighter than expected for a typical Saturday. And as I've already mentioned, it was particularly slow on Sunday after lunch, so folks started packing up a couple hours early.
Until fairly recently, I believe Chicago was the only midwestern show in the first half of the year (St. Louis is in late June, and others like Michigan and Ohio are in the fall), so I love that I get to see friends that only go to this show. I have been worried about the viability of this show because it seemed like it was slowly declining in attendance and profitability for vendors even before the pandemic. Unlike other shows that I've been to, where "local" folks (within a 2-3 hour radius) stay for most of the weekend, many of these folks used to only attend for a few hours or at most one day but not stay overnight. I understand that's not an option for everyone and that not everyone is as crazy as I am, but I feel like they are short-changing their pen show experience by going for just a couple hours, hitting a couple key vendors and leaving. They may not get the chance to look at things not on their list and often never get to experience pen shows after dark and by extension, all of the amazing pens out there, not to mention the wonderful friendships that develop over scotch, wine, soda, or a TimTam. I don't have a solution to this because I don't see it to the same extent at the other shows. But I was glad to see some more people staying at least one night this year, so that gives me hope.
More attendees this year didn't necessarily translate into a lot of sales though. Some vendors had a great show and sold a lot but a number of them (large and small, vintage and modern) told me that they had "ok" to "not great" shows, which is unfortunate. This may mean that some of them don't return, or worse, tell others not to go because they may not make money. I really hope that is not the case. There were some vendors who did really well at the show too, so it's hard to tell what it will be like in future years.
As with other recent shows, there were no mask requirements for the show (nor for the area in general). I would say maybe ¼ of vendors and attendees (and that's a stretch, I think) wore masks during the show and even fewer during after hours. I will continue to share my observations on masking, while not making any judgments or impacting scores unless it affects the show in some way. I still prefer to mask as much as I reasonably can, and I think I had it on more than I did in Atlanta because I hung out longer and with more people at this show. Just stay safe and do what works best for you, while respecting that others may not feel the same way you do. Score - 7/10
Report Card:
0-50 Oof, do not attend
51-70 Show is alright
70-80 Show is solid
80-90 Show is pretty darned good!
91-100 REALLY good show and not to be missed
The 2022 Chicago Pen Show scored 79/100, which surprised me a bit. On the one hand, I had an absolute blast, ate and drank too much and spent too much money so I sort of expected it to score higher. On the other hand, Hoffman Estates is sorta not near Chicago, but the show being across from the strip mall was more than just convenient.
I continue to have a wonderful time at this show, the wallet always gets lighter, and I'm glad the attendance was higher this year than last fall. But I do worry about whether it will be a show that vendors will continue to attend if they aren't making money. I hope that this year's first time attendees and new pen addicts as well as continued improvement with the Covid situation will help turn that around in the coming years.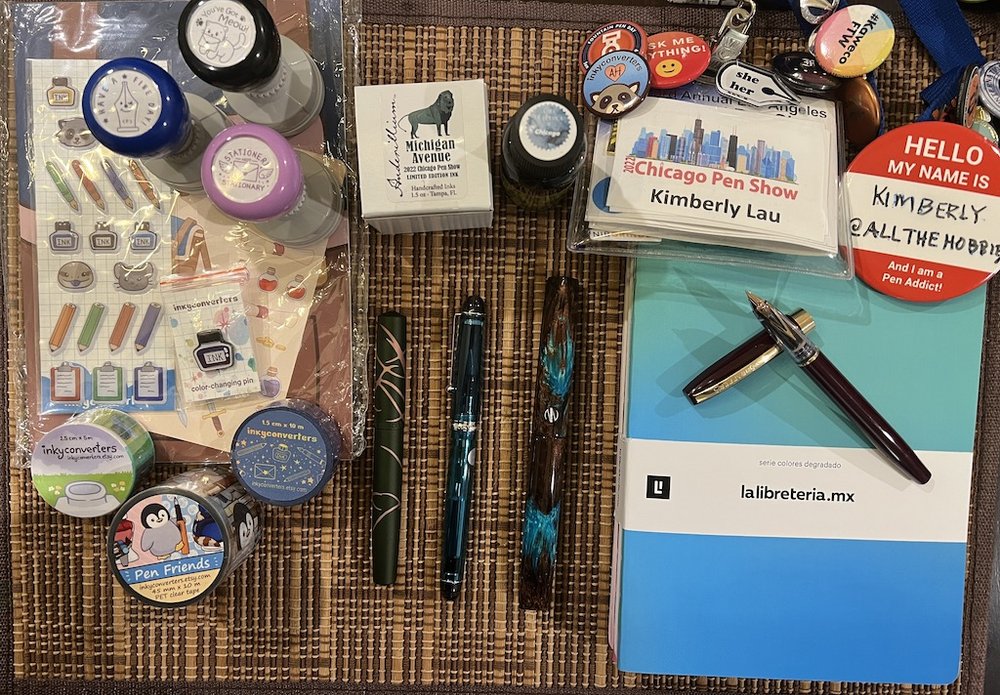 I may have spent a fair bit of money but it's really all the time spent with pen friends old and new that keep me coming back for more. My wallet may be empty but my heart is full. Until the next pen show, stay safe and stay inky!